Deposed Erratic Libyan Leader, Muammar el-Qaddafi Dead, After he Was Captured in his Hometown of Sirte, Beaten, Shot in the Abdomen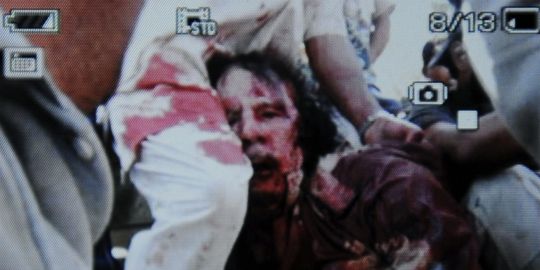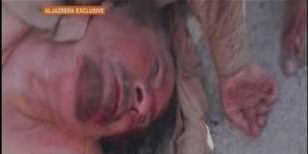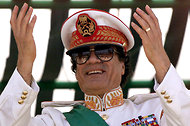 When the now dead Gaddafi was in power, which lasted 42 years.
SADDAM HUSSEIN, TOTALITARIAN DICTATOR WHO RULED IRAQ WITH EXTREME VIOLENCE AND FEAR, WHOSE ONE OF A REDUCED NUMBER OF COLLEAGUES IN BLOOD WAS HAITI JEAN-BERTRAND ARISTIDE, IS HANGED IN BAGHDAD FOR CRIMES AGAINST HUMANITY - FRIDAY, DECEMBER 29, 2006.
Deposed totalitarian Dictator Saddam Hussein's path to the gallows, as reported by The New York Times of Sunday, January 7, 2007

The deposed butcher dictator of Baghdad, Saddam Hussein, en route to the gallows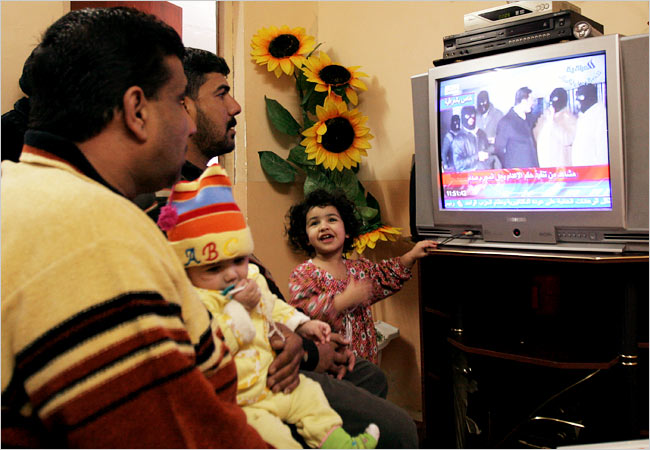 A family watched television at home in Basara on Saturday, while a video was show of Saddam Hussein being led to the gallows. (Nabil Jurani/AP, via The New York Times)
Saddam Hussein, the former hell-sent dictator, at the gallows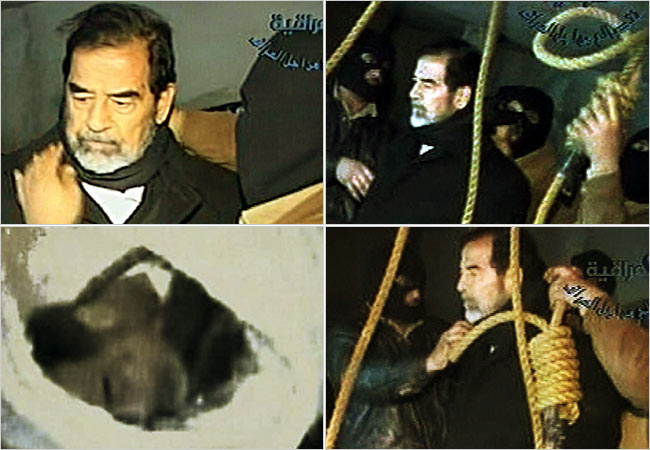 A video showed Saddam Hussein being prepared for execution. The noose was placed around his neck, and his body was shown. (Biladi TV, bottom left, also Iraqiya, via The New York Times)
Iraqi TV, via AP
Former mass murderer dictator Saddam Hussein's body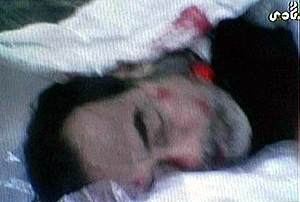 Reactions to deposed brutal dictator Saddam Hussein execution, by way of hanging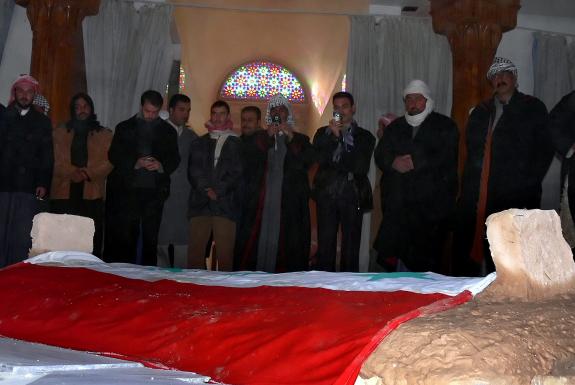 In Awja, Iraq, near Tikrit, his hometown, men prayed over Saddam Hussein's coffin today, Saturday, December 30, 2006. (Bassim Daham, AP, via The New York Times)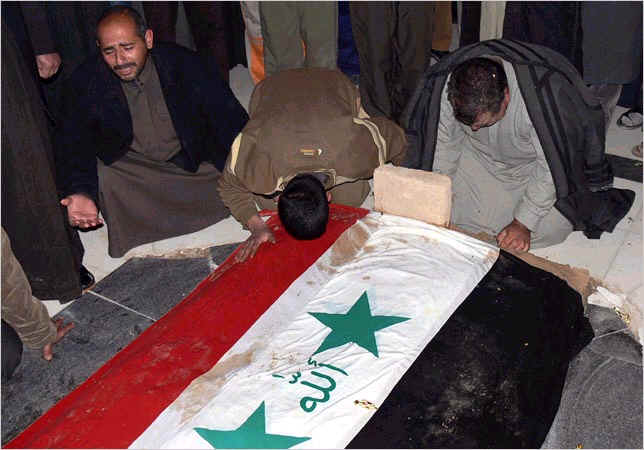 Iraqi grieved Sunday beside a grave reported to be of Saddam Hussein. (Bassim Daham/AP, via The New York Times)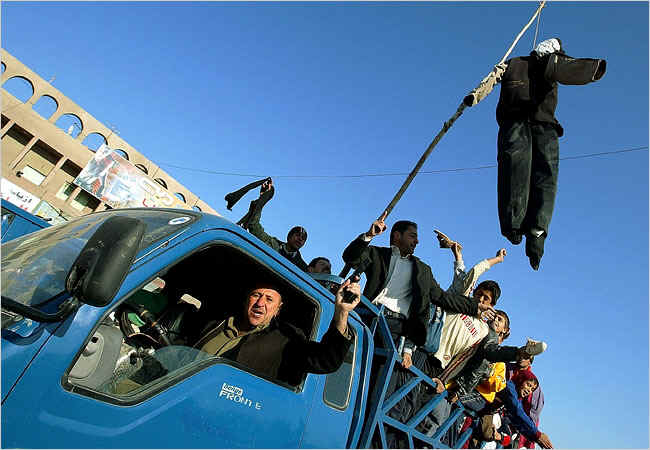 In Tikrit, Mr. Hussein's hometown, protesters denounced the execution. (Bassim Daham, AP, via The New York Times)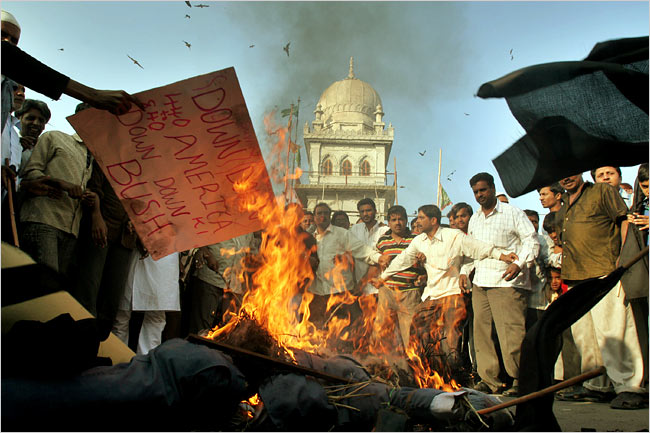 Indian Muslims burned an effigy of President Bush in Bangalore Saturday after news of the execution. The Indian government voiced regret. (Aljaz Rahid/AP, via The New York Times)
A symbol of the cult of personality (dictatorship) finally falls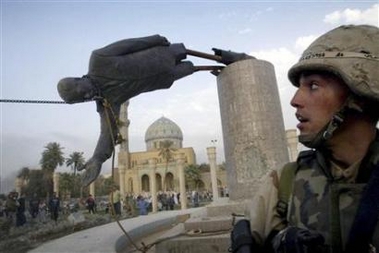 A U.S. soldier watches as a statue of Saddam Hussein falls in Central Baghdad's Firdau Square, in this April 9, 2003 file photo. (REUTERS)
Murderous dictator Saddam Hussein on trial
| | | |
| --- | --- | --- |
| | | |
| Iraqi guards handle the shackles on Saddam Hussein (C) during the day of his Iraqi special tribunal hearing in this July 1, 2004 file photo, also in the one at right, released on July 2, 2004 (REUTERS) | | |
| | | |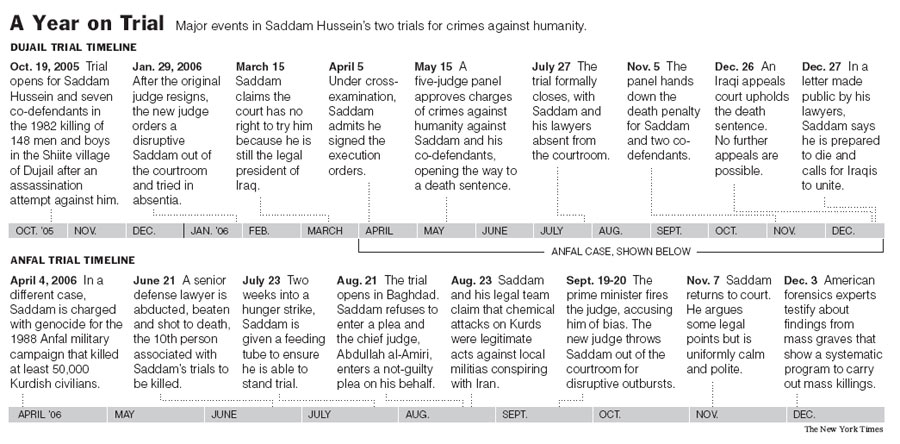 | | | |
| --- | --- | --- |
| Ferocious dictator Saddam Hussein, after his capture by U.S. forces | | Tyrant Saddam Hussein lost his pants |
| | | |
| | | |

Week-in-Review, The New York Times, of Sunday, December 31, 2006
The good old days of the late brutal dictator
| | | |
| --- | --- | --- |
| | | |
| | | |
| Former Iraqi President Saddam fires shots into the air in this file photo taken December 31, 2000. REUTERS) | | This an undated photo of Iraqi ruler Saddam Hussein with his sons, Odai, left, and Qusai. (AP) |
| | | |
What about this former dictator, this accomplished embezzler and drug lord of drug lords, Jean-Bertrand Aristide, who ruled Haiti with extreme violence, fear and grand thievery? When will he too face the bar of justice and ultimately be hanged for crime against humanity?
The former murderous dictator and accomplished embezzler; at right, secretly photographed naked, in one of his many bathrooms
Visualize some of the former hell-sent tyrant odious crimes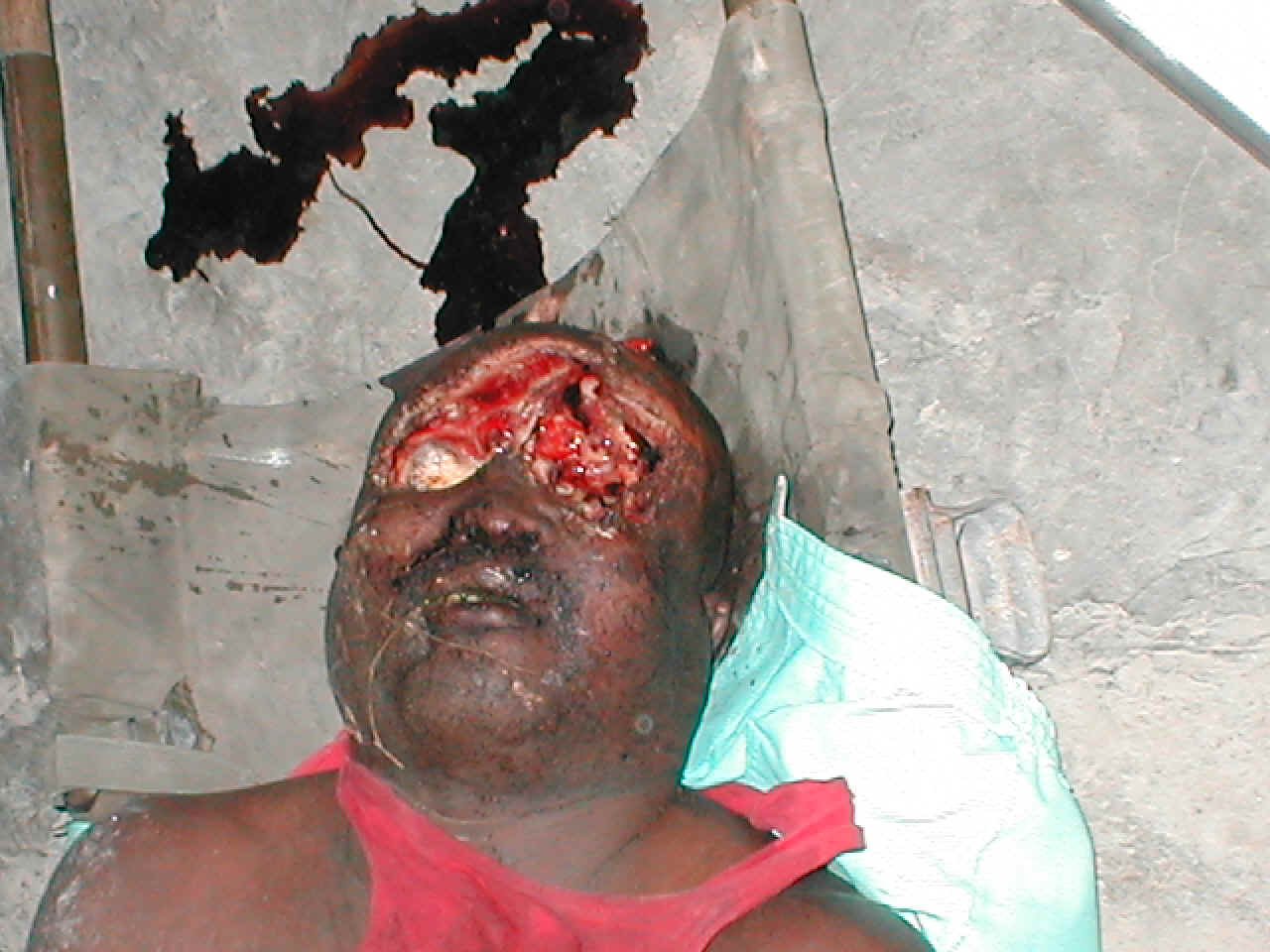 The body of Amiot Metayer, one of former chief terrorist Aristide's junior terrorists tragically silenced, and permanently so, by the pillar of evil of the same name to prevent odious crimes committed being divulged.