Slightly less than four months from now, or on January 1, 2004, Haiti will shamefully, and extremely so, celebrate what many, both Haitians and non-Haitians, loudly consider to be regarded as 200 years of birth, marked by extreme suffering, dictatorship, kleptocracy, as also reflected in the Caribbean nation voluminous catalogue of evil.

Day of Morning: Alas, Haiti Is Dead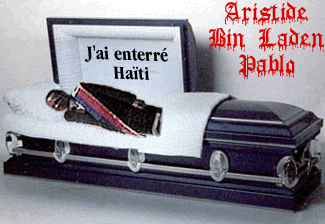 Why not 200 years of independence? Of one thing reasonable people cannot disagree about that Haiti (by any measure one of the poorest nations on earth) has been occupied twice by the United States, and it would be better for those who continue to lend credence to the contention that Haiti will soon catharticly celebrate its bicentenary of independence to alternately conclude it will celebrate 200 years of its largely interrupted independence, 200 years of its troubled history; alternately, tortured history, to be precise.
Jean-Bertrand Aristide (the psychopath is neither attractive, nor physically striking, and is said to have suffered from severe malnutrition in the early years of his extremely remote rural life), of course, the latest perennial and uncommonly vicious tyrant to be, has ultimately led Haiti to self-annihilation of late, as the extremely unpleasant state of affairs, social conditions for example, in the Caribbean nation suggests.
Long considered a continuing and growing major threat to United States' national security, presumably since he is seriously committed to sympathize with terrorists, to traffic in narcotics, by proxy, with the U.S. as one of his major markets, the little man Aristide, who is known to have indirectly organized perilous voyages of Haitian boat people (flood of refugees) to Florida from Haiti, and this in an effort to, hopefully, force the George W. Bush's administration to give his de facto government millions of dollars in foreign aid, even causing the president to lose the next presidential election, though scheduled to be held in November 2004, as was the case on October 29, 2002 when more than 220 Haitian boat people (The October 29, 2002 tragedy) landed in Florida while his brother, Jeb Bush, was arduously working the campaign trail to remain in the governor's mansion, sure enjoys an ultra-luxury quality of life - not bad at all for a man still of pronounced Marxist tendencies who was born in a mud hut and grew up dirt-poor in the Haiti remote village of Beaulieu, not the provincial town of Port-Salut, as he always claims.
Of course, what is true for an honest man is not true for Aristide. By way of alternative, a straight line connects Aristide (many say he also traffics in fantasy and hypocrisy) to an ultra-pathological liar, if not a grand thief, too.
"The cold beer will soon be awaiting you; the hot barbecue will be there for you in the near term," firebrand Aristide long ago and repeatedly thereafter memorably promised the vast majority of Haitians, whose abject poverty defines their daily lives.
What else, you wonder, Big Man, in internationally accepted uses of the term, Aristide promised the vast majority of Haitians who not long ago finally turned to God (Haitians pray) for help, a manifestation of despair?
"Oh, don't forget about the super highways" - only less than three of the 1,000 kilometers of new roads Aristide promised to be built in the late 90s were ever built with the help of the World Bank - "that I will soon build for you, in fact better than those in the U.S.; and I swear a thousand times ... two thousand times ... ten thousand times; this is what your new material conditions will be like in the near future; you men and women may now start contracting marriage; couples will soon be able to take a walk on the highways as if they each were the equivalent of two lovely birds and, sure Haiti will soon be a nice country... no more signs of an eroding quality of life that threats not only you Haitians but the land of this nation."
Did he deliver (Haiti: A tortured history, a nation in turmoil - added Wednesday, January 4, 2006) the vast majority of Haitians from dehumanizing poverty, even those in the lower lower social class (measured as a combination of occupation, income, education, wealth, and other x independent variables, sometimes referred to as explanatory variables, because of their role in explaining the variability in the dependent variable y, also predictor variables, because of their role in predicting y) were absorbed, at least, into the working class, the (y) dependent variable?
If one thinks of tyrant Aristide as a man who lived up to his promises, the case for trusting a lawyer, thanks to his convincing words, to operate on a patient, or a blind person teaching someone how to drive an automobile, would really not be weak. Only him and a few cronies managed to climb to the upper upper echelons of Haitian economic respectability, from the upper middle-class, by virtue of corruption, engaging in the pillage of Haiti's public treasury, for example.