Correspond with us, including our executive editor, professor Yves A. Isidor, via electronic mail:
letters@wehaitians.com; by way of a telephone: 617-852-7672.
Want to send this page or a link to a friend? Click on mail at the top of this window.

Must learnedly read, too; in part, of intellectual rigor
___________________________________
Posted Sunday, December 18, 2011
Weeks after a verdict of culpability, Haitian president official senior security adviser Nelson surprisingly returned to Haiti
By
Yves A. Isidor
, Wehaitians.com Executive Editor
NASHUA, N.H., Dec. 18 - Nearly four weeks after a felony verdict of culpability for assault and battery on a former girlfriend, Astrid Pantal Walsh, 45, was returned against Ronal "Roro" Nelson by a jury of his peers in a Dorchester, MA (U.S.A.) District court, the longtime close friend of Haitian President Michel Joseph Martelly, who days after assuming the office of the Haitian presidency, more than eight months ago, appointed him as one of his senior security advisers, surprisingly returned to Haiti late Saturday afternoon, two days after he appeared before a judge seeking permission to do so.
Sure did Mr. Nelson prove otherwise to, particularly his arch-enemies, critics, and even some supporters, who, as usual, nearly all of them had yet to permit themselves to first read, be certain that they had the faculty by which they understood the docket of charges against him that led to his conviction, but continued, until late last week, to offer what they believed to be authoritative opinions, such as he has been monitored by the probation department with the help of an electronic ankle bracelet, he cannot return to Haiti - a sentiment echoed, after that of his family members who also refused to believe he could misbehave, that he was rather lured into danger (entrapment), by many of the convicted Haitian official die-hard supporters.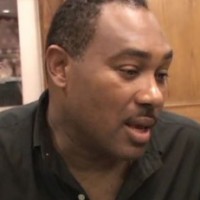 Convicted Haitian senior presidential adviser Ronald "Roro" Nelson in an undated Wehaitians.com file photo.
"My return to Haiti today is a direct response to all of those who take great pleasure to say all sort of negative things about me," Mr. Nelson, who on many occasions avoided answering questions about his conviction, told journalists, who the day before received a press release announcing his imminent return, in a carefully pre-arranged brief press conference, as a Rara band (a form of festival music used for street procession in Haiti) and musicians of popular Haitian music, whose services were apparently also contracted for the circumstance, were playing the best of their songs welcoming him back home, immediately after he disembarked his plane.
Hours before Mr. Nelson's scheduled arrival, police officers, in large numbers, were not hard to find at the Port-au-Prince's Toussaint Louverture International Airport. A few of their automobiles sped away from Haiti's only international airport seconds after Mr. Nelson was observed embracing untold number of law enforcement officers as he was entering one of their automobiles. "Roro, lènmi yo gen kriz kè, yo pat kwè ke ou tap tounen" or "Roro, the enemies are having a heart attack, they never believed that you could return," one corpulent, tall officer was heard joyfully saying in the Haitian Creole lingo as others were visibly smiling.
,
Wehaitians.com, the scholarly journal of democracy and human rights