BOSTON'S PROMINENT HAITIAN BUSINESSMAN LEO DESIRE INCARCERATED, DENIED BAIL; A VERDICT OF CULPABILITY FOR HAITI'S PRESIDENT MARTELLY LONGTIME CLOSE FRIEND, OFFICIAL SENIOR ADVISER BY A U.S. COURT OF LAW

- By Yves A. Isidor, Wehaitians.com Executive Editor CAMBRIDGE, MA, Nov. 24 - You will not have to wonder why so many opinions, all nearly identical, as usual, will soon be issued about Mr. Leo Desire (you will soon find a photograph of him), a longtime Boston's prominent Haitian businessman (one, who with the help of Voodoo, many always assumed, had eluded arrest), who was arrested about two months ago by authorities of the Commonwealth of Massachusetts and since has been denied bail by a court of law, pending a trial, after a long investigation by The State of Massachusetts Attorney General Office, The New England Cable News Television station, to name only these two, over allegations of grand-scale mortgage fraud. In the Boston's Haitian-American community, other Haitian immigrant communities, including the mother land of Haiti, all are where hearsay, unfortunately, passes for truth and paranoia for knowledge in issues that concern politics and economic development, if not, too, conspiracy theory, to also cite only this one, in earthquake-nearly eviscerated Haiti (where life continues to be more and more involved or filled with danger, and fast), the United States, and elsewhere.

_______________________________




T

he writer, Yves A. Isidor, a longtime economics
faculty member at the University of Massachusetts-
Dartmouth, after principally teaching the subject of
the same name at many Boston area colleges
and universities, always places, too, great emphasis
on issues related to Economics of Crime and its
Prevention: How Is Too Much in one of his assigned
courses,

Contemporary Issues

Economics

,
alternately, Economics of Social Issues. Often,
Professor Isidor conveys his thoughts or opinion,
also to the U.S. news media, on issues not limited to
the very sad Republic of Haiti, which certainly does
not need an army.

_______________________________


What's more, regrettably false rumor is not only the opium or opiate of the "ignorant masses," to borrow the very few words of Marx, who are incapable of determining the anticipated consequences of their ("they are to rule," famously said Plato) irreprehensible actions when they subsequently cause, at least, reparable psychological damages, irreparable psychological trauma, but it trumps even basic clarity, rudimentary reasoning about a functioning democratic system (imperfect it may be), say, that of the U.S., where the arrest of a person for an alleged wrong or wrongs does not automatically equate a conviction and ultimately punishment - that is incarceration in a city/county jail or state/federal penitentiary (if any), depending on the gravity of the crime or crimes proven committed by the offender, for a short or long duration of time. Haiti's archaic educational system, of course, so deficient ("So goes Haiti's educational system, so goes the Caribbean nation," longtime educator and activist, Josue Merilien recently eloquently told Le Nouvelliste d'Haiti, a highly respected daily newspaper); the famously dirt-poor nation's perennial illiteracy (poverty also denies them the pleasure of reading) rate, high, in absolute terms, are two of the indisputable reasons Haitians, on the average, sadly continue to surrender to "bourik congoism" or extreme stupidity, pronounced unwanted ignorance.

What is also, undoubtedly, consequential about that, and for a longtime so, is that, blanket abject poverty, the principal cause of the small Caribbean corner's cholera epidemic, to cite only this major threat to political stability to urgently needed economic development, will indefinitely continue to be one of the principal determinants of nearly all of the historically troubled small land's estimated 9.2 million citizens quality of life.

The poor men and women in the Boston's diaspora community, if they are to think for themselves, cease to be taken for comedians by a Graham Greene-like, since the internationally renown British author deceased long ago, or simply a bunch of risible people, must know that Boston's Leo Desire (he is not of nature public speakers, nor does he speaks in a mumble), a criminal defendant like many before and after him, again who about two months ago was taken out of the circulation, has since been denied bail (in such case, the presumption of innocence is largely theoretical), permitting him to temporarily or permanently regain his liberty (depending on the outcome of the case), over allegations of grand-mortgage fraud, is presumed to be innocent until otherwise, that is a verdict of culpability is returned against him by a court of law after a bench or trial by jury - the presumption of innocence, an ancient tenet of criminal law actually, a misnomer. According to the U.S. Supreme Court, the presumption of innocence of a criminal defendant is best described as an assumption of innocence that is indulged in the absence of contrary evidence.

Why only a conviction for a white-collar crime or a few of them associated with grand-scale mortgage fraud, in the aftermath of which the term of imprisonment is at least 1 year, matters a lot more for Mr. Desire, his immediate family members and others concerned about what the future holds for him when compared to other persons (U.S. citizens, by birth or naturalization) who have also been convicted of different, but a lot worse aggravated felonies, such as arson that results in the death of many lives, if not, too, offsprings made urchins or orphans, in most cases, both, and because of so they each receive a gargantuan sentence?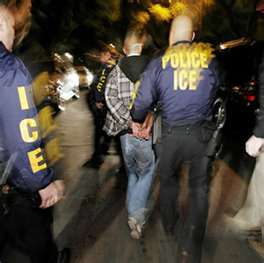 U.S. Immigration and Customs Enforcement police (ICE), after placing an immigrant under arrest. Photo may be copyrighted.

The perils of being a lawful permanent resident in the U.S. and violate its rules of conduct or procedure

Yet, Mr. Desire remains a Haitian citizen by birth, decades after he was first admitted to the U.S. as a permanent resident. After serving a prolonged prison sentence, or even before the completion of so, as is commonplace today (a continuum, since the 1996 new immigration law) he will be compelled by the Immigration and Customs Enforcement (ICE) to leave the nation for the rest of his natural life, through a procedure known as "removal" or "deportation" - even if the harsh penalty imposed by the sentencing judge were to rather be served also or only on probation. In this particular case, it (probation, sure supervised) differs in scale the act of suspending the sentence of a person convicted of a criminal offense and granting that person provisional liberty on the promise of good behavior. As they say in the vernacular, you are in prison without being (physically) in prison - by way of alternation, a non-custodial sentence.

_________________

"

The past is not dead. In fact, it's not even the past," William Faulkner.

_________________

On Boston's Ronald "Roro" Nelson

A longtime close friend of Haiti's President Michel Joseph Martelly, now also one of his official senior national advisers on matters that concern security, he was recently (Nov. 23) convicted on two counts of assault and battery with a deadly weapon (a violent physical attack that is not limited to a sharp blow made with the open hand, ripping the victim's synthetic hair from her scalp, tearing apart the skirt of the female person who is already harmed and piercing, at least, one of her cheeks, with the help of automobile keys), by a Commonwealth of Massachusetts (Dorchester District Court) tribunal, after a jury of 12 men and women deliberated only for hours and 7 subsequently voted in favor and, following a trial presided by Judge David Poole (he had to restore order in his chamber, after the defendant's plethora of supporters became very upset at the non-anticipated verdict, as their ululated cries of disapproval or condemnation of it suggested), who long before the unpleasant verdict ordered the defendant to surrender his passport.

but, Mr. Nelson does not have to fester behind bars because the sentencing magistrate did not really take a tough, frontier attitude to his crime. Still, the victim may afterward commence civil legal proceedings against him, also for extreme suffering caused by his intentional or negligent actions. The plaintiff, as did Adam Smith, may ultimately speak of money as the obvious and simple system of natural liberty.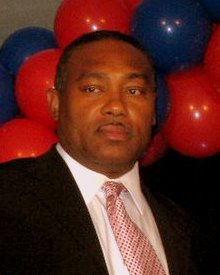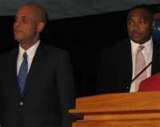 Ronald "Roro" Nelson, (L) a very easy and pleasant person to speak to. Center (R), Mr. Nelson standing behind Haiti's President Michel Joseph Martelly. In another undated Wehaitians.com file photo that reads MINKZE at the very bottom, Mr. Nelson (L) posing with President Martelly (C) for a historic photo during the latter's imperial-like presidential inauguration gala.

From the Court of Law, a Summons to Ronald Nelson

USA vs. Ronald Nelson
Trial Court of Massachusetts
510 Washington Street Dorchester, MA 02124
Date: 11/10/2011
Start: 11:07 AM
Jury Trial

Section 13A. (a) Whoever commits an assault or an assault and battery upon another shall be punished by imprisonment for not more than 2 1/2 years in a house of correction or by a fine of not more than $1,000.

A summons may be issued instead of a warrant for the arrest of any person upon a complaint for a violation of any provision of this subsection if in the judgment of the court or justice receiving the complaint there is reason to believe that he will appear upon a summons.

(b) Whoever commits an assault or an assault and battery:

(i) upon another and by such assault and battery causes serious bodily injury;

(ii) upon another who is pregnant at the time of such assault and battery, knowing or having reason to know that the person is pregnant; or

(iii) upon another who he knows has an outstanding temporary or permanent vacate, restraining or no contact order or judgment issued pursuant to section 18, section 34B or 34C of chapter 208, section 32 of chapter 209, section 3, 4 or 5 of chapter 209A, or section 15 or 20 of chapter 209C, in effect against him at the time of such assault or assault and battery; shall be punished by imprisonment in the state prison for not more than 5 years or in the house of correction for not more than 2 1/2 years, or by a fine of not more than $5,000, or by both such fine and imprisonment.


More, the sad news conveyed to Mr. Nelson by a jury of his peers came months after Haitian feminist groups, others said to be principally envious (being characterized by envy is nothing new in the destructive Haitian culture) of his new found wealth (his friend Martelly, in good times and bad times, is now president) incessantly pressured the alleged victim, Ms. Astride Pantal Walsh, 45, a former girlfriend, the party against which the criminal action was brought owed about $3,000.00, and like a debt collector, was aggressively trying to recover, to press charges against him.


Is it the end of Mr. Nelson's Calvary or Golgotha-like?

By way of conclusion, was the punishment established by law or authority for Mr. Nelson's crime or offense at least 1 year in a state penitentiary other than 1 year of probation, the first four months of so, a period during which he must report with regularity to his probation officer, sure the regrettable fate reserved for the very affable man - a person other than being perceived laughingly as a playboy by some people, especially when a reduced number of them are consuming alcoholic beverages distilled at a high proof; one, who likes U.S. television comedian Jay Leno or David Letterman (the latter, too, receives a longterm exceptional remuneration package, not Mr. Nelson), finds great pleasure in telling jokes on the radio and during his Haitian television appearances - after the completion of his prison term he would physically be forced (after being placed in handcuffs and shackles) to permanently depart the U.S. for his native Haiti, where he is still a citizen - a near certainty. See a short summary of the 1996 U.S. new immigration law signed by then President William Jefferson "Bill" Clinton that is current as of today.