The interior of Cap-Haitien Roman Catholic Cathedral or house of the high-ranking clergy after it was willfully or maliciously desecrated late last week (August 6, 2011) by lethal mobs or violent mindlessness thugs (their barbaric behavior is indisputably the equal or surpasses that of the vandals) said to be affiliated with former Haiti's notorious murderous dictators, Jean-Bertrand Aristide and Rene Preval, in pictures.
The desecration of the cathedral, which began and ended in ferocity, as the photographs you will soon see, showing the immediate aftermath of the fatal attack, sent a disheartening message to the vast majority of Haitians who always dream of a better Haiti and members of the international community, especially the United States, that after billions of dollars spent over the past two decades in an effort to also help the fast-growing dirt-poor minuscule Caribbean nation achieve democracy, and hundreds of thousands of lives lost, the forces of darkness remain potent and perhaps resurging threats to a land where the rule of law (also, crime with punishment), for example, should long be the norm, and endemic grand-scale corruption, gross incompetence, terrorism and narco-trafficking, to name only these ones, the exceptions.
Yet, "The attack on the principal church of a bishop's diocese, a place once immune from violence, a place those who were exposed to possible harm or injury could easily find refuge," convincingly said many Haitians, "is proof that without the presence of United Nations' peacekeeping forces, dispersed across Haiti, the terrorists would on a regular basis show their true capacity for the kind of violence that has long plagued our country, causing it to be a place that is on the verge of disappearing, and fast, from the face of the earth."
The lethal nature of the desecration of the cathedral, which underscores the reality that not even the Roman Catholic Church is safe in Haiti (a very sad continuum), came after Archbishop Louis Kebreau of the diocese of Cap-Haitien had a few pleasant or words of advice for Haiti's current president, Michel J. Martelly, during a Mass he was concelebrating a few days earlier.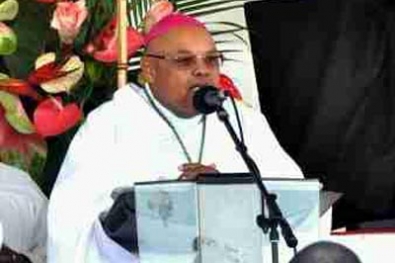 Archbishop Louis Kebreau of Cap-Haitien and president of the Bishop's Conference of Haiti in an undated Wehaitians.com file photo.
What is more, if not to an undetermined degree more painful, it also came almost 19 months after a January 12, 2010 fierce earthquake nearly eviscerated the capital city of Port-au-Prince, other cities and towns, destroying, too, nearly all church buildings.
"The plethora of untold number of very painful, fast increasing problems in this land that is our beloved Haiti demand that Our Excellence ceases to govern as Michel Joseph Martelly, but 'Sweet Micky,'" the former Haitian Kompa music performer's stage name, "if he is to effectively deal with those who are obstructing Haitian progress."
If the readers of this page are to fully comprehend the archbishop' s unsolicited, indirect opinion as to a decision or course of action the president should take, it is one of advising him to cease to be a nice, gentle or friendly head of state, but a law and order one, which many articles in the 1987 constitution (Section B - Duties of the president of the republic) provide for. In so doing, the next generation of citizens, unfortunately as is the case of today's ones and those who came even long before them, will not be deprived or robbed of a better future, as they say in the urban dictionary.
Related
Haiti's first Archbishop Francois Wolf Ligonde, consecrated October 28, 1966, miraculously was not sent to the dark embrace of death by notorious troublemaker Aristide, but his old cathedral, situated in Port-au-Prince, was set ablaze by the former tyrant's mobs believing that the servant of God was hiding inside.
_______________________________