Correspond with us, including our executive editor, professor Yves A. Isidor, via electronic mail:
wehaitians@gis.net
Want to send this page or a link to a friend? Click on mail at the top of this window.

Must learnedly read, too; in part, of intellectual rigor
Posted Friday, September 15, 2006
U.S. announces aid package to help stabilize Haiti
PORT-AU-PRINCE, Haiti, Sept. 15, 2006 -- The United States on Friday announced a $492 million U.S. aid package aimed at putting Haiti on a path to stability and lifting its stagnant economy.
The funds, to be disbursed over three years, would address the poor Caribbean nation's ``enormous economic challenges'' by creating jobs, increasing access to health care and education and fighting HIV/AIDS, said U.S. Ambassador Janet A. Sanderson.
Haiti, the poorest country in the Western Hemisphere, is struggling to recover from a bloody 2004 rebel uprising that toppled former president Jean-Bertrand Aristide and pushed the country deeper into despair.
President Rene Preval took power in May and has pledged to restore order, but a surge in kidnappings and other violence blamed on street gangs has raised fears that the shaky stability could crumble again.
In a report released this week, the World Bank included Haiti in a list of 26 ``fragile states'' at risk of collapsing because of conflict, poverty and bad governance. The report said international donors failed to help provide basic security in Haiti and had poorly timed aid disbursements.
Posted Thursday, September 14, 2006
A U.S. bill to help revitalize Haiti's fledging educational system
By Christine Grimaldi, Palm Beach Post
WASHINGTON, Sept. 14, 2006 — Some Haitian-Americans may soon receive a paycheck from the federal government to aid in the revitalization of their homeland under a bill passed by a House committee Wednesday.
The bill by U.S. Rep. Mark Foley, R-Fort Pierce, would recruit U.S. citizens and permanent residents of Haitian descent to help revitalize Haiti's fledging education, judiciary and health-care infrastructure. Participants could spend as long as three years there and would receive a salary and housing stipend for their services.
The program would run under the auspices of the U.S. Agency for International Development.
House International Relations Committee members unanimously approved the bill after adding a program that would provide scholarships to talented Haitian students.
The scholarships would be granted as loans, although complete loan forgiveness could be obtained if the student returned to Haiti to aid in the revitalization process.
Co-sponsors of the bill include Reps. E. Clay Shaw Jr., R-Fort Lauderdale; Robert Wexler, D-Delray Beach; and Corrine Brown, D-Jacksonville.
"The only holdup was that the politics of Haiti bled into the process," said Foley spokesman Jason Kello, noting that the bill has been in the works for about 2 1/2 years.
"With a newly democratically elected government, we've been able to see movement on the legislation."
Foley's office expects the bill to be up for a full House vote before the end of the year.
Copyright © 2006, The Palm Beach Post
Posted Tueday, September 12, 2006
A U.S. citizenship no more - Haitian man to be deported, judge rules
By Alonso Chardy, Miami Herald Writer
SEPT. 12, 2006 - An immigration judge today ordered Lionel Jean-Baptiste, the first naturalized American in recent times stripped of his citizenship after being convicted of a drug crime, to be deported to Haiti.
The judge advised Jean-Baptiste that it's possible he may yet get to stay in the United States if the government of Haiti refuses to take him back. The Haitian consul in Miami told The Miami Herald that Haitians who have taken other country's citizenship are no longer considered citizens of Haiti, therefore, Haiti would be under no obligation to accept him.
Jean-Baptiste gave up his legal battle today. He remains at the Krome detention center for now.
It was Jean-Baptiste's first major immigration court hearing since U.S. Immigration and Customs Enforcement officers detained him June 14 and put him in deportation proceedings. The detention came about eight months after the U.S. Supreme Court declined to hear his case.
Jean-Baptiste, 58, had his citizenship revoked after a Miami federal jury in 1997 convicted him on drug-trafficking charges. ICE moved to revoke Jean-Baptiste's citizenship in 2000, not because of the conviction -- but because the commission of the crime occurred while he awaited citizenship and was required to be of ``good moral character."
Posted Monday, August 11, 2006
Three gang members surrender weapons
By Stevenson Jacobs, Associated Press Writer
PORT-AU-PRINCE, Haiti, Sept. 11, 2006 · Three gang members surrendered their guns Monday in the first handover of weapons in a U.N.-led effort to disarm hundreds of Haitian criminals.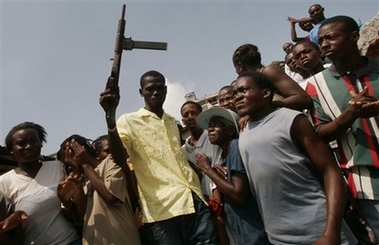 MAKING A MOCKERY OF MY INNUMERABLE NUMBER OF VICTIMS Gang leader, known as 'Bibi', passes through the crowd holding a rusty submachine gun as he surrenders it during a disarmament in the slum of Solino in Port-au-Prince, Haiti, Monday, Sept. 11, 2006. A gang leader and two followers surrendered a rusty submachine gun and two loaded pistols to U.N. peacekeepers Monday in the first weapons handover of a U.N.-led effort to disarm hundreds of militants. (AP Photo/Ariana Cubillos)
The men held the guns above their heads as they approached Brazilian peacekeepers to the cheers of supporters during the handover ceremony in the gritty Port-au-Prince slum of Solino. They agreed to disarm after peacekeepers promised they would not be arrested.
Haiti's government and U.N. peacekeepers are trying to persuade up to 1,000 gang members to lay down their arms with offers of money, food and job training.
The impromptu ceremony marked the start of what officials acknowledge will likely be a lengthy campaign to disarm the gangs, which are blamed for a recent wave of shootings.
WEHAITIANS.COM: Were they, the three gang leaders, largely paid by extreme violence-issued President Rene Preval to now make a mockery of the Haitian people they have been kidnapped for ransom, and for a longtime so? Was it attempt by extreme violence-issued grossly incompetent Preval to convince the international community that he is now finally addressing the gang problem and that his de facto government deserves millions of dollars in foreign aid, only to ultimately be pocketed by a few grand thieves in his inner circle?
Posted Thursday, September 7, 2006
Posted Monday, September 4, 2006
Posted Saturday, September 2, 2006
Rape victims march for justice in Haitian capital of Port-au-Prince
PORT-AU-PRINCE, Haiti, Sept. 1, 2006 (AP) - Wearing white dresses and black masks, 150 rape victims marched through Haiti's capital Friday to demand justice and an end to discrimination against them.
A Haitian woman from the Commission of Women Victims attends a protest in front of the National Palace in Port-au-Prince, Haiti, September 1, 2006. REUTERS
Chants of "We will not give up the fight!" rose up as the protesters, including teenagers and elderly women, walked slowly to Haiti's National Palace. It was the first public demonstration in years by women calling attention to rape, which is rarely prosecuted in Haiti and carries a stigma against victims.
"When you are raped . . . you feel like you are no longer human because those close to you don't want anything to do with you," said Elisena Nicola, 38, a mother of five.
She said paramilitaries broke into her Port-au-Prince home in 1991 and raped her before killing her husband. She said she was raped again in 2004 during lawlessness that erupted following a revolt that ousted former president Jean-Bertrand Aristide.
"We want the government to support us and bring our perpetrators to justice," Nicola said.
Haiti's minister for women's affairs, Marie Laurence Jocelyn Lassegue, said her office was trying to raise funds for initiatives to protect women from violence and help rape victims.
"Right now, women who are raped have nowhere to go for help," Lassegue told the women, who gathered outside her office and declared their demands.
The protest was organized by the Commission of Women Victims for Victims, which was founded by women raped during a 1991-1994 military government that toppled an earlier Aristide government. The group provides medical treatment and counselling to rape victims.
Under military rule, soldiers and the paramilitary group Front for the Advancement and Progress of Haiti waged a campaign of systematic rape, torture and killings to punish supporters of Aristide, human rights groups say.
In a civil hearing in New York this week, a woman testified she was gang-raped by soldiers loyal to the paramilitary group's feared former leader, Emmanuel (Toto) Constant. The hearing was to decide whether Constant owes damages to three women named as plaintiffs. Constant is in jail on Long Island on mortgage fraud charges and did not attend the hearing.
Anne Sosin, director of the Port-au-Prince-based human rights group Haiti Rights Vision, said rape against women remains common in the impoverished Caribbean country, especially within densely populated slums controlled by warring gangs.
Fear of being shunned or ignored by police keeps many victims from seeking help, she said.
"There's absolutely no accountability for perpetrators of rape or those that back them," Sosin said.
Wehaitians.com, the scholarly journal of democracy and human rights