In Gonaives and other cities, Haiti, violent protests, peaceful protests, 'criminal Aristide must go,' murders and burning since uncommonly chief bandit Jean-Bertrand Aristide brutally murdered his notorious criminal Amiot Metayer - January 7, 2004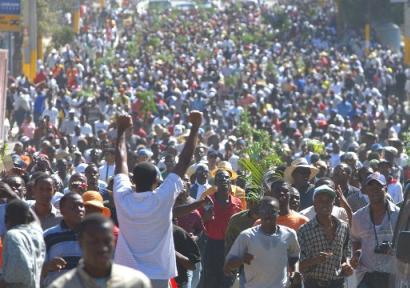 Opposition demonstrators march towards downtown Port-au-Prince, Haiti, Wednesday, Jan. 7, 2004. University students and anti-government demonstrators marched against Aristide in spite of attacks by government supporters that left at least one dead and eight injured.(AP Photo/Walter Astrada)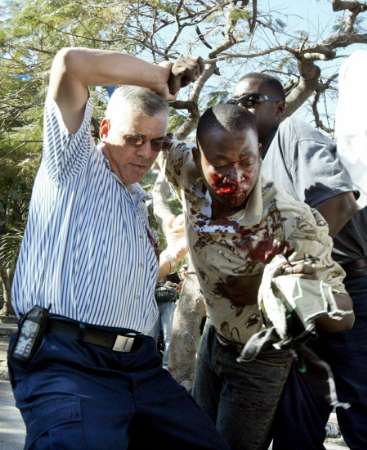 Charles Henry Baker, a factory owner and the vice-president of the Association of Haitian Industries (L) and another unindentified man (R) help another take cover after he was injured by a rock thrown by supporters of Haitian President Jean-Bertrand Aristide, in clashes with police during an anti-government demonstration in Petion-Ville, January 7, 2004. Reuters/Daniel Morel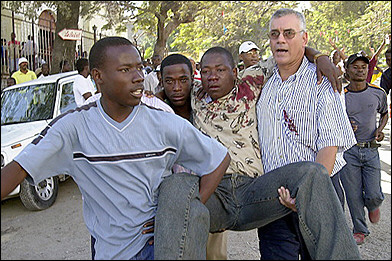 A Haitian protester carried by compatriots after he was injured by stones thrown by supporters of Jean-Bertrand Aristide during a march for democracy in Port-au-Prince Wednesday, January 7, 2004. Agence France-Presse/Tony Belizaire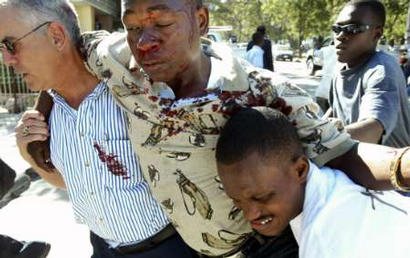 Charles Henry Baker, a factory owner and the president of the Association of Haitian Industries (L) and another unidentified man (R) help another take cover after he was injured by a rock thrown by supporters of Haitian President Jean-Bertrand Aristide, in clashes with police during an anti-government demonstration in Petion-Ville, Haiti, January 7, 2004. Reuters/Daniel Morel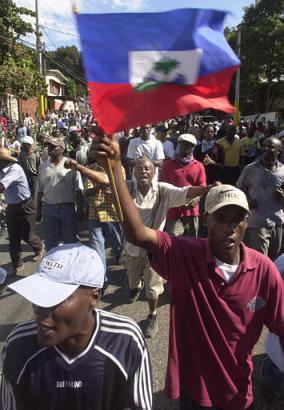 Opposition demonstrators march towards downtown Port-au-Prince, Haiti, Wednesday, Jan. 7, 2004. University students marched against Aristide in spite of attacks by government supporters that left at one dead and at least 10 injured. (AP Photo/Andres Leighton)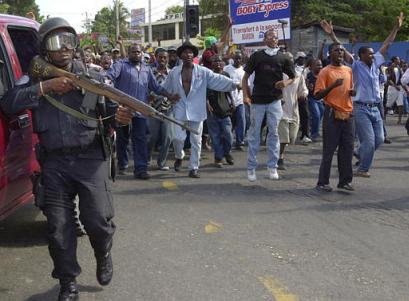 A police officer escorts an opposition march to protect them from supporters of President Jean-Bertrand Aristide in Port-au-Prince, Haiti, Wednesday, Jan. 7, 2004. University students and anti-government demonstrators marched against Aristide in spite of attacks by government supporters that left at least one dead and eight injured. (AP Photo/Andres Leighton)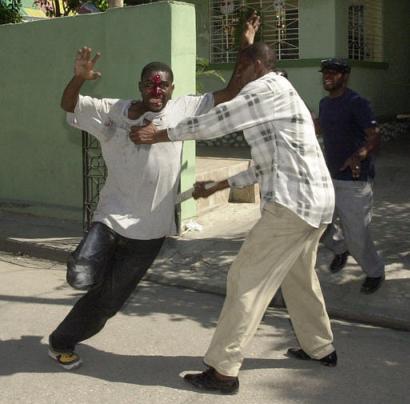 An unidentified student protester, left, is beaten by a supporter of President Jean-Bertrand Aristide during an opposition march in Port-au-Prince, Haiti, Wednesday, Jan. 7, 2004. University students and opponents marched against Aristide in spite of attacks by government supporters that left at least one dead and eight injured. (AP Photo/Andres Leighton)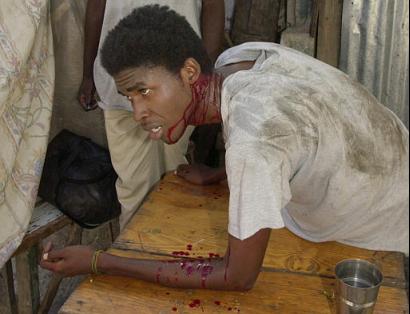 University student Alphonse Momond hides from supporters of President Jean-Bertrand Aristide after being beaten during an opposition march in Port-au-Prince, Haiti, Wednesday, Jan. 7, 2004. University students and anti-government demonstrators marched against Aristide in spite of attacks by government supporters that left one dead and at least 10 injured. (AP Photo/Andres Leighton)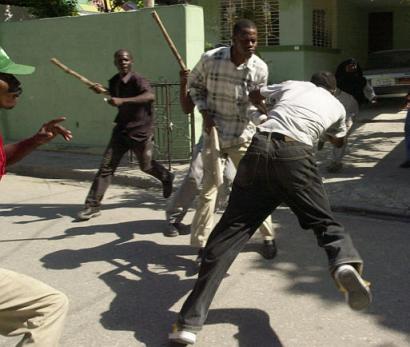 An unidentified student protester, right, is beaten by a supporter of President Jean-Bertrand Aristide during an opposition march in Port-au-Prince, Haiti, Wednesday, Jan. 7, 2004. University students and opponents marched against Aristide in spite of attacks by government supporters that left at least one dead and eight injured. (AP Photo/Andres Leighton)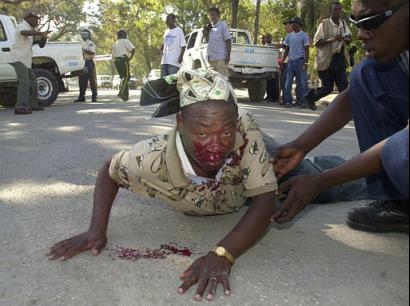 An unidentified opposition demonstrator is helped after being hit in the face by a stone thrown by supporters of President Jean-Bertrand Aristide during an opposition march in Port-au-Prince, Haiti, Wednesday, Jan. 7, 2004. (AP Photo/Walter Astrada)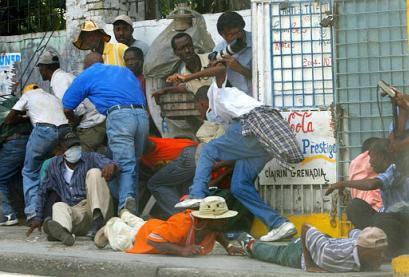 Opposition demonstrators take cover on the sidewalk from shotguns fired by supporters of President Jean-Bertrand Aristide during an opposition march in Port-au-Prince, Haiti, Wednesday, Jan. 7, 2004. University students and anti-government demonstrators marched against Aristide in spite of attacks by government supporters that left one dead and at least 10 injured. (AP Photo/Walter Astrada)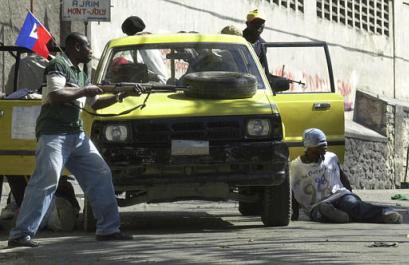 Plainclothes police officers detain a truck with supporters of President Jean-Bertrand Aristide after they beaten Aristide opponents during an opposition march in Port-au-Prince, Haiti, Wednesday, Jan. 7, 2004. University students and anti-government demonstrators marched against Aristide in spite of attacks by government supporters that left at least one dead and eight injured. (AP Photo/Andres Leighton)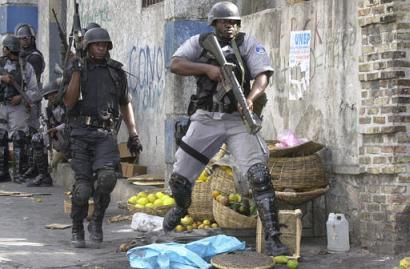 A police officer jumps over fruits of a street vendor while escorting an opposition march to protect the demonstrators from supporters of President Jean-Bertrand Aristide in Port-au-Prince, Haiti, Wednesday, Jan. 7, 2004. University students and anti-government demonstrators marched against Aristide in spite of attacks by government supporters that left one dead and at least 10 injured. (AP Photo/Andres Leighton)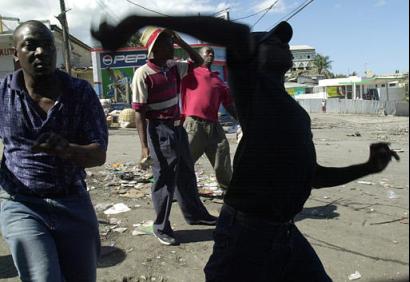 Opposition demonstrators throw stones at supporters of President Jean-Bertrand Aristide during an opposition march in Port-au-Prince, Haiti, Wednesday, Jan. 7, 2004. University students and anti-government demonstrators marched against Aristide in spite of attacks by government supporters that left one dead and at least 10 injured. (AP Photo/Walter Astrada)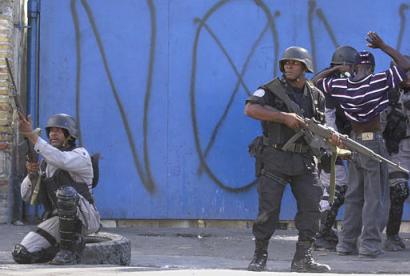 Haitian police officers take positions while frisking an demonstrator during an opposition march in Port-au-Prince, Haiti, Wednesday, Jan. 7, 2004. University students and anti-government demonstrators marched against Aristide in spite of attacks by government supporters that left one dead and at least 10 injured. (AP Photo/Andres Leighton)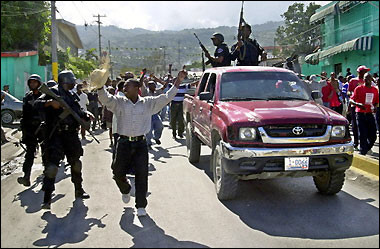 Police monitor an anti-government protest in Port-au-Prince demanding the resignation of Haitian President Jean Bertrand Aristide. A man was killed in a shootout with police as in the demonstration sparking fresh tensions; At least eight other people were wounded in stone throwing.(AFP/Thony Belizaire)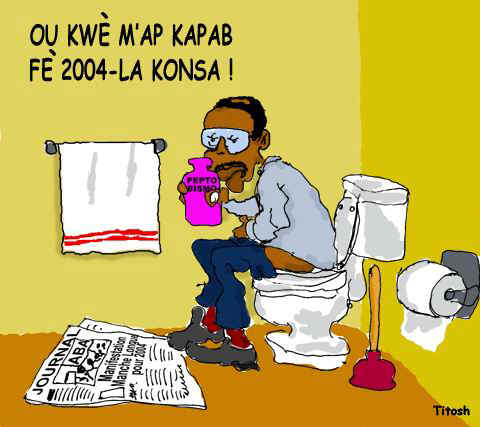 Bottom left, Down with! Mobilisation ... Big protest for 2004, reads the journal. Top left, I, uncommonly vicious tyrant Jean-Bertrand Aristide, can't let people demonstrate against me during the year 2004. What he really means, if the protests continue next he will fall into the whole of the outhouse.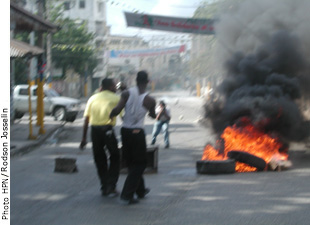 Chief bandit Jean-Bertrand Aristde's criminals burning used car tires to prevent freedom fighters from demonstrating in Port-au-Prince, January 7, 2004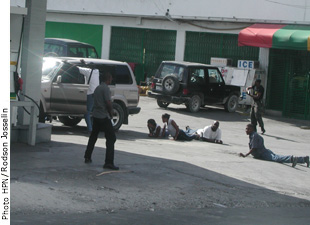 Police officers, pretending to be looking for guns, force occupants of an automobile to lay down on the pavement, less than an hour before a gigantic demonstration against totalitarian dictator Jean-Bertrand Aristide in Port-au-Prince, Haiti, January 7, 2004.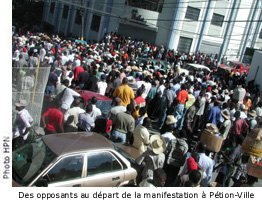 Haitian freedom fighters calling on tyrant Jean-Bertrand Aristide to resign from the office of the Haitian presidency during a gigantic protest in Port-au-Prince, Haiti, January 7, 2004.