Correspond with us, including our executive editor, professor Yves A. Isidor, via electronic mail:
letters@wehaitians.com; by way of a telephone: 617-852-7672.
Want to send this page or a link to a friend? Click on mail at the top of this window.

Must learnedly read, too; in part, of intellectual rigor
_________________________
Posted Friday, February 25, 2011
Haitian Senator Joseph Lambert, most likely to be arrested by U.S. D.E.A. agents
By Yves A. Isidor.
Wehaitians.com executive editor
NASHUA, NH, Feb. 25 - Two agents of the United States Drug Enforcement Agency (DEA) met privately Thursday morning, according to a longtime, high placed credible source who spoke to Wehaitians.com early Friday on the customary condition of anonymity because he was not authorized to speak about the case and feared for his life and those of his immediate family members, with Haiti's Justice Minister, Paul Denis, demanding that Haitian Senator Joseph Lambert, who has long been repeatedly accused of trafficking in narcotics, his parliamentary immunity be removed indefinitely.
Like in many other international relations cases involving, for example accredited United Nations' ambassadors who put an end to the living bodies of other human beings in New York City while driving their automobiles under the influence of alcohol, Mr. Lambert, who until recently was also the campaign manager of extreme violence-issued Haiti's President Rene Preval's chosen successor Judge Celestin (he has fathered at least 23 children with 13 different maanmancitas or women), may cease to enjoy the many privileges parliamentary immunity accords him, provided there is sufficient ground for so, upon a formal request, as is customary, presented by Mr. Denis on behalf of his departing government (that of Preval-Bellerive, a party to some U.S.-Haiti accords, which contents are not known by nearly all Haitians) to members of the upper house body of which he is an integral part.

Senator Joseph Lambert, the accused drug lord, in an undated Wehaitians.com file photo.
In the aftermath of the D.E.A. agents' meeting, Mr. Denis, late Thursday afternoon, before he traveled to his native city of Les Cayes (south of Haiti), paid Senator Lambert, a prominent member of current Haitian dictator Rene Preval's political party, Unite or Unity, a visit at his private residence, situated at Chili AU #4, in the earthquake-ravaged capital city of Port-au-Prince neighborhood of Place Jeremie.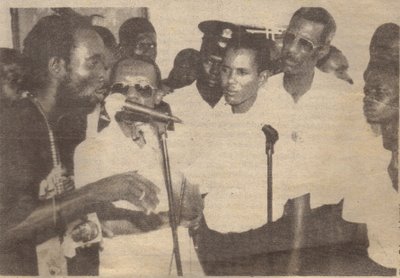 Faurel Celestin, with glasses, standing next to an unidentified police officer. Deposed dictator Jean-Bertrand Aristide, also with glasses, front row, listened attentively to an unidentified man speaking by way of a microphone at a public political meeting in an undated Wehaitians.com file photo.
The second meeting, which may ultimately be translated into the possible arrest of a Haitian senator, who only a few years ago a boat belonging to him was discovered to be transporting narcotics, its sole cargo (to cite only this very particular case), after it was intercepted in the southern cost region of Haiti, Tiburon, to be precise, and who was once the president of the small Caribbean nation's senate, is reminiscent of the fate of former Senator Faurel Celestin, who, too, many years ago became a senatorial president not long before he was placed in handcuffs while he was still so by some of the 21 D.E.A. agents stationed in Haiti and subsequently transported to the U.S. state of Florida, where a verdict of culpability was returned against him by a jury after a lengthy trial. Ultimately, as punishment for his crimes against society he was sentenced to 5 years in federal prison, though he served slightly less than that.
After Mr. Celestin's long period of incarceration, he was ultimately deported to Haiti, where months later he was arrested by dictator Preval. For many, such an arrest, which took place while he was en route from paying a medical insurance bill, certainly had nothing to do with his U.S. conviction. Politics, as usual, rather was the basis for so. .
RELATED TEXTS:

A "bag man" for deposed, crooked dictator Aristide in Federal court Monday, February 28, 2011

After a few months of conditional liberty, Jean Nesly Lucien, a deposed totalitarian dictator Jean-Bertrand Aristide former national police chief, is deported to Haiti

Haitian drug traffickers

Aristide and band of drug lords
Wehaitians.com, the scholarly journal of democracy and human rights