Want to send this page or a link to a friend? Click on mail at the top of this window.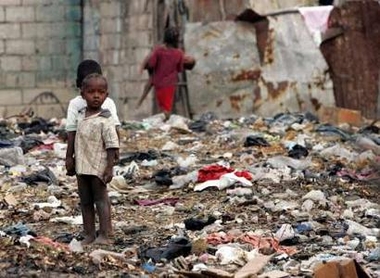 Haitian children stand in garbage outside their homes in the Cite Soleil neighborhood of Port-au-Prince, February 2, 2006. The poorest country in the Americas, Haiti is considered one of the world's forgetten crises - overshadowed by the Asian tsunami that killed hundreds of thousands people, Huricane Katrina, which swamped one of America's best known cities and a host of other global disasters. Picture taken February 2, 2006, to match feature Haiti-forgetten. REUTERS/Shannon Stapleton More Images
Haiti's poor suffer as world looks elsewhere
__________________
By Jim Loney, Reuters Writer
PORT-AU-PRINCE, Haiti, Mar. 2, 2006 (Reuters) - The scars on the shoulder, neck and chin of little Laurencia Dieudonne are a constant reminder of the frightening night when bullets pierced the thin walls of her shanty-home in Haiti's Cite Soleil slum.
The sounds of gunfire on that day 14 months ago -- probably another fight between slum gangs and U.N. peacekeepers -- chased now 5-year-old Laurencia and her mother, Guilene Jean, under the bed.
But the walls of the rickety home, fashioned from rusted sheets of iron, offered little protection. Laurencia, a tiny child with an engaging smile and braided hair, was shot three times and became another forgotten victim of Haiti's immutable violence and poverty.
"She doesn't talk about it. But when people ask about the scars, she just says, 'I got shot,"' said Guilene, who at 26 is pregnant with her third child.
The poorest country in the Americas, Haiti is one of the world's forgotten crises -- overshadowed by the Asian tsunami that killed hundreds of thousands of people, Hurricane Katrina which swamped one of America's best known cities and a host of other global disasters.
The average Haitian lives on less than $2 a day. The poor have stripped the land of trees for cooking charcoal. This has added catastrophic soil erosion to a long list of woes as the unstable Caribbean nation takes another stab at democracy after last month's presidential election, which followed decades of dictatorship, coups and turmoil.
Just under 50 percent of Haitians cannot read, more than two-thirds are unemployed, over half are malnourished.
Yet aside from the moments when its political upheavals make news, Haiti is a simmering crisis, not splashy enough to force the world to care, according to foreign aid groups working here.
"It's not spectacular. Sometimes, countries are not interesting," said Loris De Filippi, head of the Medecins Sans Frontieres mission in Haiti. "But when you have 48 years of life expectancy, and infant mortality rates are catastrophic, this is an ongoing disaster."
HEALTH CARE FOR THE POOR
Last year MSF revived the St. Catherine Laboure Hospital in Cite Soleil, a squalid, violent shantytown on the northern edge of Port-au-Prince.
In an inconspicuous walled compound abandoned by Haiti's authorities a year earlier, the group restored health care to a slum that had none. Doctors say they are seeing people in their 50s who have never had medical care before.
With 70 beds and an operating room, the volunteer doctors and nurses treat bruises, cuts, pregnancies, cancer, diabetes and in recent months, more than 200 gunshot victims, many caught in the cross-fire between slum gangs and U.N. troops.
Doctors say the use of high-powered weapons in Cite Soleil's cramped maze of concrete and iron shacks produce astonishing wounds among the slum's innocent bystanders.
"The speed of the bullets is very high and the damage is awful, terrible," said Dr. Carlo Belloni of Padua, Italy, who calls conditions in the slum "unbelievable."
"I have never seen anything like this. Nothing is working here. Everything is destroyed."
One night in January, gunshots ripped into the metal blinds of the hospital's pediatric ward, which is now protected by a wall of stacked steel drums filled with rocks and concrete. Bullet holes pock the doors of two small rooms where doctors used to take naps. Sleeping is no longer allowed there.
HELP ON THE WAY?
When a rebellion by a ragtag band of armed gangs and former Haitian army troops sent President Jean-Bertrand Aristide into exile two years ago, foreign nations pledged $1.3 billion to rebuild Haiti. The United Nations says about 45 to 50 percent of the money has been disbursed.
"Disbursed means the contracts have been signed. That doesn't mean the money has actually arrived," said Carine Roenen, country director for Dublin-based Concern Worldwide, which has a yearly budget of about 4 million euros ($4.8 million) for Haiti.
Shortly after the post-rebellion burst of goodwill toward Haiti, the tsunami struck Asia, Katrina hit New Orleans and Pakistan was crushed by an earthquake. Haiti was shoved to a back-burner again.
"We saw donations drop by about 30 percent after the tsunami," said Susie Krabacher, an American whose Mercy and Sharing Foundation runs three orphanages and six feeding programs in Haiti.
Aid organizations in Haiti face uphill battles against corruption and feeble government institutions, which slow and sometimes halt the flow of foreign money to badly needed projects supplying food, clean water and infrastructure.
"They virtually have no public administration. There has been a huge, huge brain drain," said Roenen. "Nobody wants to work for the government anymore because it is so weak."
Aid groups are hoping the February 7 election of Rene Preval, an agronomist who served as president from 1996 to 2001, will stabilize Haiti in the eyes of the world and provide a platform to help the poor masses.
"People are interested in Haiti in a negative sense, like when we have to stop drugs from flowing through the country or we have to stop people from getting on boats," Roenen said.
NO WAY OUT
Guilene Jean says Laurencia's father was shot to death on his way home from work on the same day the girl was wounded.
Laurencia has had no follow-up care since her gunshot wounds healed, and psychological counseling is unheard of in Haiti. She often complains that her neck aches and rarely goes a few weeks without getting sick.
Their shanty sits on the edge of a fetid pond whose surface is tinged with an oily residue and a greenish scum. Pigs root through the tons of rotting trash that form its banks.
Jean said she would like to flee this place. Bullets often whiz over her leaky roof. But escape doesn't seem possible.
"I don't have any money to go anywhere else," she said.
(Additional reporting by Joseph Guyler Delva)
Copyright © 2006 Reuters Limited.
EDITOR's NOTE: As they say in the vernacular, Haiti's poor, rather, miss the boat, as we long anticipated.
Related text: A vote for Haitian presidential candidate, Preval, is a vote for more abject poverty, terrorism, drug trafficking - Overall, anti-United States
Wehaitians.com, the scholarly journal of democracy and human rights