This column is current as of today, Wednesday, January 30, 2008.
Want to send this page or a link to a friend? Click on mail at the top of this window.
A vote for Haitian presidential candidate, preval, is a vote for more abject poverty, terrorism, drug trafficking - overall, anti-United States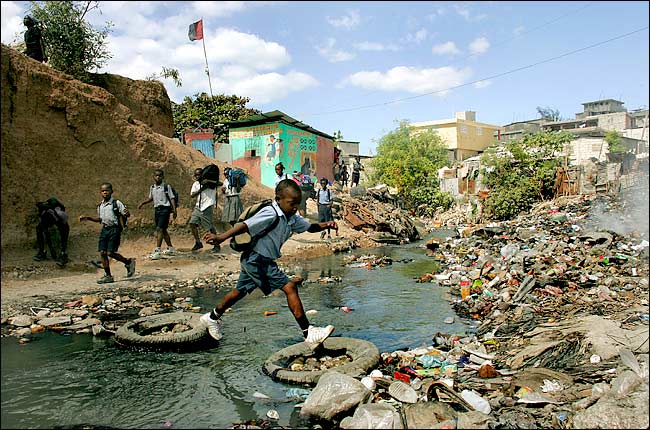 Scott Nelson/World Picture News, for The New York Times
Schoolchildren in the impoverished Cite Militaire Neighborhood of Port-au-Prince
CAMBRIDGE, MA - Rene Preval, a fiery leftist with an egregious human rights record who always considers the Haitian presidency as a criminal enterprise naturally shifting to the boss in ascendancy is again a candidate for president - nearly two years after the downfall of his senior partner in crime, Jean-Bertrand Aristide - in the elections of February 7, 2006, which carry primarily in both a domestic and regional context tremendous significance.
Preval, who in January 199 dissolved parliament and gave himself unlimited power to form a government by decree, surely holds a place of honor in the annals of Haitian murderous dictatorship. On many occasions, he has visited with the Cuban genocidal dictator, Fidel Castro (axis of die hard anti-United States). His candidacy is, for sure, more than a radical attack on Haitian dignity and democracy, a deep threat to the United States.
"The accumulation of all powers, legislative, executive and judiciary, in the same hands, whether of one, a few or many, and whether hereditary, self-appointed or elective, may justly be pronounced the very definition of tyranny," James Madison
There are solid reasons for so. In his 1996 comedian-like presidential inaugural address, he promised Haitians that his five-year term will produce hundreds of thousands new employment opportunities in the construction industry. If any other good would come from his largely illegitimate government, it would be that of "re-establishing the authority of the state."
It is no doubt true, since inane Preval has acknowledged he failed, according to a January 17, 2006 Associated Press article, reported and written by Michael Norton, that a second presidency of Preval (a come-back monster) is indicative that a significant number of chapters to the already Haitian book of multitude of painful problems will be added.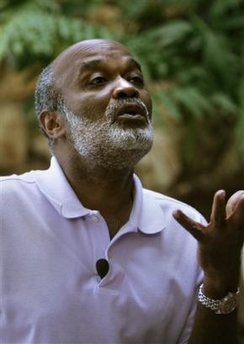 Rene Preval gestures during an interview at a private home in Port-au-Prince, Haiti, Tuesday, Jan. 17, 2006. "My five-year government was a total failure." (AP Photo/Brennan Linsley)

The chapters that will be added to the book just mentioned above will not only be long, but the painful subjects matter, which the table of contents will introduce you to, will certainly be read as such. No way out of kidnappings (in December 2005, at least 162 reported cases. The actual number probably far surpasses 162), rape, terrorism, drug trafficking, and, especially anti-United States.

What's more? Blanket dehumanizing poverty, grand thievery, gross incompetence and many more of the same nature and gravity will increasingly continue to define the quality of life enjoyed nearly all Haitians, transcending into more Haitian boat people, particularly for the state of Florida.

Preval, a largely inarticulate man who drinks vodka for breakfast, a womanizer, and, yes, a failed neighborhood baker, is, too, a former corrosive totalitarian dictator and ex-hell-sent dictator and famously said druglord Aristide's "yes man," meaning that the latter will still be there, at least by proxy.

So numerous are mentally unstable Aristide's apparent drugs ties, approximately ten of his former government senior officials, including his palace security chief Oriel Jean, and prominent members of his political party, Lavalas (literally, Flood)), are now serving long prison sentences in the U.S. for trafficking in illegal substance, that is narcotics.

The first rule of holes is: since chief bandits Preval and Aristide (he distributed at least 27,000 firearms), and cruel ones at that, have conjointly further forced nearly all Haitians into an extremely painful one (cataclysm), stop digging. There is absolutely nothing that gives nourishment to Preval's more daring principal presidential campaign slogan, for example, "with me Preval, you all Haitians can be hopeful."

Arguably, Haitians must, with the power that their votes confer them, overwhelmingly write the political obituary of Preval. By way of simplistic explanation, "We do not want you as our next president." Otherwise, they are incapable of taking a decisive step to intelligently begin addressing the multitude of growing painful problems, which for more than 200 years have stunted their progress; oh, my God, so damn they are they continue to plant with land mines the road for a reinvented Haiti, in the positive sense, the sayings will once again go. In the phrase of Vladimir Lenin, they will be perceived as "useful idiots."

"Liberty is a long distance race," said Albert Camus, a French existentialist. Taking the right course, refusing to be further ensnared by an immeasurably barbaric man who possesses the perfect credentials for death, and savagely so, will certainly permit you to be hopeful, that in the near future you will begin to journey to democratic rule and improve your material conditions - insignificant they may be, by Western world standards.

Yves A. Isidor, who teaches economics at the University of Massachusetts-Dartmouth, is spokesperson for We Haitians United We Stand For Democracy and executive editor of wehaitians.com

Wehaitians.com, the scholarly journal of democracy and human rights