Correspond with us, including our executive editor, professor Yves A. Isidor, via electronic mail:
letters@wehaitians.com; by way of a telephone: 617-852-7672.
Want to send this page or a link to a friend? Click on mail at the top of this window.

Must learnedly read, too; in part, of intellectual rigor
Posted Thursday, January 8, 2009
A Former Haiti Aristide Narco-Police Chief
Has Conditionally Regained His Liberty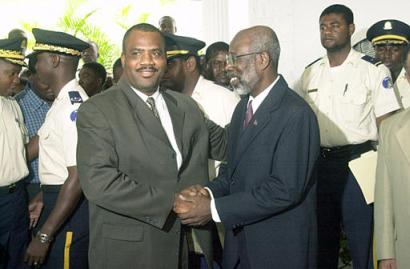 In this wehaitians.com file photo, Haiti's outgoing Director General of the Haitian National Police Jean Nesly Lucien (in suit), shakes hands with his replacement, Jean-Claude Jean-Baptiste, following the official transfer of power at police headquarters in Port-au-Prince, Haiti, on Wednesday, March 26, 2003. Mr. Lucien, who conditionally regained his liberty Wednesday, served approximately four years as punishment in a Florida U.S. federal prison after a verdict of culpability for trafficking in narcotics in Haiti, which served as a transshipment point for Columbian cocaine entering the U.S. market, was returned against him. Jean-Baptiste is famous for allegedly planned, commandeered the assassination of deposed brutal dictator Jean-Bertrand Aristide's political opponents, including assumed ones. Prominent Pastor Sylvio Claude, also a human rights and political leader, was burned to death in the early hours of September 30, 1991, in the major southern provincial city of Les Cayes. (AP Photos/Daniel Morel)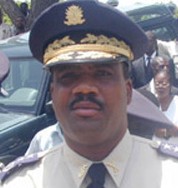 Jean Nesly Lucien, when he was police chief, druglord, deposed murderous dictator Jean-Bertrand Aristide's unconditional yes-man - in fact, all of them together. Today, despite a multitude of arrests by the United States Drug Enforcement Agency (D.E.A.), long prison sentences, after the defendants were found culpable by U.S. federal courts, still the drug market in Haiti far surpasses $1 billion annually. and is growing, fast. It certainly continues to claim many victims. One of them is: An execution in Haiti.
Wehaitians.com, the scholarly journal of democracy and human rights