Correspond with us, including our executive editor, professor Yves A. Isidor, via electronic mail:
letters@wehaitians.com; by way of a telephone: 617-852-7672.
Want to send this page or a link to a friend? Click on mail at the top of this window.

Must learnedly read, too; in part, of intellectual rigor
Posted Thursday December 4, 2008
Two fatal bullets pumped into alleged "Girlie Druglord's" head in Haiti
By Yves A. Isidor, wehaitians.com executive editor
CAMBRIDGE, MA, Dec. 4 - The body of Monique Pierre, 35, one of the many "super-sweeties" or "high performance ladies of the evening" of the major provincial, historical city of Gonaives' (western Haiti) police chief, Ernst Dorfeuille Bouquet, was found Saturday on Morne Cabri (literally Goat Mountain), north of the capital city of Port-au-Prince, less than two days after she was kidnapped by armed gangs, in Petion-Ville, west of Port-au-Prince.
Two fatal shorts were pumped into Ms. Pierre's head, her eyes were cut out, and Haitian Police attributed the cause of the victim's brutal death to drug trafficking.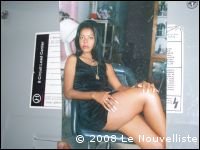 SWEETY GIRLIE Monique Pierre, the victim, the alleged druglord.
"Why can't a woman be the equal of a man, especially one that is of extreme economic means?" This, to paraphrase Henry Higgins in "My Fair Lady." Of course, Ms. Pierre, who reportedly was a criminal deportee from the United States, proved a person like herself could. Her vast wealth, in the dirt-poor nation that is Haiti, convincingly argue many, chiefly derives from trafficking in narcotics.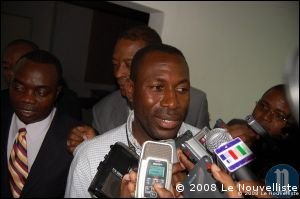 Ernst Dorfeuille, the man who, apparently, spent numerous nights of, perhaps, reciprocal sexual merriment with Ms. Pierre, responding to journalists' questions after her body was found.
Mr. Dorfeuille who has since been repeatedly questioned by Haitian police investigatorrs was formerly charged today for providing moral support, material support, to list only these ones, to gangsters and ordered jailed by a judge, immediately. He is now at the Haiti's fetid, rat infested national penitentiary, hours after he was transported there in tight handcuffs from the courthouse.
Wehaitians.com, the scholarly journal of democracy and human rights