Correspond with us, including our executive editor, professor Yves A. Isidor, via electronic mail:
letters@wehaitians.com; by way of a telephone: 617-852-7672.
Want to send this page or a link to a friend? Click on mail at the top of this window.

Must learndly read, too; in part, of intellectual rigor
Posted Wednesday, May 16, 2007
Women engulfed in Haiti's violence spasm, rape on the rise
By Isabelle Linger, Agence-France Writer
PORT-AU-PRINCE, Haiti, May 16, 2007 (AFP) - Rocked in recent years by kidnappings and street robberies, desperately poor Haiti is caught in the grip of a new violent scourge -- a rising number of sex assaults against women.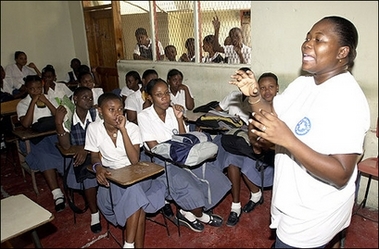 Students at the College Young Girls in Port-au-Prince listen to a member of "Medecins du Monde" during a lecture about sexual violence on 11 May 2007. (AFP/File Photo)
As recently as a decade ago, violence here almost always was of the political variety. But today, the Caribbean island nation is wracked by street-level brutality, sometimes by individual attackers, sometimes by roving gangs, visited more often than not against women.
Researchers said about 80 percent of victims of violence in Haiti are women, of whom about 40 percent were attacked within their own homes. And in the capital city Port-au-Prince, gang rape has become a shockingly familiar phenomenon.
Robed Congo Noel, a social worker with the Medecins du Monde nonprofit group observed that violence here is linked in large part "to the inferior station of women in our society."
In addition to women, minors also are at risk: more than 55 percent of sex assault victims are between the ages of 10 and 17.
Because the phenomeonon is so new and because Haiti's other needs are so great, there is little in the way of a support system for the sexually abused.
"The victims, be they battered women, young female rape victims or abused children, end up somehow normalizing their experience or blaming themselves -- whether or not they submit to their attacker," said Michaele Israel, a leader in the Martissant shantytown on the southern outskirts of Port-au-Prince.
The upsurge of violence in many ways is not surprising. This impoverished country for generations has suffered through coups, violence and unspeakable poverty.
But the violence has mushroomed in the wake of former President Jean-Bertrand Aristide's 2004 ouster. According to statistics compiled by the United Nations, there were 142 kidnappings in November and December 2006 alone.
Riots and pillaging from years of upheaval have wrecked the few functioning parts of the fragile economy, and drug trafficking is out of control.
The lawlessness also is fed by the lack of a functioning criminal justice system, the continuing poverty and a flood of some 200,000 illegal weapons that have deluged the country in recent years, according to some estimates.
And there is little in the way of an armed government presence to maintain order: Haiti's army was disbanded in 1994, and its police force, widely viewed as corrupt and incompetent, numbers fewer than 7,000.
"Violence is everywhere in our society -- but (speaking about it) is also taboo," said Emmanuel Joseph who runs a crisis intervention center in Carrefour, a poor section of the Haitian capital.
"The victim often has little choice but to remain mum" about it, he said.
The old rules of social order and civility have fallen away, increasing the vulnerability of Haiti's victims. One rape victim, Emilienne, 33, was attacked while visiting a trusted physician in mid-April.
"He made me wait a long time and when night fell, he advised that it wouldn't be wise for me to go home because of the general lack of law and order. He suggested I spend the night nearby at the home of a friend of his," she said.
It was there, however, that the same doctor brutally attacked her and forced her to submit to sex.
"I trusted him," she later said ruefully. "He was a doctor."
Emilienne said she is fortunate in having the support of relatives to cope with the effects of the abuse.
"My family supports me, but they're worried about me," she said. It's so easy here to kill someone," she said.
Emilienne counts among the few who have managed to fight back, with the help of the group Kay Fanm -- a women's collective fighting against sexual exploitation. Thanks to the work of lawyers and social workers at Kay Fanm, her accused rapist is now behind bars and awaiting trial -- a rare occurence in Haiti.
"All I want is justice for myself and for all the raped women who don't dare speak out," Emilienne said.
Copyright © 2007 Agence France Presse
Wehaitians.com, the scholarly journal of democracy and human rights