Why Mirlande Manigat Deserves to Be Haiti Next Leader
It is this Sunday, March 20, 2011 that will take place the round off of the Haitian presidential election between Ms. Mirlande Manigat of Rally of Progressive National Democrats (mostly known by its French contraction, RDNP) and Mr. Michel Martelly of Respons Paysan. This ballot vote comes at a critical juncture for the motherland already dealing with the challenges of reconstruction, starvation, ignorance, and disease.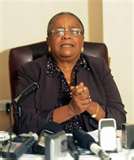 Mirlande Manigat at a recent press conference. She is the proven Haitian politician, the rare scholar. Overall, under her exceptional leadership Haitians can be hopeful of a better future. (Wehaitians.com file photo)
A vast majority of our countrymen refuse to consider that the nation has leaders it deserves. Even so, this unspoken mainstream must wake up from its lassitude by electing unparalleled people that can bring us out of the ruts of underdevelopment and misery. It is a fact that at this time of great crisis there is a place in hell for citizens who remain muted. After watching the latest televised meeting between the two protagonists, numerous undecided voters believed that whole Haiti must stand up to vote for Dr. Mirlande Manigat. Throughout this debate, the RDNP candidate was composed in spite of the vulgar and aggressive conduct of her competitor. According to the spokesperson of the Group 77, Mr. Andre Michel, such personage is not worthy of being President of the Republic.
In any normal society, Mr. Martelly would have been forced to openly make an apology to Ms Manigat and the journalists that he threatened to "popular reprisals". The two colleagues questioned him on 3 properties the contender had in Florida that had gone to foreclosures. Mr. Guyler C. Delva from SOS Journalist "has condemned the behavior of the candidate and requested that he corrects and clarifies his position on the issue of freedom of the press and expression which is a significant part on any democratic system". Many other media organizations have also expressed their concern about a likely Martelly's administration. Platon said populism is a phenomenon that we must fear and wrestle simultaneously.
In the meantime, candidate Manigat everywhere she visits across the country receives standing ovations. For Jean David Laforest who attended Manigat's public meeting in the city of Les Cayes, that was indeed a "popular delirium". The 70 year old woman, graduated from the Sorbonne-France with a PhD, is a model of competence, integrity, and serenity that this country can afford. She is currently an unambiguous "alternative" to lend a beloved term to her political alliance. The little people of the slums perceive her as a mother who is intensely alarmed regarding the wellbeing of the entire nation. Furthermore, it is rightly as a symbol of approbation they have screamed "give us our mother, give us our mother". These words have become an informal slogan for her campaign.
A few days before the closing of the election campaign, the Minister of Culture and Communication in the Preval/ Bellerive government just momentarily left her post to support Mirlande Manigat. Marie Laurence Lassegue intends to rally women. She advises people to vote "for a woman of quality, experience, expertise…". She as well encourages such a development in Haiti, as did some Latin American countries where women were elected to presidency.
Ms. Manigat recognizes well that she can not resolve on her own this country's multiple problems. Her political program "Change Life" has called a get-together of all forces, without distinction, for a large concert of development to save the land of Toussaint Louverture and Jean Jacques Dessalines. For example, a forthcoming Manigat government proposes to reinforce our educational system, to improve farming, health care, and not to mention the relocation of the earthquake's victims.
This Sunday, if Ms. Manigat does not become the first female elected to that post; this would be a fatal coup de grace for us. In a recent discussion on Radio Canada, she affirmed that would not alter her life. For many political analysts, it is Haiti that has all to lose. She deserves being a lady of compassion, brainpower, and common sense. May God protect this nation from any harm!
Romeo Estinvil can be reached: