Correspond with us, including our executive editor, professor Yves A. Isidor, via electronic mail:
letters@wehaitians.com; by way of a telephone: 617-852-7672.
Want to send this page or a link to a friend? Click on mail at the top of this window.

Must learndly read, too; in part, of intellectual rigor; in part, the repository of ultimate knowledge
Posted Thursday, May 24, 2007
Is Det. Dambreville getting a raw deal? Friends wonder
By Pete Stidman, Dorchester Reporter Writer
A handful of prominent members in Boston's Haitian American community are calling on the city to defend detective Yves Dambreville in a civil suit brought against him and to let him get back to work.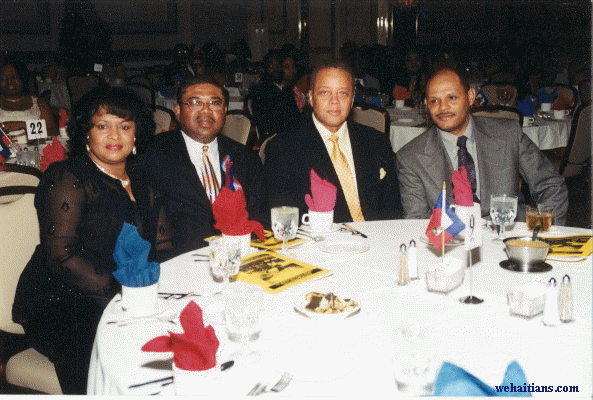 Second, Boston Police detective Yves Dambreville, left, seen with his wife in early January 2005 at a Haiti Independence Day gala, at Lambardo's, a luxury conference and function facilities, situated in the Massachusetts upper lower middle class town of Randolph.

"This is pure racism; he's one of us; you don't need to know everything, and all you have to do is call Boston's Mayor Thomas Menino and demand that his administration (Boston Police Department) pays the legal fees of Mr. Dambreville, who is now defending himself in a civil suit not long ago filed against him."

The explanations by a reduced number of supporters and friends offered in Mr. Dambreville's defense certainly began to border on the absurd.

The explanations quickly became the butt of a Boston's Haitian-American community ridicule, prompting him to come under increasing scrutiny, ultimately investigation, of journalistic nature, by longtime Boston's resident, Engineer Jacques Dady Jean - a man with immeasurable political experience, incalculable number of unparalleled productive years of experience in the cause for human rights and democracy, both in his nation of birth Haiti and the United States.

The details of the accusations against Mr. Dambreville into the public light that his "grand, embellished lies" to a grand jury deprive a young Haitian-American man, Jefferson Charles, two valuable years of his life have been one of the biggest moral problems discussing members of the Boston's Haitian-American community, as their plethora of angry telephone calls to Boston's Haitian-American radio talk shows affirm.

Until not long ago, Mr. Dambreville was often credited of helping his fellow Haitian-American community members. He was durably extremely respected. But as they say in the vernacular, by way of alternation, street language, "What goes up must come down.". Unfortunately, now to the vast majority of Boston's Haitian-Americans he is their "Brutus."

Yves A. Isidor, wehaitians.com - May 29, 2007
"We can't stay quiet about this anymore. This is an atrocity that's happening inside the Boston Police Department," said Henry Milorin at a recent meeting of Dambreville's friends in the back room of the Unity Club on Dunbar Avenue. "They're so used to business as usual that they feel they can make any decision they want."
Business as usual is also what the friends of Dambreville say isn't happening. For similar and worse offences, they say, other detectives have gotten the equivalent of a slap on the wrist. They interpret the fact that the wagons aren't circling for Dambreville as a form of discrimination.
Dambreville's misstep was telling a falsehood to a grand jury during the trial of Jefferson Charles and Ernest Edwards, who were accused of committing a violent home invasion in 2003. The case fell apart in 2005 after Dambreville admitted the lie. Now he faces an Internal Affairs investigation and Charles is suing for what he claims was a violation of his civil rights. Dambreville has been on restrictive duty since the incident and currently works the front desk at Mattapan's district B-3 station.
The city of Boston and former police commissioner Paul Evans are also defendants in the case, but the city has left Dambreville in the lurch, attorney-wise.
"The city of Boston has refused to supply Yves with a lawyer, and this is significant, because he acted in his capacity as a police officer," said Ernst Guerrier, Dambreville's personal lawyer (not his defense lawyer) in a phone interview. "Based on the history of Boston Police Department and in comparison to what others have done, it is curious to see how Yves has been treated. That's lawyer talk for 'Draw your own conclusions.'"
Dambreville, a twenty-eight year veteran of the force, has a record of commitment to his community. He was once the Mayor's Caribbean liaison. Every one of the dozen or so people present at the April 10 meeting seems to have a story about some way he helped them out.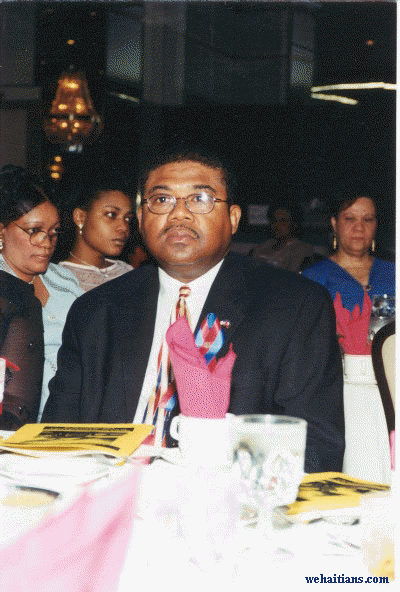 Yves Dambreville, with glasses, at a Haiti Independence Day gala in early January 2005 at Lambardos, situated in the Massacusetts town of Randolph.
"When he left, that was it for Christmas lights in Mattapan," said Shirley Shillingford, president of the Boston Caribbean Festival. While liaison, Dambreville made sure they were lit each year.
"He's been helping the community for over 20 years and now it's our time to pay him back and do something for him," said Oswald Neptune, a local radio host on WNTN (AM 1550) and partner in Radio Concorde (AM 1580).
But Dambreville's days as liaison ended shortly after Mayor Raymond Flynn handed the reins over to the head of City Council, Thomas Menino, and took a new role as US ambassador to the Vatican.
Dambreville "knowingly presented false testimony before the grand jury to gain indictment," reads a motion written by attorney Robert M. Griffin, who defended Charles and is now representing him in the civil suit. The detective, he wrote, was "unduly suggestive" while showing a photo array to the victim for identification of the suspect.
The tipping point for the grand jury was Dambreville's admission that he mistakenly said, under oath, that he had conducted the photo identification once, when in fact he had carried it out twice.
The detective's defense, when first confronted with the disparity by prosecutors, was that he had lost his file and didn't want to admit the error, reads the motion. Later on, Douglas Louison, Dambreville's counsel, told reporters that his client's testimony was confusing because English was his second language.
Other officers at BPD have said Damberville's mistake may have been stupid, but it wasn't malicious.
After the original case was dropped in 2005, Suffolk district attorney Daniel Conley believed the case against Dambreville was strong enough to refer it to attorney general Thomas Reilly for a possible perjury conviction. But Reilly never acted on the case.
A perjury conviction would have undoubtedly put Damberville, and any other officer in his position, out of a job. But without a conviction, the outcome is less automatic.
As serious as the pending internal affairs charges may be, Dambreville's supporters say other officers have gotten away with more, and faced less punishment. "Danny Keeler," said Angela Williams-Mitchell of the Massachusetts Association of Minority Law Enforcement Officers, as if Keeler's name alone was enough. "He has a history of being investigated in dozens of cases, and never missed a day of work. When these charges came at Yves, he was separated from his employer for literally two years. So is it racial? Let the facts speak for themselves."
Keeler, once known as Mr. Homicide by his fellow officers, closed over 200 cases in his career before facing a demotion to night duty in district D-4 in 2004. Since the mid 1990s his record has accumulated accusations of coercion, wrongful conviction, and at least one admission of lying under oath somewhat similar to Damberville's.
He has spent some time on suspension, such as last year when he was caught on video pocketing a pair of sunglasses while investigating a robbery of Solstice on Newbury Street. That investigation was closed when he told anticorruption investigators that he put the glasses down again before he left the store.
More often than not, however, police perjury is seen as a problem of under-enforcement rather than an over-enforcement. A legal task force was set up in 1997 to address police perjury cases after a series of wrongful convictions and other incidents hit the front pages. According to news reports, the task force met once and suggested that judges refer all cases of false and misleading testimony by police to the trial court's leading judge. It was to be a model for other cities to follow.
But after that auspicious beginning, the task force never met again.
A public hearing regarding Dambreville's internal affairs investigation has recently been re-scheduled from April 19, to sometime in June. Deliberations in the civil suit may not get underway until 2008.
Published 04/19/2007
Wehaitians.com, the scholarly journal of democracy and human rights