Haiti withdraws from CONCACAF under-17 tournament because of undisclosed illness
The Haitian Football Federation told CONCACAF that it can no longer field a team at the confederation's Under-17 championships in Montego Bay, Jamaica, because of an illness that has struck members of its squad.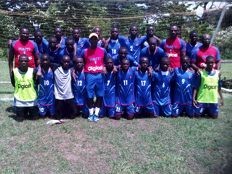 Haiti's football team.
The team said Tuesday night it will return to Haiti as soon as possible.
Haiti lost its tournament opener on Monday 3-1 to Costa Rica and was scheduled to face El Salvador on Wednesday. Because of Haiti's withdrawal, El Salvador will be awarded a 3-0 win.
That match was to be the first of a doubleheader at Jarrett Park.
Canada is also competing at the tournament, but is playing ina different group.
Copyright © 2011 The Canadian Press. All rights reserved.