Correspond with us, including our executive editor, professor Yves A. Isidor, via electronic mail:
letters@wehaitians.com; by way of a telephone: 617-852-7672.
Want to send this page or a link to a friend? Click on mail at the top of this window.

Must learnedly read, too; in part, of intellectual rigor

Posted Sunday, October 17, 2010

Violence erupts at Haiti's earthquake-hit biggest prison, at least 3 killed
By The Associated Press

PORT-AU-PRINCE, Haiti -- An apparent riot by prisoners at Haiti's largest penitentiary has left three inmates dead and led to a brief hostage crisis.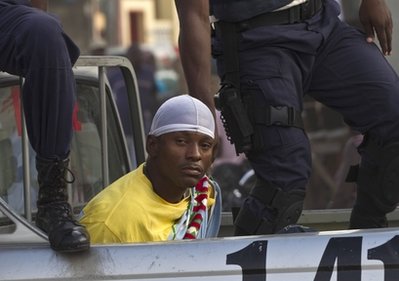 A man who was detained near the National Penitentiary during a prisoners' uprising, sits at the back of a truck escorted by police officers in downtown Port-au-Prince, Haiti, Sunday, Oct. 17, 2010. (AP Photo/Ramon Espinosa) More Images

U.N. peacekeepers have cordoned off the area and are standing guard around Port-au-Prince's national prison after Sunday's violence. The causes of the unrest and hostage-taking are not immediately clear.

Justice Ministry official Joseph Felix Badio says three inmates were killed, including two who were trying to escape.

U.N. police spokesman Jean-Francois Vezina says seven non-Haitian hostages were held briefly by prisoners. He says the hostages were freed and suffered only minor injuries. He has given no further details.

There are roughly 1,500 prisoners in the jail.

Wehaitians.com, the scholarly journal of democracy and human rights