Want to send this page or a link to a friend? Click on mail at the top of this window.
Universal Care Plan Faces Hurdles in Massachusetts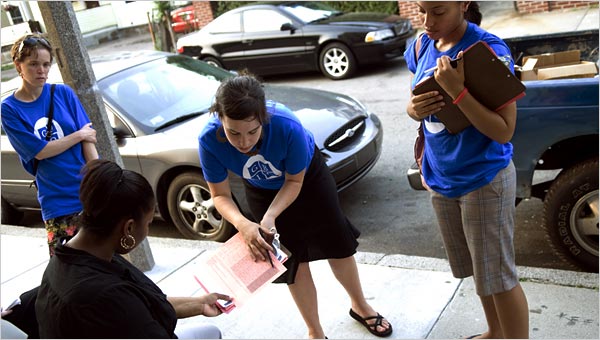 Photographs by Jodi Hilton for The New York Times
Volunteers, from left, Lisa Vinikoor, Rosina Belcourt and Raina Wallas tell Boston residents about a new Massachusetts health care law.
BOSTON, June 30 — With the mandate that everyone in Massachusetts have health insurance taking effect on Sunday, more than 130,000 people — about a third of those who were uninsured a year ago — now have coverage, officials say.
But most of those who have signed up are poor enough to qualify for free or state-subsidized insurance.
People who must pay the full cost themselves, who are crucial to the success of the nation's most ambitious effort to achieve near-universal coverage, may now be a majority of the state's uninsured and not all are rushing to get coverage. Many of them are healthy young people in their 20's and 30's, state officials say.
"A lot of the population we're trying to reach right now are young folks who don't have insurance for a lot of reasons, not the least of which is they don't think they're ever going to be sick," Gov. Deval Patrick said.
Other hurdles include the fact that some businesses, especially small ones, are struggling with the requirement that employers with more than 10 workers offer insurance.
____________
For a program to work, the young and healthy must enroll.
____________
"For a long time we thought in Massachusetts that we had only two choices — between a perfect solution and no solution at all," Mr. Patrick said in an interview. "We've decided to try something and do it just as we go and be very candid about what does work and very frank about what doesn't work."
Despite the July 1 rollout, these are early days for the 160,000 to 200,000 people not entitled to state subsidies. Although they have been able to buy insurance privately, moderately priced state plans were not available to them until May 1. Free and subsidized plans have been available considerably longer. People have until Dec. 31 to obtain coverage. After that they will face a state penalty.
Observers of the state's progress since the health care law was passed in April 2006 say they are impressed that the varied constituencies — including health insurers, businesses, advocates, medical providers and taxpayers — largely continue to support the law and have worked to resolve differences. They say, and officials acknowledge, however, that there is still a long way to go.
"I would give it a B plus," said John McDonough, executive director of Health Care for All, an advocacy group. "There's an incredible amount of progress that's been made. There are some things going in ways that leave us concerned, and there are some important issues that confront us in the future."
Health care experts view the Massachusetts effort more favorably than one begun in 2005 in Maine, a state with about 130,000 uninsured. Unlike Massachusetts's program, Maine's is voluntary, relies on a controversial financing formula and features more expensive premiums. Fewer than 20,000 people enrolled in the program, many of whom already had insurance.
Still, Massachusetts's model may not work everywhere. When the law passed, the state's 370,000 to 500,000 uninsured represented less than 10 percent of its population, a smaller proportion than many states. And it does not have a scarcity of large employers, like Maine, or a huge number of immigrants, like California.
Massachusetts is deliberately taking things slowly. In 2008, the penalty for those not insured will be a loss of state tax exemption, worth about $219; later the penalty will be up to half of a monthly insurance premium for each month a person is uninsured. Also, while any insurance is acceptable at first, by January 2009, everyone must have drug coverage.
Officials estimate that 60,000 people will be exempt from getting insurance altogether because they will be ineligible for subsidies but unable to afford other options.
"There was a calculation made about how to phase this in in ways that didn't frighten people off," Mr. Patrick said. "Ultimately we are going to have to explain to people that this is an obligation, that it is not optional."
A $3 million advertising campaign includes postcards to millions of residents, announcements in pharmacies and supermarkets, and television advertisements shown on the Red Sox cable network to reach younger people. The Commonwealth Health Insurance Connector Authority, which oversees the law,has a Web site where people can compare and buy 42 plans offered by six insurers.
Jon Kingsdale, executive director of the authority, said about 50,000 inquiries were received last week, double the number before advertising began in late May. Mr. Kingsdale said he expects enrollment to be gradual, saying "nothing sort of magical is going to happen on July 1."
Some people buying unsubsidized plans already had insurance but found the authority's policies to be a better deal. Kathleen Knox, 63, of Arlington, switched from $650-a-month plan that did not cover drugs to a $450 policy with some prescription coverage. Sam and Barbara McGee, both 58, of Brewster, chose a $915 policy, more expensive but with better benefits than the $750 plan they had.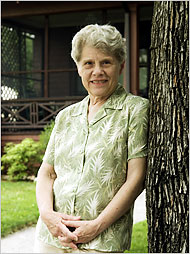 Kathleen Knox of Alington, Mass., switched insurers to save money under a state law intended to provide health care to all state residents.
Martin Avila of Plymouth is the kind of enrollee officials really want — 31, relatively healthy, uninsured. Sobered by his fiancée's recent heart attack, Mr. Avila just bought a $218 insurance plan. "Obviously getting everyone insured is a positive," Mr. Avila said. "I'm just not sure if the people who aren't insured right now are helped all that much by my adding $200 a month. I don't know if it's a long-term solution."
Joan Meister, 25, an uninsured film production assistant from Brighton, may not buy in, saying she may choose the penalty if insurance proves too costly. "It would really for me be whatever would be the cheapest and easiest," Ms. Meister said.
Linda Impemba, 58, a marketing company employee in Wakefield, said she would remain uninsured, pay penalties, and, as soon as her ailing mother dies, will leave Massachusetts. "There's no way in heaven I can possibly survive in this state," Ms. Impemba said. "Now not only is my cost going to go up, everything's going to be raised so I can pay for the other people" to be insured.
A poll released Wednesday by the Harvard School of Public Health, the Kaiser Family Foundation, and the Blue Cross Blue Shield of Massachusetts Foundation found that about two-thirds of Massachusetts residents surveyed supported the law, although two-thirds also think it will ultimately mean higher taxes.
About half of those polled thought small businesses would be hurt. While some will offer insurance to compete for employees, others are daunted by the requirement to include part-time employees working 35 hours or more a week. "This is going to bring me to my knees," said Deb Maguire, who runs Liam Maguire's Irish Pub and Restaurant in Falmouth.
Ms. Maguire said she had offered health insurance, costing employees $42 a week and her $45, but only about 10 of 30 employees purchased it. Now the others will enroll, she said, an expense significant for them and "just astronomical for me."
Sandy Reynolds, executive vice president of Associated Industries of Massachusetts, representing 7,500 employers, said some businesses were considering limiting part-time employees' hours to below 35. She said others believe offering insurance might actually hurt low-wage employees because people with employer-offered plans cannot qualify for cheaper state-subsidized plans.
Other concerns about the health overhaul include medical costs that are spiraling upwards and fears that "the influx of new patients who will need to get access to primary care" will strain what is already a shortage of primary care physicians, said Dr. David Torchiana, chief executive of the Massachusetts General Physicians Organization. A $10 million loan forgiveness program to lure primary care doctors was created recently. For now, the focus is on getting people insured.
"We're attempting to implement a sizeable significant cultural change," said Mr. McDonough of Health Care for All. "This may blow up in our face, but it's not going to be for lack of effort."
Copyright 2007 The New York Times Company. Reprinted from The New York, National, of Sunday, July 1, 2007.
Wehaitians.com, the scholarly journal of democracy and human rights