Correspond with us, including our executive editor, professor Yves A. Isidor, via electronic mail:
letters@wehaitians.com; by way of a telephone: 617-852-7672.
Want to send this page or a link to a friend? Click on mail at the top of this window.

Must learndly read, too; in part, of intellectual rigor
Posted Thursday, August 2, 2007
UN head visits Haiti to see peacekeepers
By Stevenson Jacobs, Associated Press Writer
PORT-AU-PRINCE, Haiti - U.N. Secretary-General Ban-Ki-moon arrived in Haiti on Wednesday to observe an 8,800-strong peacekeeping force that has helped bring relative calm to the troubled country for the first time since a 2004 revolt ousted the president.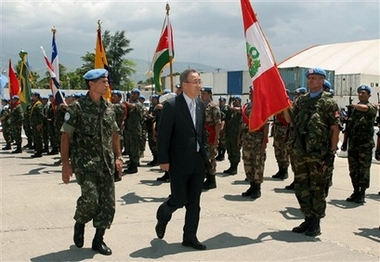 In this photo released by United Nations Stabilization Mission in Haiti (MINUSTAH), Brazilian Army Maj. Gen. Carlos Alberto Dos Santos Cruz, left, and U.N. Secretary-General Ban Ki-moon, center, review a U.N. honor guard during a welcoming ceremony in Port-au-Prince,Wednesday, Aug. 1, 2007. Ban Ki-moon is for first time in Haiti to observe a U.N. force that is transitioning from a military to a policing role. (AP Photo/Logan Abassi, MINUSTAH)
Ban's 24-hour trip comes as the U.N. Security Council prepares to renew the Haiti mandate in October. Ban is expected to ask for more specialized forces such as naval units to help the Caribbean country guard its coastline from weapons and drug traffickers.
The peacekeepers came to the impoverished nation in 2004 after a revolt toppled former President Jean-Bertrand Aristide, sparking a long turf war against well-armed, slum-based gangs blamed for a wave of killings and kidnappings.
The secretary-general was greeted upon arrival by President Rene Preval but made no public statements.
Ban's visit, his first since becoming leader of the world body, comes as the U.N. force begins a slow transition from a military to a policing role a move officials say is essential to maintaining peace as this impoverished Caribbean country rebuilds
Today, blue-helmeted soldiers no longer get shot at or need to launch large-scale raids into slums in search of gunmen. Neighbors simply call and give soldiers the gang members' location.
Despite the improved security, the top U.N. envoy to Haiti says it's too soon to begin pulling out troops.
"An early withdrawal right now would be a big mistake, 'big' with a capital letter," Edmond Mulet recently told The Associated Press. "This is a time to hold on, to make this work this time."
He said gangs, drug trafficking and poverty still pose a threat to the country and that peacekeepers would be needed at least until Preval's term ends in 2011.
Mulet, a Guatemalan who on Friday was appointed assistant secretary-general for peacekeeping operations, said the U.N. mission hopes to use more civilian police than soldiers but is hampered by a world shortage of trained, French-speaking officers.
The peacekeepers provide 85 percent of Haiti's security needs, but the government is working to eventually take over. The national police academy is preparing hundreds of recruits to bolster the nation's 6,000-police force.
Haiti is still struggling after a century marked by foreign occupations and the 29-year Duvalier family dictatorship.
Efforts to build an effective police force are still haunted by the specter of the Duvalier-era's bullying Tonton-Macoute security forces and armed gangs that emerged to defend Aristide.
Aid groups say the delivery of foreign aid to the poorest areas of Port-au-Prince is just starting because of red tape and logistical problems.
"Assistance is only starting to trickle into the capital, whose communes have still not perceived the start of a new era," the International Crisis Group stated this month in a report.
Preval, a populist champion of the poor elected in 2006, authorized peacekeepers to take a firm hand and warned gangs "to disarm or die" before a crackdown earlier this year led to the arrest or killings of dozens of alleged gang members.
Copyright © 2007 The Associated Press
Wehaitians.com, the scholarly journal of democracy and human rights