Correspond with us, including our executive editor, professor Yves A. Isidor, via electronic mail:
letters@wehaitians.com; by way of a telephone: 617-852-7672.
Want to send this page or a link to a friend? Click on mail at the top of this window.

Must learnedly read, too; in part, of intellectual rigor
Posted Thursday, August 2, 2007
UN chief recommends that term of peacekeepers in violence-plagued Haiti be extended to at least another year
By Stevenson Jacobs, Associated Press Writer
PORT-AU-PRINCE, Haiti - U.N. Secretary-General Ban-Ki-moon said Wednesday he will recommend peacekeepers stay in Haiti for at least another year and urged world donors to redouble efforts to ensure the impoverished nation does not backslide into chaos.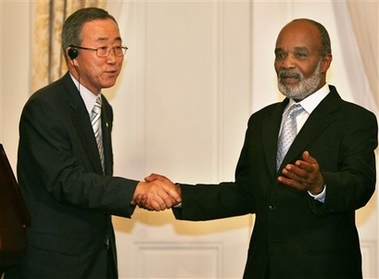 U.N. Secretary-General Ban Ki-moon, left, shakes hands with Haiti's President Rene Preval, during a meeting at the Presidential Palace in Port-au-Prince, Wednesday, Aug. 1, 2007. Ban Ki-moon is for first time in Haiti to observe a U.N. force that is transitioning from a military to a policing role. (AP Photo/Ariana Cubillos)
In his first visit to the country, Ban credited an 8,800-strong peacekeeping force, known as Minustah, with restoring security following a violent 2004 revolt but said President Rene Preval still needs help bringing jobs and development to the Western Hemisphere's poorest nation. "The international community must not step aside and let spoilers jeopardize Haiti's progress," Ban told reporters during a joint news conference with Preval at Haiti's National Palace.
The U.N. force was deployed to Haiti after a revolt toppled former President Jean-Bertrand Aristide and plunged the former French colony of 8 million people into crisis. Backed by Preval, peacekeepers this year concluded a fierce crackdown on armed gangs that has led to a dramatic reduction in violence in Port-au-Prince's vast, fetid slums.
But Ban said the situation is fragile and that he would ask the U.N. Security Council to extend the mandate for another 12 months when it expires in October. He noted the U.N. has been sent to Haiti on five occasions and would stay "until the future is secure."
Preval said he supports keeping U.N. troops in the country for now and urged his countrymen not to oppose the force out of nationalism.
"The population has benefited from the presence of Minustah," Preval said. "What is good for the country is for the U.N. to help us reinforce our police and our security. As time goes on, we'll evaluate what form this assistance should take and how long it should last."
Ban praised Preval for taking a stand against corruption and seeking much-needed reforms to the police, judiciary and prison system. He is expected to ask the Security Council for more specialized forces such as naval units to help the Caribbean country guard its coastline from weapons and drug traffickers.
Despite the improved security, U.N. officials say gangs, drug trafficking and poverty are still a threat to the country and that peacekeepers will be needed at least until Preval's term ends in 2011.
Haiti is still struggling after a century marked by foreign occupations, the 29-year Duvalier family dictatorship and bloody military coups.
U.N. peacekeepers provide 85 percent of Haiti's security needs, but the government is working to eventually take over. The national police academy is preparing hundreds of recruits to bolster the nation's 6,000-police force.
Copyright © 2007 The Associated Press
Wehaitians.com, the scholarly journal of democracy and human rights