Correspond with us, including our executive editor, professor Yves A. Isidor, via electronic mail:
letters@wehaitians.com; by way of a telephone: 617-852-7672.
Want to send this page or a link to a friend? Click on mail at the top of this window.

Must learnedly read, too; in part, of intellectual rigor

Posted Wednesday, December 31, 2008

$2 Million Bail for Man Accused of Defrauding Fellow Churchgoers

By BENJAMIN WEISER

A man accused of orchestrating a Ponzi scheme that lost fellow worshipers at a church in Upper Manhattan more than $600,000 was granted $2 million bail on Tuesday despite the objections of prosecutors who voiced concern that he might flee the country.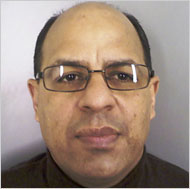 UNITED STATES POSTAL INSPECTION SERVICE
Prosecutor argued Bryant Rodriguez was a flight risk.

A federal magistrate judge in Manhattan also ruled that the man, Bryant Rodriguez, 44, would have to post $750,000 in cash or property and turn in his passport before he would be released and would be subject to electronic monitoring.

Prosecutors told Judge Frank Maas of Federal District Court that they wanted Mr. Rodriguez held because he posed a flight risk and was also a potential danger to the community.

Sarah Y. Lai, a prosecutor, told the judge that an examination of bank records showed that Mr. Rodriguez had been wiring money to the Dominican Republic. "He's obviously secreting resources away," Ms. Lai said.

Mr. Rodriguez, according to the authorities, insinuated himself into El Camino Church, a small Christian Evangelical congregation at Audubon Avenue and 172nd Street in Washington Heights, after showing up for baptism classes last year and began enticing other churchgoers to entrust their money with him.

He promised returns of 30 percent every two weeks, and did provide payments to initial investors, at least for a while, according to a criminal complaint by an agent of the United States Postal Inspection Service. Those investors then recruited other investors, the complaint said.

Mr. Rodriguez claimed that he represented an electronics firm that did business with major retailers and wanted a "blessing for a blessing" by giving Jews and Christians the opportunity to invest in his company, the complaint says. Retailers have told the authorities they had no contract with Mr. Rodriguez or any firm he ran, the complaint says.

At least three dozen people invested with him, giving him about $1.1 million but getting back only about $450,000, the complaint said.

"We believe there are more victims in the scheme," Ms. Lai told the judge. "We also believe that he may be perpetrating the same scheme in other churches."

Mr. Rodriguez has been charged with one count of mail fraud. He also has a previous felony conviction for impersonating a federal immigration officer, according to court documents.

His lawyer, Paul J. McAllister, said after the hearing that Mr. Rodriguez "vehemently maintains his innocence."

In court, Mr. McAllister disputed the government's contentions, and said his client enjoyed strong support from pastors and members of other churches.

The courtroom was packed, with Mr. McAllister telling the judge that about 80 people were there on his client's behalf.

After the hearing, a number of people said they believed that Mr. Rodriguez was being unfairly prosecuted. One woman said that she gave him money last year and had already been paid back more than she had invested.

Claims by people that they had successfully invested with Mr. Rodriguez could not be immediately authenticated, and it was unclear whether officials believed such returns were merely part of a broader fraud. In a Ponzi scheme, early investors are usually paid from money collected from later investors.

After the hearing, Mr. McAllister spoke to dozens of people, encouraging them to help raise money toward the $750,000 that must be posted before Mr. Rodriguez can be released. "If you make the goal, he's out," Mr. McAllister told the crowd.

Mr. McAllister, reached by phone Monday night, said that he believed his client was still in jail.

Copyright 2008 The New York Times Company. Reprinted from The New York Times, New York Region, of Wednesday, December 31, 2008.

RELATED TEXT: SEC halts $23 million Massive Ponzi scheme and affinity targeting Haitian-American investors
Wehaitians.com, the scholarly journal of democracy and human rights