Want to send this page or a link to a friend? Click on mail at the top of this window.
| | | |
| --- | --- | --- |
| | | SPORTS MAGAZINE/PLAY |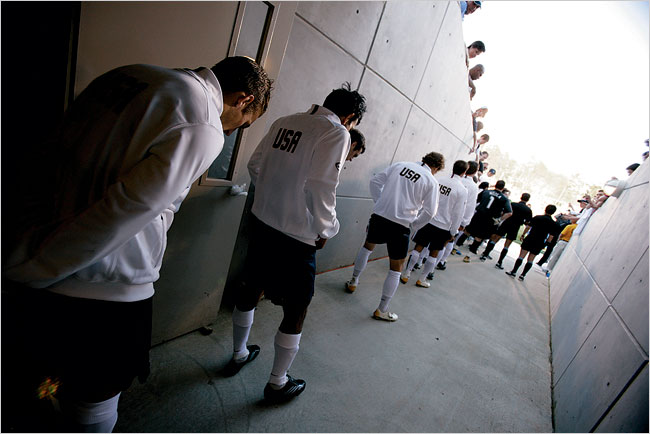 Photographs by Brent Striation
| | |
| --- | --- |
| FOCUS | The American team gets ready to take the field for its friendly against Jamaica in April. |
THE SEMI-CONTENDERS
By JEER LONGMONT
In his polo shirt, pleated pants and loafers, Bruce Arena might have been an executive exhorting the troops on a corporate retreat. Instead, he was pacing the tiny locker room at the SASS Soccer Park in Cary, N.C. On this April night, the United States men's national team would play a friendly against Jamaica, its last match before Arena, the coach, named his 23-man roster for the World Cup this month in Germany. The dressing area bore the reek of men huddled in a cramped space, the players lightly sweating after warm-ups and desperate to catch the boss's eye, to win his approval in this final audition.
'ONE DAY, WHEN WE GET RIGHT AND BECOME THE BEST,' SAYS BRUCE ARENA, THE COACH OF THE U.S. TEAM, IT WILL BE BECAUSE 'WE DID IT OUR WAY, NO ONE ELSE'S WAY.' THE SHREWD MAKING OF A SURPRISINGLY GOO SQUAD.
Rhythmic clapping began reverberating off the cement walls. "Let's go, boys," someone shouted, then "Come on, boys," and Arena stepped into the middle of the shouts and the perspiring hopefulness and the discarded warm-up shirts. He did not yell or embrace a football coach's us-against-the-world paranoia; rather, he spoke with the calm assurance of a coach whose team is ranked No. 5 in the world, a team that could have — should have — reached the semifinals of the 2002 World Cup in South Korea and Japan but lost, 1-0, to Germany after a grand, improbable advance to the tournament's quarterfinals.
"When we're in possession early in the game, let's open up the play," Arena, who is 54, told his players before they left to take the field. "We want to pressure them early. Make sure we're talking. Be smart. Let's not give away stupid fouls in the defensive third of the field. Be prepared to make adjustments. Let's be aggressive, let's attack them." Arena told his players to exert themselves all night in front of the goal. "Pressure," he continued. "We're looking to be very aggressive. Our outside backs must join in attack. Our midfielders, figure out where you need to move to be dangerous."
These plans for the match went awry when Jamaica scored in the fourth minute and then turtle into a defensive shell. Eventually the game ended in a 1-1 draw. But Arena's presume speech serves as a useful blueprint for how he expects the United States to perform in the first round of the World Cup against the Czech Republic (June 12), Italy (June 17) and Ghana (June 22): by applying defensive pressure, counterattacking and playing aggressively; by relying on speed, fitness, athleticism, competitiveness, teamwork and intelligence; and by drawing on the professionalism that results from having a domestic league, Major League Soccer, reach its second decade and from having an increasing number of American players gain experience at European clubs.
The glue binding all these qualities together is the perseverance and determination that Alex Ferguson, the coach of Manchester United, in England, has called "that American thing." It's a method of commitment that Jargon Klansman, Germany's national-team coach, told me is born of optimism and confidence, of "how to deal with people, how to look at things, how to believe in yourself, how to focus on things and also to take risks, to say, 'Let's go for it.'"
In late March, the day before the United States played an exhibition against Germany in Dortmund, Arena was asked at a packed news conference whether, as a sort of guru, other coaches come to him for advice. Implied in the question was Arena's résumé: five National Collegiate Athletic Association titles at the University of Virginia, two M.L.S. titles with D.C. United, a record 69 victories with the American national team and the quarterfinal appearance in the 2002 World Cup. Among the 32 countries participating in the 2006 World Cup, Arena's seven-plus-year tenure as a national-team coach is unmatched.
Still, Arena smiled and parried the question like a goalkeeper punching away a free kick. "I don't think there are too many coaches in Europe who are looking at me and are very impressed, believe me," he said.
Indeed, no one considers the United States a top-five team. The ranking, determined by FIFE, soccer's world governing body, is inflated by American dominance in the mediocre North American, Central American and Caribbean region. As Arena notes, American names are unfailingly absent from Fife's listing of the top international players. M.L.S. is a middling league, and with the exception of the midfielder Damascus Beastly, who is at PST Eindhoven in the Netherlands, the European-based Americans are not playing regularly with the continent's biggest teams or forging their skills in the furnace of soccer's premier club competition, the season-long Champions League tournament.
But don't be fooled by Arena's answer. He is supremely confident in his abilities. And he has done a remarkable job elevating the stature of the United States in international soccer. Partly this is because of his strategic and tactical skills in putting the right people on the field in the right place. At the 2002 World Cup, for example, he took a chance on the callow Beastly and London Donavon, when both were 20; he put Brad Frilled in goal instead of the equally experienced Casey Kelley; he started a less-than-fit Clint Math's against South Korea and coaxed a goal from him that produced a draw; and he switched to a somewhat unfamiliar alignment with three defenders on the back line for a second-round victory over Mexico.
Arena prefers to be called a manager, however, not a coach. In that distinction lies his primary talent: building a team, in every sense of the word. He has a gift for breathing value into words that have become deflated with overuse in sports: honesty, chemistry, trust. Above all, he understands, in a way that no foreign coach could, just exactly what it means to be an American soccer player — his strengths and weaknesses, his needs and preferences, his constant battle with the realization that a player from the United States is always considered something lesser.
"I get the sense that Arena truly appreciates the predicament of the American soccer player," says Andrea Markovits, a professor of German studies and comparative politics at the University of Michigan and the author of a book on the development of American soccer. "These are great athletes, but they are disrespected by their peers around the world and unknown by their own countrymen. Arena understands this, and I think it gives him tremendous legitimacy."
Sitting on the deck of his home in northern Virginia in April, Arena listened to this assessment and said he agreed with it. "I'm not willing to say we can't beat anybody we play," Arena said. "At the World Cup, we're not going to be the dominant team. It doesn't mean we can't be the better team." And: "I don't want to blow a lot of hot air . . . but I'm pretty successful at what I do. There's reasons for it."
The primary one, perhaps, is a recognition of frailty, an honest appraisal of flaws and limitations. Arena's approach to coaching the national team begins with this acknowledgment: "We don't have the best players in the world."
In particular, the Americans lack a dominant goal scoria and lyrical playmaker. The last time Arena checked, Ronaldinho played for Brazil and Wayne Ronnie wore the red, white and blue of England, not the United States. Basketball is played with jazzy improvisation in this country, but soccer's suburban orientation often creates a fife-and-bugle regimentation. This is why Arena bristles at suggestions by columnists and by officials within the United States Soccer Federation that the Americans should play artistically like the Brazilians or hire a Brazilian coach.
Arena understands, in a way that no foreign coach could, just exactly what it means to be AN AMERICAN PLAYER - his strengths and weaknesses, his needs and preferences, his constant battle with the realization that a player from the United States is always considered something lesser.
"One of the stupidest things I've ever heard," Arena said, noting that the MetroStars, now the New York Red Bulls, didn't exactly set Major League Soccer afire when Carols Alberto Parreira, Brazil's current coach, was in charge there.
"What we're good at and why we've been successful is that we know what we are," Donovan, the American playmaker, told me. "A lot of countries pretend to be something they're not. A lot of teams like to pretend they're like the Brazilians. Well, you don't have the athletes the Brazilians do. You don't have the soccer knowledge and skill they do. We understand that. We're not the most talented team in the world, by far. But we are one of the most competitive, with the best spirit, the fittest, and with some of the best athletes. And we use that to our advantage."
When Arena chews on the matter of American soccer style, he appears to have bitten into something bitter. For him, the country is too big, the melting-pot influences too various, the youth development system too disconnected from professional clubs to say that this is the way the Americans play soccer. Style will have to develop over time, if at all, Arena says. "Europe is kind of the size of the U.S. Is there one playing style in Europe?" he asks. "If we were the size of Holland, it'd be a hell of a lot easier."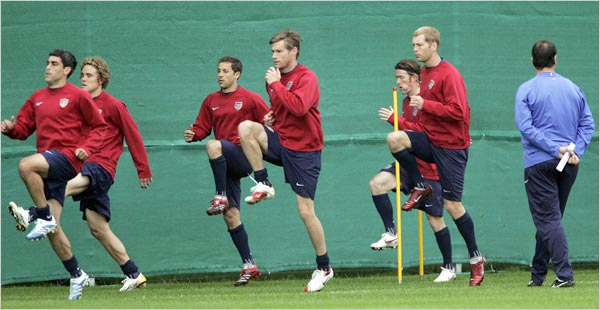 Bisc Arnendola/The Associated Press
U.S. manager Bruce Arena, right, overseing a team workout in Hamburg, Germany, on Saturday.
But, he adds, "one day, when we get it right and become the best, it's because we did it our way, no one else's way."
The American style, as Arena sees it, is defined by an ability to adapt, to shape strategies and formations according to various factors: the players available on a particular day, the opponent, the weather. Style depends on the qualities his players possess, not on predetermined notions about how they should play. In the 2002 World Cup, the Americans sat back and counterattacked in the wilting heat against Mexico, using three backs to cope with players' injuries and suspensions, and then charged hell-bent at Germany in the next game, certain that the Germans were not the better team.
People get too hung up on formations, which change constantly during a game, Arena says, before clarifying, "Our rule of thumb is, we're gonna play with a goalkeeper and try to play with a back four — and the next six, who knows?" The American team is built, and best understood, back to front. Goalkeeping is the most valuable American soccer commodity and export, in part because keepers here typically grow up playing sports that require the use of their hands. Given their lack of reliable goal scoring, the Americans also count on the back line to be impervious.
"It's the old cliché — it's easier to prevent goals than to score them," Kasey Keller, the team's starting goalkeeper, says.
But prudence is not timidity. Like that familiar American type, the high school kid on a prom date, Arena keenly understands the importance of first impressions. He wants his team to make its assertiveness felt early with the first tackle, the first foul, the first shot, the first goal. It was his experience as a lacrosse and soccer player, first at H. Frank Carey High School in Franklin Square, on Long Island, and later at Cornell, that "when you are tentative and wait for the game to come to you, sometimes it never gets there."
Hence his preference for putting pressure on an opponent, which is not unlike applying a full-court press in basketball. Pressing disrupts an opposing team's rhythm and shortens the field. It's a matter of geometry. Forcing a turnover in your opponent's half leaves you with the ball closer to the goal. It is far easier to build a scoring chance from 40 yards away than from 80. "If you're better than the other team, it's going to put them under a lot of pressure," Arena says.
"If you're not better, at least you're making it hard on them. So why not press? Psychologically, it can be good for your team. You get everyone involved. But pressing only works if all 10 players are moving together in the right way. Some countries don't have the ability to have all 10 players on the same page at the same time. For whatever reason, that happens to be a strength of ours. We have a fairly intelligent team. I've said this many times: if they awarded the World Cup trophy on who could do crossword puzzles, we'd win it easily."
Of course, on a field up to 120 yards long and 70 to 80 yards wide, no soccer team can press for a full 90 minutes. Or would likely survive if it did. When an opponent is more skilled, or can be expected to dominate possession, or the day is hot and the Americans are tired, a counterattacking style — a kind of soccer rope-a-dope to absorb pressure — might be preferred.
Counterattacking was an approach the Americans handled clumsily before 2002, but they have improved markedly under Arena. The United States executed a classic counterattack in the 65th minute against Mexico in the second round of the 2002 World Cup. Tony Sanneh, a back, intercepted the ball, and John O'Brien, a midfielder, arced a pass to another midfielder, Eddie Lewis, whose cross was headed into the net by Donovan for a 2-0 lead. In a few seconds, a goal had been built from nothing, and the game was essentially over with nearly a half-hour left to play.
"It's difficult to break down 10 professional soccer players," Donovan says. "But if we can get chances where we are four against four, five against five, six against six, we feel we're as good as anybody in the world at beating people and scoring."
One of the potential strengths of the United States in this World Cup will be the freshness of American legs, specifically those belonging to M.L.S. players, whose season began only in April; the Europeans have just finished a long, draining season that began in August. But what American legs, fresh or not, have lacked historically is the brilliant unexpectedness found in a great soloist like Ronaldinho or Thierry Henry of France. For Arena, unity must compensate for the absence of individual luminosity.
How to accomplish this? First, Arena always lets players know exactly where they stand. In 2002, when Clint Mathis became the media pinup for the World Cup, Arena countered witheringly that he was not in shape to play a full 90 minutes. He has also, more recently, let Donovan know that it is not acceptable to turn his assertiveness on and off like a faucet.
In April, before the Jamaica match, Arena chatted briefly with midfielder Pablo Mastroeni, who had been suspended for one match with his M.L.S. team in Colorado after receiving two yellow-card warnings. "You gonna play another game this month?" Arena asked him in a way that was both joking and serious. "You gotta get your head straight." It was a brief conversation, casual but to the point, and Mastroeni later said he appreciated Arena's candor. (Mastroeni made the 2006 roster.)
Small things count too. For instance, Arena knows that it's important during the World Cup that his players get to be with their families, shop, fall into a city's rhythms. So he has them staying in a hotel in the center of Hamburg, Germany's second-largest city, thereby averting the disastrous mistake made by Arena's predecessor, Steve Sampson, at the 1998 World Cup, when the players were stuck in a chateau outside Lyon, France, with only the grapes of a local vineyard for company. They were unhappy, and it showed in their shoddy play, which produced a last-place finish among the 32 teams. The seclusion proved advantageous only for plotting a very ugly and public revolt against the coach.
Sensitive to that mutiny, Arena has spoken often about the importance of camaraderie for his World Cup teams. He wants players who get along with one another.
"Bruce manages not only the soccer part, but the people part," Mastroeni says. "It's amazing. That's how you get 23 guys fighting for the same cause."
The American way of soccer has evolved in an age of globalization, when, in the opinions of Jürgen Klinsmann and Arena, European club teams have more influence on soccer trends than various national teams do. Players from all over the globe are playing in top European leagues — including, Arena notes, hundreds of Brazilians to date. The game, like the world, has grown smaller. Styles have splintered, then re-formed into something more common. And as satellite broadcasts have become ubiquitous, there are no more secrets. Thus it's increasingly difficult to distinguish one national style from another.
Soccer has become more generic, or homogenized, more reliant on fitness and speed, on applying greater pressure on the ball and providing less space for an opponent to operate; 40 percent of the goals scored in Champions League play in 2004-5 were counterattacks, according to the Union of European Football Associations. These changes dovetail with the qualities that elite Americans possess.
Not surprisingly, perhaps, other countries have taken a cue from the United States' resolute preparation for the World Cup. Germany hired a fitness trainer and a sports psychologist. Mexico entered training camp in April. There is an acknowledgment, if grudging, that the Americans have to be taken seriously.
"You have a good team," Javier Aguirre, then Mexico's coach, said to Arena after the 2002 World Cup match, paying him a second compliment by saying so in English.
Marcello Lippi, Italy's coach, told me that concentration is urgent when playing against the Americans because of their "high technical level," "good athletic qualities" and "discreet organization."
Frame of mind will be as important as method for the United States at this World Cup, Arena says. By this he means that his team must have the confidence to execute a strategy on a particular day — to possess, for example, the calm and the patience to work its way out of sticky situations instead of kicking the ball into the corner and resorting to relentless defense. Even now that they're all professionals, Arena says, some of his players have too much respect for their opponents.
"I have more confidence in our players than they do in themselves," Arena says. "A lot of them have an inferiority complex at the world stage. We gotta overcome that. I'm going there to win. I've got to make sure I've got 23 players that believe that."
Which is why, after admitting that if the Czechs and the Italians play their best possible games, "chances are they'll beat us," Arena then declares, "But I'm here to tell you they are not going to play their best possible game against us. So we have a chance."
Then he thinks of the movie "Dumb and Dumber" and lets out a laugh. At one point, Jim Carrey's character, Lloyd, asks the woman of his dreams what his chances are with her. One in a million, she replies. "So you're telling me there's a chance," Lloyd says.
"It's just like us," Arena says, pumping his fist, mimicking Lloyd. "If you tell me we have a one-in-a-million chance to win these games, that's good enough for me."
Jere Longman is a reporter for The New York Times and the author of "Among the Heroes" and "If Football's a Religion, Why Don't We Have a Prayer?"
Copyright 2006 The New York Times Company. Reprinted from The New York Times Sports Magazine of June 2006.
Wehaitians.com, the scholarly journal of democracy and human rights