Correspond with us, including our executive editor, professor Yves A. Isidor, via electronic mail:
letters@wehaitians.com; by way of a telephone: 617-852-7672.
Want to send this page or a link to a friend? Click on mail at the top of this window.

Must learndly read, too; in part, of intellectual rigor
Posted Friday, June 1, 2007
Ten, including four police officers, arrested in Haiti 420 kilos cocaine bust
PORT-AU-PRINCE, Haiti - Authorities arrested 10 people, including four police officers, who were allegedly transporting 925 pounds of cocaine in two vehicles with government license plates.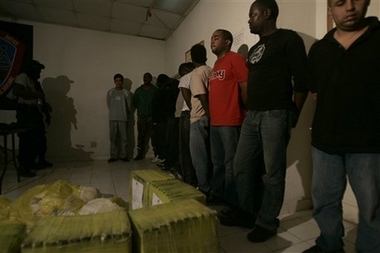 Two Columbian nationals and eight Haitians, including four police officers, are shown at a press conference after arrested with 420 kilos of cocaine in the southern twon of Leogane, Port-au-Prince, May 31, 2007. AP Photo/Nick Whalen)
Acting on a tip, police discovered the drugs Thursday after stopping the cars in the rural town of Leogane, just west of the capital of Port-au-Prince, police spokesman Frantz Lerebours told reporters. It was one of the largest drug seizures in Haiti in years.
Eight Haitians were arrested, including four active members of the National Police, Lerebours said. Two Colombian nationals were later arrested on suspicion of involvement.
Both vehicles had government license plates although one was a rental car, Lerebours said. Police also seized three automatic rifles, five pistols and a shotgun.
President Rene Preval has pledged to clean up Haiti's notoriously corrupt police force, which has only a few thousand poorly paid officers to patrol this impoverished nation of 8 million people.
Haiti is a major transshipment point for South American cocaine bound for the United States.
Copyright © 2007 The Associated Press
Wehaitians.com, the scholarly journal of democracy and human rights