Correspond with us, including our executive editor, professor Yves A. Isidor, via electronic mail:
letters@wehaitians.com; by way of a telephone: 617-852-7672.
Want to send this page or a link to a friend? Click on mail at the top of this window.

Must learnedly read, too; in part, of intellectual rigor

Posted Friday, July 9, 2010

Ottawa woman charged with defrauding charity of more than $1.1
By Andrew Seymour,

Ottawa Citizen Staff Writer

OTTAWA - A former City of Ottawa employee accused of stealing more than $1.1 million from a charitable organization allegedly wired cash to her boyfriend, a disbarred Ottawa lawyer once convicted of fraud who is now running for president of Haiti, a court heard Wednesday.

The allegations emerged during a bail hearing for Yolande Knight, 46, the former director of finance for Total Communication Environment, a provincially funded agency that provides care to about 90 adults with multiple disabilities. Knight is charged with fraud, theft, breach of trust, forgery and possession of the proceeds of crime for allegedly using her corporate credit cards to pay for personal purchases over a nearly eight-year period between 2001 and 2009.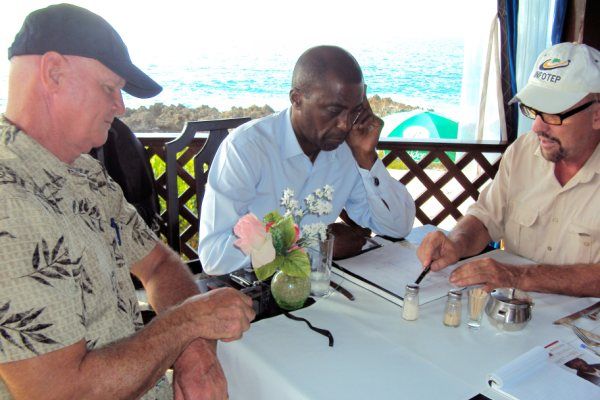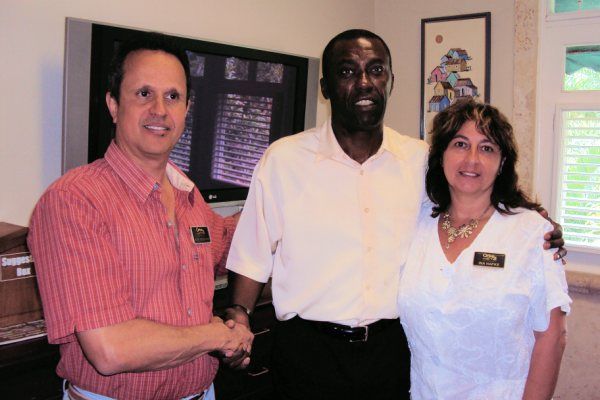 Rene St.Fort (C), the convicted attorney, who is now a crook Haitian presidential candidate. (Photo/sosuanews.com-wehaitians.com/file)

Publication bans in bail hearings are automatically granted when requested by the defence and discretionary when requested by the Crown - on the grounds that the Crown gets to present its case with little reply from the defence - although no such request was made in Knight's case.

A Crown prosecutor alleged Knight, who testified that she had worked for the city's finance department since May, used the credit cards to pay for everything from hairdressing, gym memberships, groceries, gasoline, clothing and landscaping for a private residence to airline tickets and limousine rentals in Haiti, where her boyfriend, Rene St. Fort, is running for president.

A city spokesman reached after the hearing said Knight no longer works for the city, but wouldn't elaborate on when or why she left.

Knight would pay off the unapproved expenses, which ranged from $673.03 to as high as $40,500 in any given month, from company funds, which she controlled, prosecutors alleged.

Knight, who covered her head with a scarf after her release Wednesday on a $40,000 bond, also made a dozen wire transfers totalling $63,286.14 to St. Fort, his brother Eddy St. Fort and three other men, prosecutors said. The alleged wire transfers to Rene St. Fort were sent to Haiti and Paris, while Knight allegedly sent money to Eddy St. Fort in Florida, another two men in Haiti and another man in Montreal.

"The accused was identified in sending 12 transfers resulting in suspicious transaction reports being generated under the Proceeds of Crime (money laundering) and Terrorist Financing Act," said assistant Crown attorney Walter De Venz, adding the transfers appeared to be structured to avoid detection by law enforcement.

St. Fort was sentenced to 18 months in jail in 2002 after being found guilty of three counts of fraud over $5,000. A judge found that St. Fort defrauded three banks of $351,000 by helping two women obtain mortgages using false names and employment and credit information between June 1998 and May 1999.

According to his website, St. Fort is the head of the National Reform Party of Haiti, though he resides in Chelsea, north of Ottawa. Attempts to reach him Wednesday were not successful.

As part of her release conditions, Knight is barred from communicating with St. Fort and the four other men to whom she allegedly wired money. St. Fort was present when Knight was arrested on July 1 at the Ottawa-area home the Crown alleges she bought for $530,000 during the time the frauds allegedly occurred. Knight has debts of $500,000, court heard, including a $200,000 line of credit that is maxed out.

The alleged fraud was discovered during an audit in 2009 and totalled $1,115,827.40. Knight was suspended from her job at the charity last September and later fired.

De Venz, who was opposed to Knight's release, argued that Knight's alleged crimes were "repulsive" and that she was a flight risk given her connections to St. Fort and Haiti.

But Knight's lawyer, Jean Claude Dubuisson, argued the single mother has only been to Haiti once and was in New York for her father's funeral when she learned the police were looking for her and still returned home.

"She has no criminal record. She's been living in Canada since she was 17 years old," said Dubuisson, adding Knight's mother, 17-year-old daughter and sister all live in Ottawa. Knight's next court date is July 21.

© The Ottawa Citizen 2010

Published Thursday, July 8, 2010.
Wehaitians.com, the scholarly journal of democracy and human rights