Strauss-Kahn Is Released as Case Teeters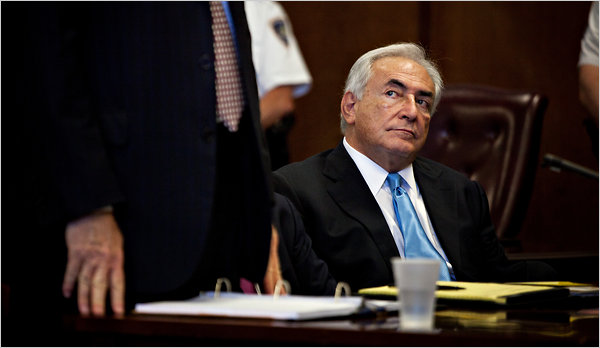 Todd Heisler/The New York Times
Dominique Strauss-Kahn was released from house arrest on Friday as the sexual assault case against him moved one step closer to dismissal after prosecutors told a Manhattan judge that they had serious problems with the case.
Multimedia
TimesCast | Strauss-Kahn Is Released
TimesCast | Paris Reactions
Prosecutors acknowledged that there were significant credibility issues with the hotel housekeeper who accused Mr. Strauss-Kahn of trying to rape her in May. In a brief hearing at State Supreme Court in Manhattan, prosecutors did not oppose his release; the judge then freed Mr. Strauss-Kahn on his own recognizance.
The development represented a stunning reversal in a case that reshaped the French political landscape and sparked debate about morals, the treatment of women and the American justice system. Prosecutors said they still believed Mr. Strauss-Kahn had forced the woman into sex, but that inconsistencies in her past and account of the moments following the incident could make it hard for jurors to believe her.
Outside the courthouse, lawyers for Mr. Strauss-Kahn praised the Manhattan district attorney, Cyrus R. Vance Jr., for "doing what is appropriate"; Kenneth Thompson, a lawyer for the housekeeper, accused Mr. Vance of being "too afraid" of trying the case; and Mr. Vance himself held a brief news conference to defend how his office has handled the case, by far the most high-profile of his year-and-a-half tenure.
In a letter sent to Mr. Strauss-Kahn's lawyers and filed with Justice Michael J. Obus on Friday, prosecutors outlined some of what they had discovered about Mr. Strauss-Kahn's accuser, poking holes in her account and her background.
The housekeeper admitted to prosecutors that she lied about what happened after the episode on the 28th floor of the hotel. She had initially said that after being attacked, she had waited in a hallway until Mr. Strauss-Kahn left the room; she now admits that after the episode, she cleaned a nearby room, then returned to Mr. Strauss-Kahn's suite to clean there. Only after that did she report to her supervisor that she had been attacked.
Prosecutors disclosed that the woman had admitted lying in her application for asylum from Guinea; according to the letter, she "fabricated the statement with the assistance of a male who provided her with a cassette recording" that she memorized. She also said that her claim that she had been the victim of a gang rape in Guinea was also a lie.
The woman also acknowledged that she had misrepresented her income to qualify for her housing, and had declared a friend's child — in addition to her own daughter — as a dependent on tax returns to increase her tax refund.
Mr. Thompson, the woman's lawyer, gave a lengthy retort outside the courtroom in which he conceded problems with her credibility, but insisted that she was still the victim of an attack, saying that her version of events has never wavered. He said some evidence, like bruising she had sustained, was consistent with a nonconsensual encounter. And he said her decision to clean a room was consistent with someone who was confused and upset in the wake of an attack.
"Our concern is that the Manhattan district attorney is too afraid to try this case," Mr. Thompson said. "We believe he's afraid he's going to lose this high-profile case."
Questions are sure to be raised about how swiftly and vigorously prosecutors proceeded with the case, as many in France questioned whether there was a rush to judgment.
Mr. Strauss-Kahn, 62, was considered a strong contender for the French presidency before his arrest; he subsequently resigned his position as managing director of the International Monetary Fund.
From Mr. Strauss-Kahn's first court appearance on May 16, Mr. Vance's office expressed extreme confidence in its case. At that hearing, an assistant district attorney said that "the victim provided very powerful details consistent with violent sexual assault committed by the defendant."
Outside the courthouse on Friday, Mr. Vance, who was facing his most highly publicized case to date, stressed that his office did what they were required to do.
"We believe we have done nothing but to support her," Mr. Vance said outside the courthouse. "Our duty is to do what is right in every case. Our office's commitment is to the truth and the facts." Mr. Strauss-Kahn will now be able to move about the country more freely; although prosecutors will retain his passport, most of his restrictive bail conditions have been lifted. Under those conditions, he was required to stay in a Lower Manhattan town house under armed guard and wearing an ankle monitor. He could only leave for certain reasons and had to notify prosecutors when he left.
The prosecutors' letter did not include all of what their investigators had learned about the woman. According to two law enforcement officials familiar with the prosecutors' inquiry, the woman had a phone conversation with an incarcerated man within a day of her encounter with Mr. Strauss-Kahn in which she discussed the possible benefits of pursuing the charges against him. The conversation was recorded.
That man, the investigators learned, had been arrested on charges of possessing 400 pounds of marijuana. He is among a number of individuals who made multiple cash deposits, totaling around $100,000, into the woman's bank account over the last two years. The deposits were made in Arizona, Georgia, New York and Pennsylvania.
The investigators also learned that she was paying hundreds of dollars every month in phone charges to five companies. The woman had insisted she had only one phone and said she knew nothing about the deposits except that they were made by a man she described as her fiancé and his friends.
Outside the main criminal courts building in Manhattan, the crowds started to gather in the early-morning hours on Friday, preparing for the latest twists in this legal saga.
Mr. Strauss-Kahn and his wife, Anne Sinclair, arrived shortly before 11 a.m., about a half-hour before his scheduled court appearance. They had left the brick town house at 153 Franklin Street, where he has been under 24-hour confinement, paying $50,000 a month in rent and much more for required security measures. They got into a black Lexus RX350 sport-utility vehicle.
After his hearing, Mr. Strauss-Kahn re-emerged from court, smiling at the assembled crowds, the expression growing with each step.