Correspond with us, including our executive editor, professor Yves A. Isidor, via electronic mail:
letters@wehaitians.com; by way of a telephone: 617-852-7672.
Want to send this page or a link to a friend? Click on mail at the top of this window.

Must learnedly read, too; in part, of intellectual rigor

Posted Saturday, January 10, 2009

Son of Charles Taylor, Ex-President of Liberia, Is Sentenced to 97 Years

By CARMEN GENTILE

MIAMI — The son of a former Liberian president was sentenced Friday to nearly a century behind bars for his role in orchestrating the deaths and torture of his father's enemies.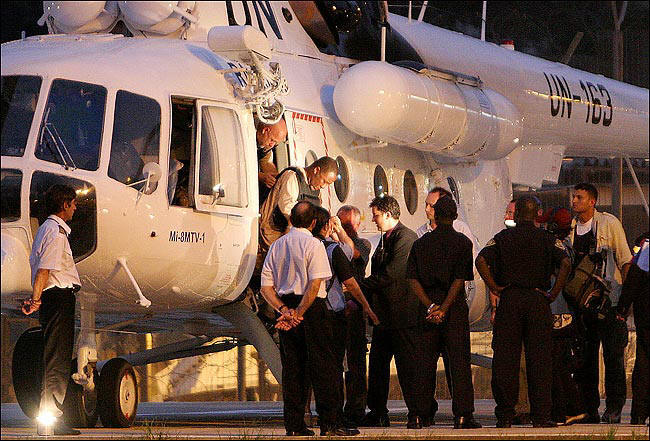 MICHAEL KAMBER FOR THE NEW YORK TIMES
In this wehaitians.com file photo, Charles G. Taylor, on steps, ex-president of Liberia, arriving Wednesday, March 29, 2006, in Sierra Leone after being caught in Nigeria while fleeing war crimes charges.

Judge Cecilia M. Altonaga of Federal District Court here sentenced the son, Charles McArthur Emmanuel, also known as Chuckie Taylor, to 97 years in a federal prison for torture and torture conspiracy involving seven victims and the use of a firearm in a violent crime.

Mr. Emmanuel, 31, was also ordered to pay $7,500 in restitution to each of the seven victims named in the federal indictment. His father, Charles Taylor, is awaiting trial in The Hague on war crimes charges.

Mr. Emmanuel's conviction came in the first use of a 1994 law that allows for the prosecution in the United States of acts of torture in other countries. During months of testimony, witnesses recounted how Mr. Emmanuel, the head of Liberia's notoriously violent Antiterrorist Unit from 1997 to 2003, ordered punishments like electric shock, red-hot clothes irons and even biting ants on prisoners during interrogations.

"It is hard to conceive of any more serious offense against the dignity and lives of human beings," Judge Altonaga said before sentencing Mr. Emmanuel, who stared blankly, stroking a bushy black beard.

Prosecutors had originally asked for a sentence of no less than 147 years.

"How much time is enough for pressing a hot iron into human flesh?" the federal prosecutor, Karen Rochlin, asked.

Born in Boston, Mr. Emmanuel spent most of his life in Orlando, Fla., with his mother, stepfather and older sister. He was sent to live with his father in Liberia as a teenager, a few years before Mr. Taylor won the presidential election in 1997. He was arrested on charges of carrying a false passport when he arrived in Miami from Trinidad in March 2006.

In his final statement to the court before sentencing, Mr. Emmanuel maintained his innocence, though he expressed remorse for the victims on both sides of Liberia's civil war.

"I am sorry, my brothers and sisters, for what has happened to you during the conflict," he said, turning to those in the courtroom who were torture victims and the families of those killed during the 14-year civil war.

Copyright 2009 The New York Times Company. Reprinted from The New York Times, National, of Saturday, January 10, 2009.
Wehaitians.com, the scholarly journal of democracy and human rights