Correspond with us, including our executive editor, professor Yves A. Isidor, via electronic mail:
letters@wehaitians.com
Want to send this page or a link to a friend? Click on mail at the top of this window.

Must learnedly read, too; in part, of intellectual rigor; in part, the repository of ultimate knowledge
Posted Tuesday, September 20, 2006
Haitian-American SUV driver gets 6-8 years in post-Super Bowl death
By Brian R. Ballou, Globe Staff
SEPTEMBER 20, 2006 - Patricia Grabowski sat 30 feet from the man convicted of killing her son and in a calm voice called Stanley Filoma a person without remorse, integrity, or a sense of responsibility.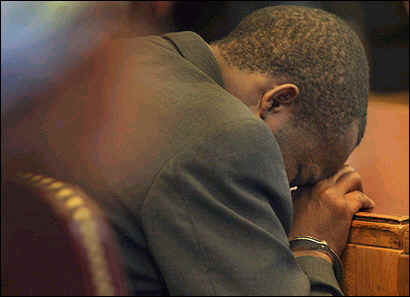 Stanley Filoma wept yesterday during sentencing. "I wish I could undo everything," he said in his statement. (Michele McDonald/Globe Staff)
``No matter what this court determines is a just punishment for your actions . . . the only true justice will come in the next world where my son waits to teach you about integrity and responsibility," said Grabowski, reading from a five-page statement before a packed Suffolk Superior courtroom. ``Pound for pound, Jamie was the strongest person we knew, but he met his match when he was struck by your 4,000-pound SUV," she read. After listening to three victim-impact statements and watching a family video of James Grabowski wrestling in high school, Judge Elizabeth Donovan sentenced Filoma to six to eight years in prison and four years probation for plowing into a crowd of Super Bowl revelers while driving drunk Feb. 1, 2004, killing Grabowski, 21, and injuring Jason Stackiewicz , Joshua Bersey , Lucas Barosky , and Thomas Pasquale . Filoma, 26, of Mattapan, sat stoically while Patricia Grabowski and Stackiewicz, the most seriously injured survivor, described how their lives have changed. ``I still have a speech problem, I would say. It's still somewhat slurred, and probably will never come back," said Stackiewicz, a Northeastern student scheduled to graduate in December. He was in a coma for 18 days after being hit by Filoma's 1991 Toyota Land Cruiser on Symphony Road. ``Maybe everyone who hears this story will think twice about getting behind the wheel after drinking." But when Filoma's close friend Stanley Estime sat in the witness chair and said ``this isn't a time for revenge, revenge doesn't do anything," Filoma let out a loud cry and wept for several minutes as court officers handed him tissues. While he wept, defense attorney Bruce Namenson read a statement from him. ``I take full responsibility for what happened, I wish I could undo everything," Namenson read. ``Judge, for the love of God, have mercy on me, I made a terrible mistake." Filoma never regained his composure, dropping his head to the table, quietly sobbing during the remainder of the sentencing and shaking when he was led out of the courtroom. Filoma, who had a .09 blood alcohol level four hours after his arrest, had testified that he feared for his life after turning onto Symphony Road and seeing the large crowd of students celebrating the Patriots' victory. He said students rocked his SUV and smashed his windows, and he panicked. During Filoma's week long trial that ended last Friday, dozens of supporters filled the courthouse. Yesterday the crowd swelled to more than 50, making it necessary for officials to restrict access to the small courtroom, allowing only the immediate families of the victims and defendant to attend . After the proceeding, Namenson called the sentence excessive. ``I'm extremely disappointed, the guy's got no record." He had asked for a 2 1/2-year sentence and five years probation, while Assistant District Attorney John Powers III asked Donovan to impose a 12- to 15-year sentence and three years probation.
© Copyright 2006 Globe Newspaper Company.
Posted Saturday, September 16, 2006
Guilty manslaughter verdict in Super Bowl celebration death
By Brian R. Ballou, Globe Staff
A jury found Stanley Filoma guilty today of involuntary manslaughter and other charges after trial testimony indicated that he was drunk and fleeing police when he fatally hit a man after he drove into a crowd of revelers celebrating the New England Patriot's Super Bowl Victory in 2004.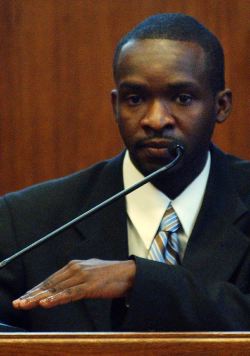 (Photo by Lisa Poole, pool) Stanley Filoma testifies Suffolk Superior Court during his manslaughter trial early this week.
An eight-woman, five-man jury deliberated for almost two full days before convicting the Mattapan resident of the bulk of the charges, including misdemeanor motor vehicle homicide and two counts each of aggravated assault and battery with a dangerous weapon and operating under the influence causing serious injury.
The jury found Filoma innocent of four counts of leaving the scene of an accident and two additional counts of aggravated assault and battery with a dangerous weapon.
Prosecutors in Suffolk Superior Court alleged that Filoma, 26, hit five people with his 1991 Toyota Land Cruiser during a melee near Northeastern University on Feb. 1, 2004. James Grabowski, 21, of West Newbury, died that night.
"This brings some closure for the families," said Assistant District Attorney John Powers III after the verdict.
Filoma faces a maximum of more than 55 years in prison when he is sentenced on Tuesday.
Filoma faces a maximum of more than 55 years in prison
Defense attorney Bruce Namenson said little after the verdict. A crowd of about 20 friends and family gathered around Filoma after the jury announced their decision.
Namenson told the jury in his closing argument that Filoma wasn't drunk. Namenson said his client feared for his life was trying to escape an angry mob.
Filoma testified that he drank four or five bottles of Heineken at a family Super Bowl party that night and drove to the Fenway neighborhood to return his ex-girlfriend's keys. He encountered a mob on Symphony Road and said he hit the gas pedal in his SUV because he feared for his life.
"They were rocking my car," Filoma testified earlier this week. "These kids were out of their mind ... It didn't look they were going to stop."
The crowd was banging on his car with what sounded like wooden sticks, Filoma testified, and broke one of his windows. Prosecutors said Filoma sped away – hitting five people including Grabowski – and continued driving, stopping only when he crashed into a taxi. Four hours later, Filoma failed a breathalyzer, blowing .01 over the state legal limit of .08, police said.
During the trial, Powers, the prosecutor, disputed Filoma's account of what happened that night. Powers argued that Filoma saw police sirens and panicked because had been drinking.
"He was more concerned about being pinched for drunk driving," Powers said during his closing argument. "He put his self interest in front of everyone's."
Reprinted from Boston.com of Friday, September 15, 2006.
Wehaitians.com, the scholarly journal of democracy and human rights