Correspond with us, including our executive editor, professor Yves A. Isidor, via electronic mail:
letters@wehaitians.com; by way of a telephone: 617-852-7672.
Want to send this page or a link to a friend? Click on mail at the top of this window.

Must learnedly read, too; in part, of intellectual rigor
This information is current as of today, Tuesday, March 18, 2008
In October of this past year, days after wehaitians.com first published a letter received from Ms. Rose Marie Gluto indicating that Haitian Senator Rudolph Boulos was a United States' born citizen, and remained a citizen of the nation of the same, not Haitian, as he claimed, the war of nationality began in the Haitian parliament, culminating to today's forced resignation of Mr. Boulos from the Haitian parliament.
Posted Wednesday, November 28, 2007
Senator Boulos faces dismissal, arrest, prosecution, penalty for alleged 'grand citizenship fraud'
A U.S. citizen of Arab decent, who has been elected at Haiti 's senate, now faces dismissal and possible arrest after Haitian officials found he had fraudulently obtained a Haitian passport and allegedly made false statements before election authorities. Senator Rudolph Boulos, who is part of one of the country's wealthiest and most powerful families, was born on April 28, 1951, in Manhattan , New York (USA), according to official documents of which copies have been obtained by Caribbean Media Corp. or CMC.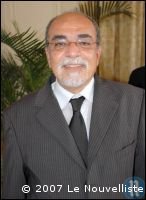 Senator Rudolph Boulos.
Those documents have shown that Boulos had been using lately a U.S. passport, confirming that he has U.S. citizenship – which disqualifies him to occupy a seat at the Haitian senate. But he continues to claim he is Haitian.
"I have never renounced my Haitian nationality," Boulos told reporters. "I have been targeted for political reasons, because I stand against a plan uttered by certain authorities to restore a dictatorship in the country," he said.
But Haitian officials maintained Boulos – who is part of a family with a long tradition of doing business in Haiti – is a U.S. citizen and should leave Parliament.
"We have documented evidence that Mr. Boulos is a U.S. citizen. Therefore he is not allowed to seat at the Haitian senate," said a high-ranking government official who spoke to CMC on condition of anonymity. "
"If Mr. Boulos does not give up the senate seat he has obtained fraudulently, he runs the risk of being arrested and prosecuted," the same authorized source told CMC. "He still has time to choose".
The Haitian constitution provides any Haitian citizen who has obtained a foreign citizenship loses the Haitian nationality and therefore is banned from running for parliament offices and for president.
In a document signed by Boulos before immigration authorities, he admitted that the Haitian passport he has obtained in August 31, 2005, was his very first Haitian passport.
But Boulos – who was born in Manhattan ( New York ) on April 28, 1951 – had been living in Washington for years and has gone on numerous trips during the past years.
The president of the senate, Joseph Lambert, said he was expecting official notification of the fact from judicial and government authorities before acting and has announced the senate would launch its own investigation.
"If it is confirmed that senator Boulos possess a U.S. passport, he will be simply dismissed," said Lambert inviting Boulos to voluntarily resign if he really holds a U.S. passport.
RELATED TEXT: The threats of Rose Marie Gluto to the Boulos
Wehaitians.com, the scholarly journal of democracy and human rights