Want to send this page or a link to a friend? Click on mail at the top of this window.
First published in The Standard-Times, February 15, 2000
Reality of Castro's Cuba dictates Elian should stay
Cambridge, Massachusetts - Like many before her, Elizabeth Broton Rodriguez fled Fidel Castro's communist Cuba with her son Elian Gonzalez for the United States by boat. She did so because she grew hungry for democracy. She also did so because she no longer wanted to submit herself and her son to the tyrannical rule of the old dictator, Castro.
Unfortunately, Ms. Rodriguez and many others like her perished in high seas before they had a chance to taste freedom for the first time in life.
Since Elian was rescued from the sea on thanksgiving day, Castro has carefully orchestrated a series of public demonstrations, in an effort to press for the immediate return of the boy, from Florida to Cuba. Even citizens from Cuba's provincial cities have been bused to the Capital city of Havana to ensure that they, too, perform the kind of ritual act of loyalty that Castro has since 1959 demanded of them.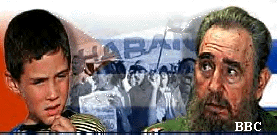 Elian, left, wth brutal dictator Castro, after his forced return to Cuba.
Certainly, this land of political demagoguery reminds me of the the late Haitian dictator-for-life, François "Papa Doc" Duvalier. So, too, it reminds me of his son Jean-Claude "Baby Doc" Duvalier, who, also, did the exact same thing. And this, which became a ritual for nearly thirty years in Haiti, was first done with the purpose of celebrating the 22nd day of September, marking the date the late senior dictator first ascended to power.
And Castro's series of carefully orchestrated public demonstration also remind me of former leftist Haitian President Jean-Bertrand Aristide and successor Rene Preval's demonstrations during which the White House was often called a "devilish place." Often, a great number of political opponents were burned alive. So, too, a plethora of buildings, housing several businesses, were burned to the ground. For example, in the Southern city of Jeremie, more than 25 houses and businesses belonging to opponents of the leftist Haitian government were recently burned to the ground by mobs.
Certainly, when it comes to dictators, whether they are of the far-right or the far-left, the similarities are striking.
Forget about Elian's grandmothers, Maria Quintana and Raquel Rodriguez, had to say during their recent short U.S. visit. The grandmothers' pleas for the return of little Elian to Cuba before, for example, some members of the U.S. Congress, proved that Castro's demon mocked those ladies at every turn, depriving them of the ability to recognize that they were in the land of freedom that the United States is.
Forget about what Elian's father, Juan Miguel Gonzalez, has to say. His words are useless. Since they are all under the complete control of totalitarian dictator Castro, they are not free to speak their minds. I am sure they do not wish to become new statistics of the old dictator, whose political murders and concentration camp killings of Cubans will soon match Stalin's record of approximately five millions.
As Castro continues to use ferocious repressions against the Cuban people, with the aims of maintaining his grips on power, life for Cuba's Cuban is mixed with resignation, hope, frustration, fears and determination.
Contradictions in the Soviet Union - the world first communist state - killed Marx and Engels' vision of a free and prosperous society. So will Castro's vision of a free and prosperous Cuban society suffer the same fate in the near future. This, will again prove that communism is nothing more than a false theory of the perfectability of man and the pseudo-science of economic determination.
In the meantime, while Cuba is awaiting for its freedom from the communist tyrant, however, those who treasure freedom and know that communism is also synonymous with gross human rights violations should unite in their resolve to keep little Elian in the United States.
Yves A. Isidor teaches economics at the University of Massachusetts-Dartmouth and is spokesperson for We Haitians United We Stand For Democracy, a Cambridge-MA-based nonpartisan "political pressure group."
Wehaitians.com, the scholarly journal of democracy and human rights