Correspond with us, including our executive editor, professor Yves A. Isidor, via electronic mail:
letters@wehaitians.com; by way of a telephone: 617-852-7672.
Want to send this page or a link to a friend? Click on mail at the top of this window.

Must learndly read, too; in part, of intellectual rigor
Posted Monday, July 2, 2007
Rampant gangs and drugs stalling Haiti's reconstruction, MacKay warned
By Steve Rennie, Canadian Press Writer
TORONTO (CP) - Haiti remains a "volatile" nation plagued by gangs and drug trafficking more than three years after an uprising ousted former president Jean-Bertrand Aristide, despite Canada's half-billion dollar pledge to help stabilize the troubled country, says a newly released document.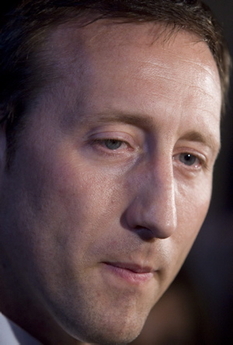 Foreign Affairs Minister Peter MacKay. (CP images/Jonathan Hayward)
A briefing prepared in January for Foreign Affairs Minister Peter MacKay, obtained by The Canadian Press through an access to information request, paints a grim picture of Haiti as a nation where "chronically high" crime has kept United Nations forces from"advancing as was hoped" following last year's election of current Haitian president Rene Preval.
"Haiti's security situation remains volatile," the briefing paper says. "Temporary improvements, followed by peaks in criminal activity demonstrate that security and stability has not been achieved."
Andre Lemay, MacKay's press secretary, said the foreign affairs minister was travelling through Atlantic Canada over the long weekend and was unavailable for comment.
Dan Dugas, MacKay's communications director, said in an e-mail that authorities have made "significant progress" clamping down on Haitian gangs. Still, he acknowledged Haiti's security situation remains "fragile."
"Important challenges remain in dismantling criminal gangs throughout the country, strengthening Haitian law enforcement capacity and modernizing the penal and justice systems," Dugas wrote.
University of Florida anthropologist Gerald Murray, who estimates he has been to Haiti to do fieldwork nearly 100 times since 1974, including two stays of a year or more, said the country has become "more chaotic" since Aristide was ousted. Murray, who last visited Haiti in January, attributes the heightened violence to Haiti's "deteriorating" economy and a police force he calls ineffective.
"The country has fallen to pieces," Murray said.
An 8,800-member UN Stabilization Mission in Haiti, known by its French acronym MINUSTAH, provides the only real protection in the impoverished Caribbean nation. The briefing called the UN security force "irreplaceable as the only institution that can provide stability and security in Haiti."
While the briefing says there has been tangible progress reforming the Haitian National Police, it also says the force needs another 14,000 officers by 2011 "to be fully capable of handling all Haitian police requirements." To reach that target - which would bring force strength to 20,000 police officers and administration - the briefing says the national police must recruit 1,500 people a year for the next four years.
Murray said it's unlikely more police officers alone will curb violence in Haiti. The country lacks the necessary checks and balances on its police and public officials to weed out possible corruption, he said.
Prime Minister Stephen Harper is expected to travel to Haiti in mid-July as part of a larger tour of the region as he tries to bolster Canada's profile in Latin America and the Caribbean.
Haiti is second only to Afghanistan on the list of Canada's long-term development commitments. Canada pledged $520 million last year, spread over a five-year period ending September 2011, to help Haiti's reconstruction and development.
The Canadian International Development Agency allocated $485 million for reconstruction projects. Foreign Affairs contributed $15 million to support security and justice, while $20 million is funding up to 100 Canadian police officers as part of the UN security force.
But some critics say there are no safeguards to ensure the Haitian government properly allocates foreign aid. Murray suggested non-governmental organizations could, at least temporarily, oversee Haitian government aid money spending.
Development money should be allocated for short-term aid projects instead of trying to "change the character of the Haitian state," he said.
"If the Canadian government just gives the money to the Haitian government, kiss it goodbye," Murray said.
A CIDA spokesman wouldn't say how the development agency ensures Canada's aid money is properly spent by the Haitian government.
One of the most daunting threats facing authorities is drug trafficking. The briefing says Haiti has become a "major transit hub" for drugs, with traffickers taking advantage of the country's security situation to smuggle drugs from South American through Haiti to North America and Europe.
Robert Maguire of Washington, D.C.-based Trinity University, who has visited Haiti at least 100 times in the last three decades, and since 1990 has served as chair of Haiti Advanced Area Studies at the U.S. State Department's Foreign Service Institute, called the Caribbean nation's drug trafficking problem "enormously bad."
"Haiti is caught by virtue of its geography in this kind of trafficking network where cocaine flows into it and flows out of it," he said.
"It fuels the gangs, it fuels corruption, it undermines trying to build institutions based upon rule of law. Haiti will remain vulnerable as long as it has the poverty and corruption and lack of institutional capacity to clamp down on the drug trafficking."
However, Maguire said, following two years in which Haiti's situation worsened, the country's lot has improved somewhat in the last six months after the Preval government arrested gang leaders with a "minimum of collateral damage" to Haitians.
Foreign aid money and Preval's efforts to work with different political and economic factions have also helped Haiti's progress, he said.
Copyright © 2007 Canadian Press Copyright © 2007
Wehaitians.com, the scholarly journal of democracy and human rights