Correspond with us, including our executive editor, professor Yves A. Isidor, via electronic mail:
letters@wehaitians.com; by way of a telephone: 617-852-7672.
Want to send this page or a link to a friend? Click on mail at the top of this window.

Must learnedly read, too; in part, of intellectual rigor
Posted Saturday, September 1, 2007
Prosecutor: Randolph teen admitted killing man
By Julie Jette, The Patriot Ledger
QUINCY - A prosecutor said Friday that a Randolph teenager told police he shot and killed a man at a July 4th holiday party.
Despite that alleged admission, Jean-Marie Thebaud pleaded innocent to a charge of murder and other related charges.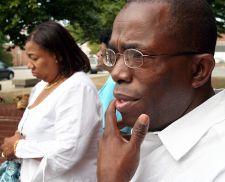 Ernest Termitus, the stepfather of Randolph murder victim John Lubin, talks with a reporter after the arraignment of a 17-year-old charged with the shooting. Lubin's mother, Marie Yolene Termitus, was unable to speak. (Greg Derr/The Patriot Ledger)
Thebaud, 17, had been arrested Tuesday as he was about to change planes at Fort Lauderdale-Hollywood International Airport in Florida on a return trip from Haiti. State Police troopers from Norfolk County District Attorney William Keating's office and a Randolph police detective apprehended Thebaud with assistance from Florida and federal law enforcement officers.
Judge Mark Coven ordered Thebaud held without bail. He was shackled and handcufed when he was led into the courtroom at Quincy District Court, and left the courtroom the same way.
Thebaud's attorney, John Himmelstein of Cambridge, said "we understand the allegations are very serious, but we believe the allegations are false."
Thebaud's mother and uncle were in the courtroom but declined to speak to a reporter after the hearing. The teenager was to have entered his senior year at Randolph High School next week.
He allegedly shot and killed John Lubin, 24, also of Randolph, at a large house party at 14 Bayberry Lane. Thebaud was 16 at the time of the shooting, and his case has been automatically transferred to the adult criminal justice system because of his age and the seriousness of the crime. He turned 17 on Aug. 20.
Law enforcement officials have said previously that the Lubin and Thebaud knew each other. Prosecutor Robert Nelson said statements Thebaud made to acquaintances after Lubin's shooting indicated that his murder was related to another shooting in Hyde Park in 2004, when Lubin was also injured by gunfire. Lubin's murder was the second slaying in a one-week period in Randolph.
A native of Haiti, Lubin moved to Randolph with his family in 2000 after living in the Hyde Park and Roslindale sections of Boston. He had recently become the father of twins with a former girlfriend, and was working at the General Nutrition Center store in Randolph.
Copyright 2007 The Patriot Ledger Transmitted Friday, August 31, 2007.
Wehaitians.com, the scholarly journal of democracy and human rights