Correspond with us, including our executive editor, professor Yves A. Isidor, via electronic mail:
letters@wehaitians.com; by way of a telephone: 617-852-7672.
Want to send this page or a link to a friend? Click on mail at the top of this window.

Must learnedly read, too; in part, of intellectual rigor
Posted Saturday, April 12, 2008
Principally food riots prompt Haiti's gross incompetent government to be disgracefully fired by senate
By Jim Loney and
Joseph Guyler Delva
PORT-AU-PRINCE, April 12 (Reuters) - Haiti's Senate on Saturday fired the impoverished country's prime minister after a week of food riots, brushing aside an announcement by President Rene Preval of plans to slash the cost of rice.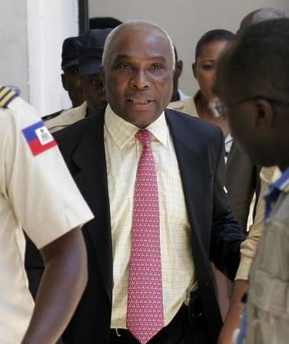 Disgrafully deposed Haiti Prime Minister Jacques Edouard Alexis living parliament today, Saturday, April 12, 2008. (Eduardo Munoz/Reuters)
Sixteen of 17 senators who attended a special session of the chamber voted against Prime Minister Jacques Edouard Alexis, a Preval ally inaugurated in June 2006 as head of a coalition Cabinet meant to unite the fractious nation.
The move by opposition senators was seen as a serious but not crushing blow to Preval, whose 2006 election brought a measure of calm to the poorest country in the Americas as it searched for political stability after decades of dictatorship, military rule and economic mayhem.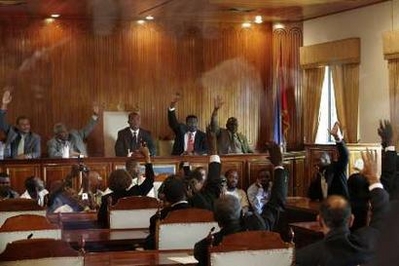 Haiti senate voting today, Saturday, April 12, 2008 to consign to the archives of history the gross incompetent government of Alexis. (Eduardo Munoz/Reuters)
The quest for a permanent peace has been derailed in the past 10 days by riots over the rising cost of living.
"Now it's my turn to play," Preval said when he was told by journalists of the Senate vote shortly after he and leaders of the private sector unveiled a plan to cut the cost of a sack of rice to $43 from $51.
Three dollars of the price cut would be paid for by businesses and the rest by international donors, he said.
Preval said he would ask parliament to pick a new prime minister.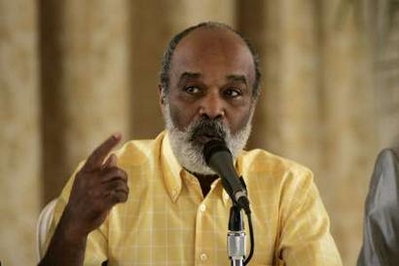 Haiti President Rene Preval addressing the newsmedia today, Saturday, April 12, 2008. (Eduardo Muinoz/Reuters)
The clash with senators came just two days after the president of the Caribbean country of 9 million people managed to persuade rioters to end a week of violence in which at least five people were killed.
Crowds of stone-throwing Haitians, most of whom earn less than $2 a day, began battling U.N. peacekeepers and Haitian police in the south of the country on April 2, enraged at the soaring cost of rice, beans, cooking oil and other staples.
TEAR GAS, RUBBER BULLETS
The unrest spread to the capital Port-au-Prince this week, bringing the sprawling and chaotic city to a halt as mobs took over the streets, smashing windows, looting shops, setting fire to cars and hurling rocks at passing motorists.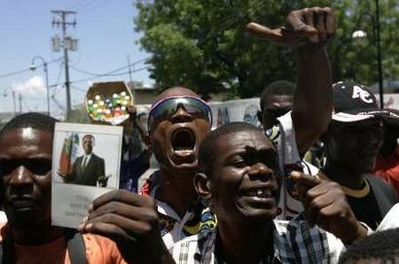 Tens of thousands of Haitians demonstrating in front of Haiti parliament, demanding the immediate ouster of Alexis, today, Saturday, April 12, 2008. (Eduardo/Munoz/Reuters)
On several occasions, the U.N. troops who have been stationed in Haiti since then-president Jean-Bertrand Aristide was ousted in a bloody rebellion in 2004 fired tear gas and rubber bullets to disperse protesters.
Disturbances over high food prices have broken out in several poor countries, primarily in Africa. Record oil prices, rising demand for food in Asia, the use of farmland and crops for biofuels and other factors such as market speculation have pushed up food prices worldwide.
The World Food Program and other aid agencies have issued urgent appeals for donations. Brazil, which heads the U.N. peacekeeping force in Haiti, on Friday sent an air force cargo plane carrying 14 metric tonnes of food.
"The situation is difficult everywhere around the world, everyone has to make a sacrifice," Preval said on Saturday as he announced the plan to cut rice prices in a room with crystal chandeliers and thick drapes in the National Palace.
'IT'S UNJUST'
Asked before the Senate vote how he viewed the criticism of Alexis, he said: "I think it's unjust because the government is not responsible for the rapid acceleration of prices on the international markets. The government has dealt with the crisis to the best of its ability."
Preval reiterated that Haiti could not afford to cut taxes on food because it needed the revenue to pay for longer-term projects that create jobs and boost agriculture.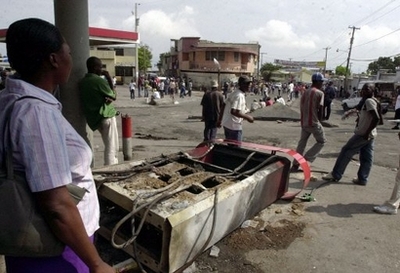 The remains of a Texaco gas station are seen in Petion-Ville (a suburb of Port-au-Prince) destroyed by demonstrators angry at the rocketing cost of living. Haiti's prime minister was ousted Saturday in a no confidence vote after more than a week of violent demonstrations over rising food and fuel prices.(AFP/Thony Belizaire)
Sen. Youri Latortue, a nephew of a former prime minister and leader of the vote against Alexis, said the ousted prime minister had failed to ramp up national food production, failed to protect people against crime and failed to heed calls to establish a new national security force.
"He does not have the leadership to lead the government," Latortue said.
Alexis, an agronomist who was seen as a pragmatist and dealmaker, also served as prime minister during Preval's first term as president from 1996 to 2001.
Sixteen members of Haiti's 30-seat Senate had to vote no-confidence in Alexis to oust him. Three Senate seats are unoccupied.
(Additional reporting by Jean Valme; Writing by Michael Christie; Editing by Xavier Briand)
Copyright Reuters 2008
Wehaitians.com, the scholarly journal of democracy and human rights