Want to send this page or a link to a friend? Click on mail at the top of this window.
Posted August 16, 2007, but updated August 20, 2007
Poverty-Soaked Haiti Extreme Violence-Issued President Preval Is Said to Possess at Least $81 million, Still Hates Capitalism, but Affirms Love for Castro, Chavez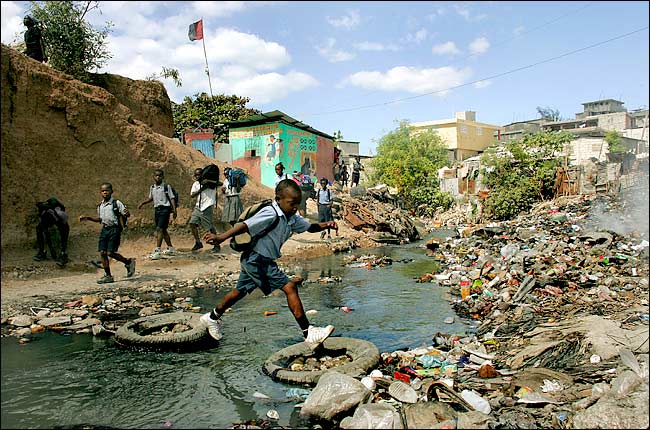 Scott Nelson/World Pictures News, for The New York Times - wehaitians.com, file.
The fast growing multiplying effect of corruption, in large part School children in the impoverished Cite Militaire Neighborhood of Port-au-Prince.
CAMBRIDGE, MA, Aug. 15 - Long after Jean-Claude "Baby Doc" Duvalier, the former totalitarian dictator-for-life, was first reputedly looted up to $800 million from Haiti's public purse during his nearly fifteen years reign of terror there was Jean-Bertrand Aristide, the deposed tyrant who long before and after his ascendancy to the presidency of Haiti claimed to be the unprecedented champion, the unalterably champion, mainly of the very poor Haitians.
The thuggish socialist Aristide (his ideas are also held together by satanic conceit), who the United States regards as a drugkinpin, was officially chastised, as the legal proceedings commenced against him in a Florida federal court by the interim government of Alexandre-Latortue, only to be later discontinued by his inarticulate mentor and partner in crime Rene Preval, accusing him of equally pillaging the dirt-poor Caribbean nation's public treasury and apparently for emulating "Baby Doc," affirmed, although he and a reduced number of die-hard supporters denied wrongdoing.
The God's willing anti-corruption campaign continues?
Now, take Haiti's extreme violence-issued president, forced college drop-out, in his first year, Preval's chosen subject for a May 18th flag day speech. "Effective today, Haiti is no place to be corrupt," he inaudibly declared, first giving those in attendance for the circumstance the impression that they were rather listening to a 3-year-old boy as he was attempting to learn to speak or display the mental agility of an adult.
But in discussing Preval's readiness and sincerity the vast majority of Haitians, both in Haiti and the diasporas, are not convinced (many say they have been told his tongue is notarized, meaning that he tells only the truth) that the man of the many bottles of whisky, in the wee hours of the night, will definitely use and adroitly so the largely questionable presidential authority invested in him in an effort to commence pursuing anti-corruption politics in the months to come and shortly thereafter guaranteeing even a slight durable decrease in the long unacceptable level of corruption, both public and private, in the Caribbean republic, which the World Bank recently ranked as the worst nation in the control of corruption in the Americas.
"The sad truth in Preval's announcement is that corruption will cease to be Haiti's watchword, Haiti will be reformable only after he himself ceases to be a problem in his own right for the problem of unofficial government sanctioned corruption; he is a problem in his own right because principally many cabinet ministers, including his best friend Fred Joseph, a man with extreme poverty roots, in his first government became fabulously wealthy, and there is no indication that they will, in the near future, face the bar of justice, forced to explain their fortunes incommensurate with their government salaries," are the sentiments until today continue to be expressed by many.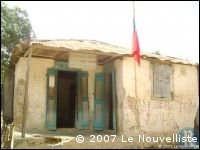 A very nice courthouse in Cerca-Cavejal, Haiti.
HAITI INCREASINGLY GOING DOWN, UNLESS OTHERWISE Not yet declared primitive-type dictator Preval's removal from extreme violence-issued power, by way of impeachment, at least, for affirming his immeasurable love for Castro and Chavez, uttering the words, in private conversations, "I hate the United States, but Marxism," alleged personal illicit self-enrichment and discouraging foreign direct investment, by means of imprisoning members of the minuscule and real private sector on imagined charges, also in an effort to bring, not consensus dictatorship, to begin with, but class dictatorship into reality, as did Aristide, I learned late Monday from many prominent Haitians and foreign powers long interested in Haitian affairs, is not only long overdue, but preventing the bacillus of totalitarianism from infecting future Haitian generations, is something, mainly the dirt-poor Haitians, will, hopefully, cheer.
The average Haitian and Haitian-American citizens interviewed for this article are not alone in offering a bleak assessment of Haiti's future. "Sadly, Haiti's destiny is that one of continued crushing poverty, as the population ages and succumbs to long treatable diseases; the official rate of unemployment rapidly increases to a near 95 percent, from the current and long-term estimated extreme one of 85 percent and, in part, the result of gross incompetence, there are no antipoverty measures that hint at the vulnerabilities the very poor face, only to cite these ones," say many economists and politicians.
On these exemplary grounds, I must say a figure like Preval is so clearly defined for gross incompetence that reinvention is ineffectual, if not impossible.
Plus ša change, plus c'est le pire
Apparently, plus ša change, plus c'est le pire (the more things change, the worst they get). Like many before him, one finding is that the words of Preval were only for the gallery and that he, too, has failed the important corruption test in a nation, where money is urgently needed to also pay for the economic costs of the fast growing classic ailments of abject poverty: hunger, diarrhea, malaria, tuberculosis AIDS, pneumonia.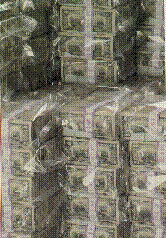 Illicit or licit wealth Oh, sorry, sorry, I, Preval, am Aristide's logical heir, and my eye sights are not good enough to visualize the extreme suffering of the vast majority of Haitians, but only greenbacks.
Thanks to looted foreign aid and Haiti's taxpayers' moneys, Preval, who is long believed to fear U.S. Law and Order President George W. Bush and as a result is forced to signal that he is, in theory, if not, too, in measured rhetoric, a Castro-Chavez-type dictator-in-waiting, for the time being, as his often barely explained visits to Cuba and Venezuela suggest, possesses at least $81 million, and nearly all deposited in secret Swiss and other bank accounts, I learned late Tuesday from seven confidential sources, at least three of them in senior (current) government positions of responsibility, who took pains to speak to me under the customary condition of anonymity because they feared retribution, which is not limited to utilizing the police to practise arbitrary arrest.
Yves A. Isidor, who is the executive editor of wehaitians.com and spokesperson for We Haitians United We Stand For Democracy, teaches economics at the University of Massachusetts-Dartmouth.
Wehaitians.com, the scholarly journal of democracy and human rights