Correspond with us, including our executive editor, professor Yves A. Isidor, via electronic mail:
letters@wehaitians.com; by way of a telephone: 617-852-7672.
Want to send this page or a link to a friend? Click on mail at the top of this window.

Must learnedly read, too; in part, of intellectual rigor
Posted Wednesday, August 29, 2007
Randolph man to be charged with murder
By Fred Hanson, The Patriot Ledger
RANDOLPH - A 17-year-old high school student has been arrested for the July 4 shooting death of a Randolph man.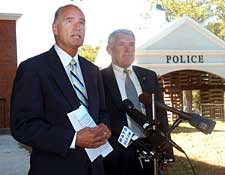 Norfolk County District Attorney William Keating and Randolph Police Chief Paul Porter announce the arrest of a suspect in the July 4 shooting death of a Randolph man. (Lisa Bul/The Patriot Ledger)
Jean Marie Thebaud, 8 Markle Circle, Randolph was arrested by police Tuesday afternoon at Fort Lauderdale International Airport after he got off a flight that originated in Haiti.
He will be charged with murder in the death of John Lubin, 24, who was shot and killed at a house party at 14 Bayberry Lane in South Randolph.
''(Thebaud) was a very surprised individual,'' District Attorney William Keating said at a press conference Tuesday at the Randolph police station.
Thebaud, who was to enter his senior year at Randolph High School next week, will be in a Fort Lauderdale court Wednesday morning. If he chooses not to fight a return to Massachusetts, he could be arraigned in Quincy District Court as early as Wednesday afternoon.
Copyright 2007 The Patriot Ledger
Wehaitians.com: The Randolph Police Department's investigation, we assume, is not yet complete. One of the very difficult questions that must be answered by the parents of Mr. Thebaud is where he obtained the money to pay to fly to Haiti and subsequently return to the U.S. We do not want to permit ourselves to rush to judgment, still it seems like the parents of the alleged murderer are post-accomplice murderers, that is doing their best to prevent law enforcement officials from arresting him by giving the very young man the money needed to go to Haiti and return to the U.S. (Fort Laudarle, to leave with family members), hoping that the murder of John Lubin, his victim, after a few weeks or months, will no longer be a priority for the Randolph Police Department.
Wehaitians.com, the scholarly journal of democracy and human rights