Correspond with us, including our executive editor, professor Yves A. Isidor, via electronic mail:
letters@wehaitians.com; by way of a telephone: 617-852-7672.
Want to send this page or a link to a friend? Click on mail at the top of this window.

Must learnedly read, too; in part, of intellectual rigor
Posted Thursday, December 20, 2007
PLant cover in Haiti at two percent: UN official
PORT-AU-PRINCE (AFP) Deforestation in Haiti, where trees and bushes are routinely felled for cooking fuel, is at crisis level, with just two-percent plant cover now, the UN warned Thursday.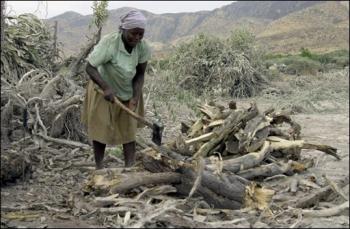 A Haitian woman is seen chopping wood. (AFP Photo)
"There is a real urgency, and measures need to be taken ... plant cover is down to about two percent," UN Development Program official in Haiti, Joel Boutroue, said.
Most people in Haiti, the poorest country in the Americas, live on less than two dollars a day, and they use wood for fires to cook. The result has been widespread deforestation and erosion.
Boutroue pressed the Haitian government and international groups to act quickly to foster re-forestation and runoff control programs, without which he said he feared Haiti could sink even further into poverty.
Copyright © 2007 AFP
Wehaitians.com, the scholarly journal of democracy and human rights