Mildred Trouillot-Aristide, center, with their bodyguards, second row. De facto Senator, also a criminal, Yvon Neptune, left. Totalitarian dictator Aristide's 60 white men or foreign bodyguards earn a yearly combined salary of $9m while school teachers, for example, often have to wait nine months or more before receiving a fraction of their monthly salaries of U.S.$125.00. Below is the family (front) of
the late de facto Congressman, Marc André Durogène. after his funeral. Like thousands of other Haitians before and after him, he was gunned down in broad daylight because all of Haiti's moneys went to pay for the security of a chief bandit and his American wife.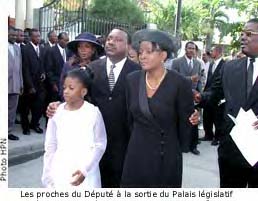 The funeral of Brignol Lindor, a radio journalist hacked to death on Dec. 3, 2001 in broad daylight by brutal dictator Aristide. Members of his family thereafter continued to receive death threats. They arrived in France on April 13, 2002 after taken refuge in foreign embassies in the capital Port-au-Prince.