Correspond with us, including our executive editor, professor Yves A. Isidor, via electronic mail:
letters@wehaitians.com; by way of a telephone: 617-852-7672.
Want to send this page or a link to a friend? Click on mail at the top of this window.

Must learnedly read, too; in part, of intellectual rigor

Posted Saturday, July 27, 2008



NY Jury returns a verdict of culpability against former Haitian paramilitary leader Emmanuel "Toto" Constant

By The Associated Press

NEW YORK: A former Haitian paramilitary leader who has been branded a ruthless killer by human rights groups was convicted Friday of helping hatch a mortgage fraud scheme that cheated lenders out of $1.7 million.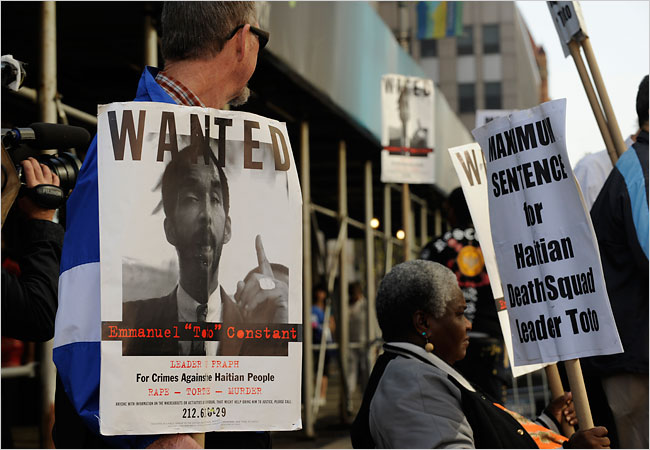 Members of the Center of Constitutional Rights organized a rally in front of the State Supreme Court in Brooklyn for the trial of Emmanuel Constant on Tuesday. (Photo Robert Stolarik for The New Times)


A Brooklyn jury found Emmanuel "Toto" Constant guilty of fraud and grand larceny. Constant faces up to 15 years in prison at his sentencing on Sept. 10.

The verdict "exposes him for the crook that he is," said Jennie Green, an attorney from the Center for Constitutional Rights who monitored the trial. "Hopefully, we will be able to expose him for the human rights violator he is."

State Attorney General Andrew Cuomo, whose office prosecuted the case, called the outcome "a victory for justice, and Emmanuel Constant will no longer be a menace to our society."

Defense attorney Samuel Karliner afterward said Constant had been forced to go to trial "for political reasons." His client, who testified in his own defense, was disappointed by the verdict and still "believes he didn't do anything wrong," the lawyer added. Today in Americas Obama wows Europeans, but leaders remain waryOil spill on nearly 100 miles of Mississippi RiverFormer Argentine army chief sentenced to life in 'dirty war' trial

Constant, 51, originally struck a plea deal last year for a reduced sentence. At the time, prosecutors and the Department of Homeland Security had urged state Supreme Court Justice Abraham Gerges to sentence Constant to time served, about 10 months, to speed his deportation to Haiti.

Instead, the judge ordered Constant to go to trial, saying the murder and torture allegations facing him in his homeland "are heinous, and the court cannot in good conscience consent to the previously negotiated sentence."

The son of a military officer, Constant emerged as the notorious leader of the Front for the Advancement and Progress of Haiti, or FRAPH, after President Jean-Bertrand Aristide was toppled in 1991.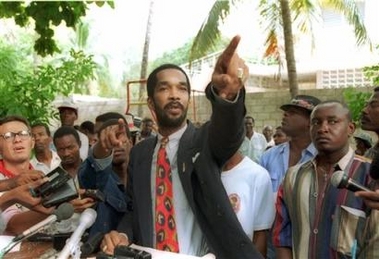 Emmanuel "Toto" Constant gestures during a press conference in Port-au-Prince, Haiti. in this file photo of September 22, 1994. (AP Photo/Johm McConnico, File - wehaitians.com, file)


Human rights groups allege that between 1991 and 1994, FRAPH terrorized and slaughtered slum-dwellers loyal to Aristide. When Aristide returned to power in 1994, Constant slipped into the United States.

Despite a 1995 deportation order, Constant was allowed to remain in the U.S. because of instability in Haiti. He kept a low profile, living with relatives in the New York City borough of Queens until being jailed in 2006 in the fraud case.

In Haiti, victims of paramilitary violence cheered news of Constant's fraud conviction, saying it bolstered hopes he would next face prosecution on murder and torture charges at home.

"I hope the (Haitian) government was taking notes, so they can be ready," said Mario Joseph, a lawyer for the victims of the 1994 attacks in Raboteau, where soldiers and paramilitaries are believed to have killed an unknown number of Aristide supporters.

"When he has done his time in the states, I hope the prison down here will be strong enough to hold him," Joseph said.

At the two-week trial, a crooked investor who testified as part of a plea deal claimed Constant offered to broker deals to buy dilapidated properties and resell them to so-called straw buyers at inflated prices. Prosecutors said proceeds from mortgage loans were divvied up between the participants in the scheme and never repaid.

Constant told jurors about recruiting his cousin to buy a home in a deal prosecutors say was fixed. But he insisted she was an "investor" — not a straw buyer.

Asked by his lawyer if he thought the transaction was legitimate, he answered, "Absolutely."

___ Associated Press writer Jonathan M. Katz contributed to this report from Port-au-Prince, Haiti.

Wehaitians.com, the scholarly journal of democracy and human rights