Want to send this page or a link to a friend? Click on mail at the top of this window.
Posted September 22, 2003
ND's Haiti's mission not impossible
By DAVID RUMBACH, Tribune Staff Writer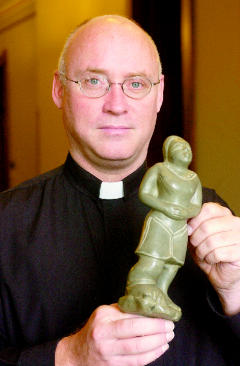 The Rev. Thomas Streit, a University of Notre Dame biology professor, holds a statue made by an artist from the Caribbean country of Haiti. The statue's enlarge left leg depicts elephantiasis, a disease targeted for elimination in Haiti by an ND program headed by Streit. Tribune Photo/SHAYNA BRESLIN
IT causes grotesque swelling of the body, typically of people's legs, of women's breasts and of men's genitals.
In impoverished countries like Haiti, where hygiene is generally poor, the swelling is aggravated by disastrous skin infections.
When the infections rage in affected limbs, heat generated in the skin can become so intense that it leaves second-degree burns. The infections also cause eruptions that become putrid and make people smell bad.
About a quarter of the 8.3 million people who live in Haiti are infected with tiny, parasitic worms that cause lymphatic filariasis, according to the Rev. Thomas Streit, a biology professor who is director of the University of Notre Dame's Haiti Program.
(Lymphatic filariasis is the name of the disease, while the term elephantiasis describes the disfiguring symptoms.)
Most infected Haitians have not yet developed symptoms and are not sick. By contrast, those who already are badly disfigured are shunned and cut off from normal social contact and jobs.
A common belief is that people with elephantiasis have been hit with a voodoo curse.
"The disease doesn't kill people,'' Streit said. "In Haiti, some say it kills people's spirits.''
It is in Haiti, nonetheless, that Streit and a group of collaborators are pursuing a hopeful idea: that elephantiasis can not only be prevented from maiming new victims but actually eliminated from the environment altogether.
For a half century, Notre Dame scientists have been studying mosquito-borne diseases that plague people in hot, sticky places like Haiti, Streit said.
Researchers at the university's Center for Tropical Disease Research and Training are continuing the tradition by looking into malaria and dengue fever.
The university's current effort in Haiti is actually part of a worldwide campaign -- backed by the World Health Organization and U.S. Centers for Disease Control and Prevention -- aimed at wiping out lymphatic filariasis from all corners of the globe. The disease is prevalent in 80 countries, and 120 million people are infected.
Streit, the scientist-priest, has been studying diseases in Haiti since 1993, the year before he received his doctorate in vector biology at Notre Dame. His efforts received a gigantic boost in early 2000 when the Bill and Melinda Gates Foundation awarded the university a grant of $5.2 million to lay the groundwork for a campaign to eliminate lymphatic filariasis in Haiti.
Three and a half years later, the goal is beginning to come into view, said Michele Sexton, the program director. As a first step, the program "mapped'' the disease, to identify where transmission is high and low. Then a treatment phase was started involving mass distribution of pills and the fortification of salt with anti-worm medicine. The fourth year of mass treatment begins next month.
Thousands already treated
Last year, the program succeeded in treating almost 450,000 people with a medicine that wipes out immature worms from a person's system and prevents adult worms from reproducing and reinfecting the bloodstream for a year, Sexton said.
To banish the disease from the island country, research by Streit and others suggests, it will be necessary to treat virtually everyone in high-risk areas once a year for five years.
Preventive treatment is relatively simple, especially compared with combating something like HIV, which mutates so rapidly a vaccine may not be possible.
From left, Justin Campbell, the Rev. Thomas Streit and Charles Washington display some items from Haiti, where they are involved in a program to eliminate lymphatic filariasis, the infection that causes elephantiasis. Streit directs the program, Washington and Campbell are research associates. Tribune Photo/SHAYNA BRESLIN
All it takes is for a person to take one pill a year, Streit said. And because the parasitic worms' only reservoir -- where it lives and reproduces -- is within people, world health officials have concluded that lymphatic filariasis can be made to vanish. "It will disappear on its own, as it has in developed countries,'' said Streit, noting that the disease occurred in Charleston, S.C., in colonial times. The tiny, mosquito-borne worm causes elephantiasis by damaging tissues in people's lymphatic nodes and channels, the circulatory system for the body's immune system.
Elephantiasis is essentially the same condition as lymphedema, Streit said, the swelling well-known to women who have had lymph nodes removed as part of breast cancer surgery.
Lymphatic filariasis occurs today only in tropical countries that are also very poor and undeveloped.
And in Haiti, it's the country's incredible poverty and lack of development, rather than any complexity of the disease itself, that presents the biggest challenge to wiping it out, Sexton said.
Haiti is so poor that Sexton said she has difficulty describing it to her friends at Notre Dame. She spends about half of each year at ND and the other half in Leogane, a city of about 200,000, where the university has built a center.
"It's hard for them to understand,'' she said.
A disease born of poverty
In most of Haiti, the sewage system consists of open ditches or ponds near where people live. Mosquitoes breed rampantly in this water, and most people don't have screens in their houses or mosquito nets around their beds to protect them from being bitten.
Education has been a big, but by no means insurmountable, challenge, Streit said.
Most people infected with the worms don't have symptoms and don't feel sick. But the pill quickly kills all the young worms in their systems, and that makes the person feel sick and have a fever for a day or two.
"So you're asking people who aren't sick to take a pill that makes them feel sick,'' he said. "Some thought the people wouldn't be able to understand this, but they do.''
Sexton said the program's Haiti staff and its helpers -- fewer than 100 people in all, including workers from the country's limited public health system -- continually puts on educational shows in the country's communes, political units that are roughly the equivalent of counties.
The presentations are shown at night and include a video presentation that explains the real causes of elephantiasis. With no electricity in their homes and not much else to do at night, the people turn out in droves in a mood of festive excitement.
"People love it. It's a big community event,'' Streit said. "The people are incredibly receptive and appreciative.''
But the cost of giving pills this way is high, and treating the whole country would bust the program's budget. So to reach the goal of universal treatment more affordably, Sexton said, the program wants to put the filariasis medicine in the country's salt supply.
Again, cultural barriers stand in the way.
Salt production in Haiti, far from being centralized, is largely accomplished by individuals who produce raw salt from ocean water and sell it to cooperatives.
Politicians in Haiti have been reluctant to pass a law regulating salt production and requiring that it be fortified for fear such a measure would either throw lots of people out of work or, more likely, be mostly ignored.
For decades, the law has required that salt sold in the United States be fortified with iodine, an additive that can create a 10-point advantage in IQ for a child who would otherwise be deficient. Streit said he believes that if Haiti passes a law to require that iodine be put in salt, it will be a simple matter to have the anti-worm medicine added as well.
"It works,'' Streit said. "The question will be whether we can overcome political and legal obstacles so that we can do the whole supply.'' Unfortunately, the medicine in either form does not appear to kill the adult worms, which can live for six years in the human body. And the medicine does nothing to reverse damage to lymphatic tissues that causes elephantiasis.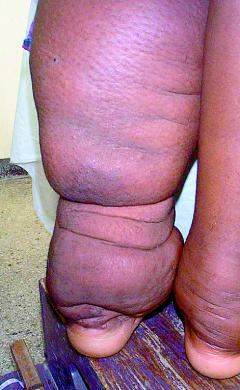 The leg of a 15-year-old girl shows the severe swelling known as elephantiasis, a common disease in Haiti. The photograph was taken at the Hope Clinic at Ste. Croix in Leogane, Haiti. Photo provided by SOUTH BEND --- Although there are many diseases more deadly than elephantiasis, few can match it for creating lifelong misery and disfigurement.
But treatments for lymphedema, including massage techniques and special attention to hygiene, also dramatically reduce the grotesque appearance of elephantiasis, Streit said.
The Haiti program has been teaching people scarred by the disease, including men who have been branded "town monsters'' because of their odor, to self-treat their conditions.
There is also a good surgical treatment for the debilitating effect the disease has on the male scrotum, a condition that doctors call hydrocele. It's a common affliction in Haiti and even occurs in teenagers, Streit said.
"Could you imagine being 14 or 15 and having no chance of intimacy in your life?'' he said.
Streit said the Haiti program needs more money and more volunteers to complete its mission.
It needs volunteer lawyers to help with legal and political ramifications of the salt fortification project, marketers to get the word out about the program and urologists to perform the operation that restores male potency.
The Rev. Theodore M. Hesburgh, Notre Dame's president emeritus, said he believes elephantiasis can be wiped out of Haiti, but only if more money and volunteers are added to the project.
"I think it can be done because it's medically possible and because it's been done in other places,'' said Hesburgh, who is the university's main contact with the Global Alliance for the Elimination of Lymphatic Filariasis. "It can be done there, but it will take a lot of money and a lot of volunteers.''
Streit said he expects to reach the goal of universal treatment by the end of the decade. Then that level of coverage must be continued for five years or less in order to eliminate the disease.
"We're reaching out with our expertise and, if you will, our very soul to eliminate enormous suffering,'' Streit said. "They suffer from this for their whole lives.''
Staff writer David Rumbach: drumbach@sbtinfo.com
Copyright © 1994-2003 South Bend Tribune. Reprinted from South Bend the Tribune of September 22, 2003.
Wehaitians.com, the scholarly journal of democracy and human rights