Correspond with us, including our executive editor, professor Yves A. Isidor, via electronic mail:
letters@wehaitians.com; by way of a telephone: 617-852-7672.
Want to send this page or a link to a friend? Click on mail at the top of this window.

Must learndly read, too; in part, of intellectual rigor
Posted Friday, July 6, 2007
CRIME PROFILE/HAITIAN-AMERICAN FAST GROWING GANG DEADLY VIOLENCE
MURDER CALLED A 'SETUP': Girlfriend says Randolph man's killing related to 2004 shooting
By Jennifer Mann, Patriot Ledger Writer
RANDOLPH - After he was shot at a party in Hyde Park three years ago, John Lubin cut off most of his connections to Boston.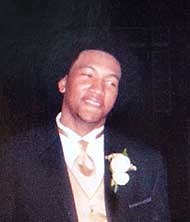 John Lubin
But Lubin's girlfriend thinks his past caught up to him when he was fatally shot at a party on Bayberry Lane in Randolph this week.
''It was a setup,'' she said yesterday. ''I feel it in my stomach, it was a setup.''
Lubin's girlfriend, who did not want to be named for fear of reprisal, thinks her boyfriend was invited to the party to be killed because of an ongoing dispute tied to the 2004 shooting.
Lubin's stepfather and sisters, who spoke with the girlfriend at their home on DeLorenzo Drive in Randolph, also believe Lubin was killed in retaliation.
''That's the only major problem he's had,'' said Lubin's stepfather, Ernest Termitus. ''After the incident three years ago, he's been very withdrawn, trying to keep a low profile.''
At the July 2004 house party in Hyde Park, Lubin was shot in the leg and back. Another man, Kern Cayemite, 20, was fatally shot in the chest. No one has been charged in that case and police continue to investigate, said a spokesman for the Boston police department, Patrol Officer Eddy Crispin.
According to what Lubin told his family, he had a run-in about three months ago with four men connected to the 2004 shooting. The family members said Lubin told them the man who shot him in 2004 was among the group. Lubin's girlfriend said the four men grabbed him on Main Street in Randolph, about a mile away from his house. When he jumped on a bus to get away, a Hyde Park man jumped on after him and spit at him, she said.
''They were trying to do it because of what happened three years ago,'' she said.
Two weeks ago, James G. Milord was gunned down near Westminster Street and Central Avenue in Hyde Park. Lubin's girlfriend said Milord was the man who spit at him on the bus three months ago.
No one has been charged in the Milord murder, and that case is still being investigated as well, Crispin said. He would not comment on any potential connections between the cases. Lubin's girlfriend, who said she talked to him on the phone during the bus incident, filed a report that day with Randolph police. The report was not available to the public; officers referred all questions to Police Chief Paul Porter, who was not available for comment.
Lubin lived in the Hyde Park and Roslindale sections of Boston before moving to Randolph with his family in 2000. For the last three months, he worked at a General Nutrition Store on Washington Street in Boston's Downtown Crossing.
He recently became a father of twins who lived with his former girlfriend in Rhode Island.
There were people from Randolph and Boston at the July 4th house party during which Lubin was shot early Wednesday morning, according to several people who were there.
Marlin Pierre of Randolph, who rode with Lubin to the house party on Bayberry Lane, said Lubin told him ''he had been watching his back'' recently.
''I don't know who the people are, he was just telling me he had a lot of drama with people,'' Pierre said. ''He had problems with people and they just shot him.''
Pierre said he did not see Lubin arguing with anyone at the party, and did not see who shot him.
Jeff Charles of Randolph said he was next to Lubin when he was shot.
''I turned around, I heard shots, I turned back around and everyone was running away and I saw him on the ground,'' he said, adding it was too dark to see who had fired the gun.
Charles said Lubin was alive, but gasping for breath and choking on his own blood, as he sat with him and waited for an ambulance.
Charles said he heard the shooting was related to ''that thing that happened in Boston'' three years ago, but ''I don't know nothing about that.''
Charles returned to Lubin's home to tell his family what happened.
Lubin's family said Charles is the one who invited Lubin to the party.
Lubin's girlfriend said she was originally supposed to spend the evening with her boyfriend.
It was unusual that he went, she said. In the seven months since they've been together, she said, most nights have been spent at home and going out to dinner.
She urged those who know something about the shooting to speak up.
''A lot of people saw a lot of things that night, but I guess nobody's going to say anything because it's street code,'' she said.
Jennifer Mann may be reached at jmann@ledger.com .
Copyright 2007 The Patriot Ledger Transmitted Friday, July 06, 2007
Wehaitians.com, the scholarly journal of democracy and human rights