Want to send this page or a link to a friend? Click on mail at the top of this window.
Mugabe's Presence Hijacks European-African Meeting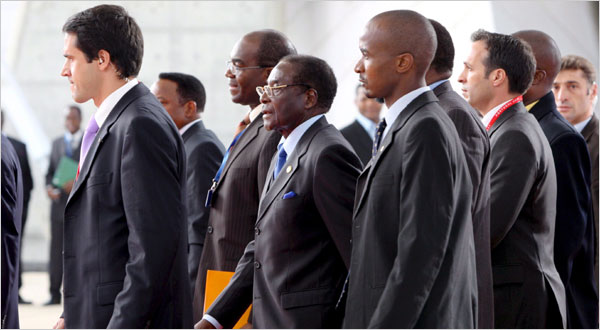 INACIO ROSA/EUROPEAN PRESSPHOTO AGANCY
President Robert G. Mugabe, center, whose authoritarian rule is criticized in Europe, is a liberation hero to many Africans.
LISBON, Dec. 8 — A summit meeting of leaders from Europe and Africa on Saturday was dominated by divisions between the two continents over trade and criticism from European leaders of human rights abuses in Zimbabwe.
The first such European Union-African meeting in seven years began amid growing concern in Europe that its economic and political influence in Africa was being eclipsed by China's growing economic influence there.
But the start of the two-day meeting was overshadowed by the presence of Robert G. Mugabe, Zimbabwe's president, who remains a liberation hero in some African countries. His appearance, however, led Gordon Brown, Britain's prime minister, to decline to attend.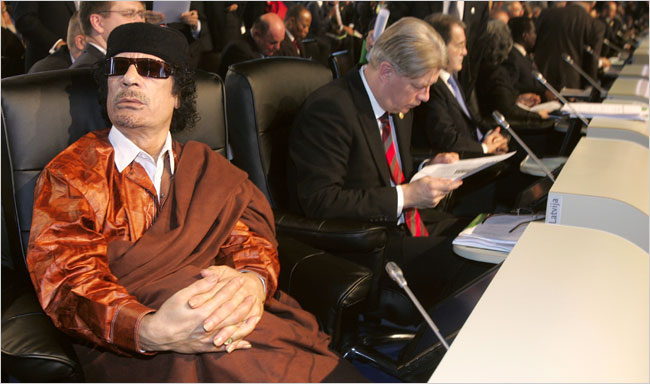 MICHEL EULER.ASSOCIATED PRESS
Col. Muammar el-Qaddafi of Libya was among the leaders of 80 European and African countries meeting in Lisbon Saturday.
In her speech, Angela Merkel, the German chancellor, criticized Mr. Mugabe, who is accused of human rights abuses, vote rigging and substantially worsening the level of poverty in his country.
"The whole European Union has the same view of what is happening there," Mrs. Merkel said, according to a copy of her speech distributed at the meeting. "Zimbabwe concerns all of us, in Europe and in Africa."
After criticism of Zimbabwe from other European leaders, African countries appeared to close ranks around Mr. Mugabe. Senegal's president, Abdoulaye Wade, said that the comments about Mr. Mugabe were "not true," and that Mrs. Merkel was misinformed.
"Zimbabwe is making progress toward democracy and should be helped, not sanctioned," he said.
President Thabo Mbeki of South Africa, also speaking about human rights, avoided criticizing Mr. Mugabe, according to Baroness Amos, a former deputy foreign minister representing Britain here in Mr. Brown's place.
In a briefing with reporters, Lady Amos cited Mr. Mbeki's role as a negotiator between Mr. Mugabe's ZANU-PF party and the opposition as a legitimate explanation for his reluctance to confront his fellow leader.
Sudan's president, Omar Hassan al-Bashir, whose government is accused by many countries and aid groups of causing the humanitarian crisis in Darfur, was also at the meeting, as was Col. Muammar el-Qaddafi, Libya's president. In all, 80 European and African governments were represented.
A meeting between Mr. Bashir and senior European officials yielded no breakthrough over plans to send non-African peacekeepers to Darfur.
Access to Mr. Mugabe was closely controlled. As he left his five-star hotel in Cascais, on the coast near Lisbon, on Saturday morning, he refused to answer questions from reporters as his security team jostled a camera crew from the BBC.
In order for Mr. Mugabe to attend the meeting, his Portuguese hosts had to waive a European Union visa ban that normally prevents him and 130 other Zimbabwean officials from traveling to Europe.
Mr. Mugabe was invited when southern African nations made it clear that they would not attend the meeting were he excluded.
In 2003, a similar standoff prevented a summit meeting from taking place, but such is the concern over China's growing economic influence in Africa that all but a handful of European leaders agreed to override their objections and sit down with Zimbabwe's president.
Ireland's prime minister, Bertie Ahern, said that he would have preferred Mr. Mugabe had stayed away and said human rights needed to be addressed at the meeting. "Any country that halves the life expectancy of its population speaks for itself," Mr. Ahern told reporters.
Though Europe remains Africa's biggest trading partner, China's investment ambitions were underlined recently when a Chinese bank bought 20 percent of Standard Bank, Africa's largest lender, for $5.4 billion.
According to the European Commission, 800 Chinese companies have invested $1 billion in Africa through 2006, the latest year for which figures are available. The country imports 32 percent of its oil from Africa, and oil-related investment in recent years amounts to $16 billion, the commission said.
Despite their historical ties to Africa, Europeans have found it difficult to compete with China, which finances giant infrastructure projects and offers investment without conditions related to human rights or government transparency.
European leaders have called for a new partnership between the continents based on common interests, from trade to climate change, instead of the traditional relationship between donors and aid recipients.
But the legacy of Europe's colonial past is a source of continuing controversy. "Africa doesn't want charity or paternalism," said Alpha Oumar Konaré, the chairman of the African Union, at the opening session on Saturday. "We don't want anyone doing things for us. We want to play in the global economy but with new rules."
Mr. Konaré also criticized the European Union's strategy of pressing individual African regions and states to sign new trade deals, called economic partnership agreements. He said the practice was divisive and would hurt the continent's industries and rural poor.
Mr. Wade, of Senegal, accused Europe of trying to impose on Africa a "straitjacket that does not work."
Copyright 2007 The New York Times Company. Reprinted from The New York Times, International, of Sunday, December 9, 2007.
Wehaitians.com, the scholarly journal of democracy and human rights