Want to send this page or a link to a friend? Click on mail at the top of this window.
Misery and fear on the streets of Haiti
By Claire Marshall, BBC Correspondent, Haiti
As Haitian President Jean-Bertrand Aristide sends out a message of peace to his country - which has seen mounting protests threatening his very existence - Claire Marshall visits a slum on the outskirts of the Haitian capital, to meet the most vulnerable members of society.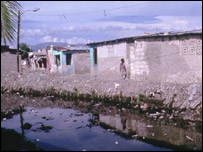 Open sewer in a poor area of Port-au-Prince
It is called the Eternal City, but rather than eternal light, or eternal joy, seemingly the only lasting quality about this place is the deep misery.
The Eternal City is the name given to a squalid slum on the outskirts of the Haitian capital Port-au-Prince. Built on a rubbish tip, most of its jumble of crude brick dwellings are sinking into the sludge.
Open sewers are clogged up with plastic bags, bottles, and moulding fruit. Inches away, women with cracked filthy feet in sandals squat, and haggle with customers over their produce.
Dozens of flies crawl over the wedges of melon lying out on an old piece of tarpaulin. Over-ripe tomatoes lie beside bunches of bananas.
These are the only splashes of colour in this grey, dusty place.
Turn away from the market, and go down one of the dark narrow alleyways. Walk past the burnt-out wreck of a car, and look in through one of the open doorways.
Sitting there is Mirta Geffrard. She is bringing up three children on her own here, in this one space, which is the size of an average bathroom. The furniture? Two beds covered with thin grimy sheets, and a plastic rack for a few broken bits of crockery.
She clutches her baby child, Ronaldina, to her chest. The other two sit quietly on the bed scuffing at the dirt floor with their toes.
My life is very hard, I do not have any work, I do my best to be able to feed my children, but I really need some help.
Mirta Geffrad, slum dweller
Ronaldina's thin black curly hair is turning slightly ginger, a clear sign of malnutrition.
Mirta will not allow herself to cry. She says: "My life is very hard, I do not have any work. I do my best to be able to feed my children, but I really need some help.
"I would like to see them have a better life, to go to school so they can make something out of themselves later."
Mirta is 28 years-old. She sees no way out of this slum, and no future living in it.
Back outside. On a rooftop, a child tugs at a piece of paper on a string to try to encourage it to fly. Making kites is one of the few distractions for the kids here.
Serge's filthy trainers poke out from beneath his baggy jeans. He is 14 years old, and his favourite subject is maths.
"No, I do not like living in the Eternal City," he says. "I want to live somewhere else, maybe Miami."
Datounia, aged 10, feels the same. "I just want to leave," she says.
A few miles away, and a man with long dreadlocks piled high up underneath his red, green and gold knitted bonnet is talking heatedly with a group of students, trying to persuade them not to take weapons with them on the next march.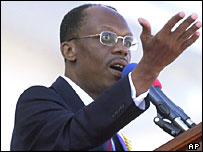 The president has promised new elections in six months
The eyes behind his glasses are piercing. "That is not the right way!" he tells them. "That route will lead only to civil war!"
This is Lo Lo. He is a Grammy award-winning 'racine' musician. Racine is a national Haitian version of rock and roll. And his name has just been found on the hit-list of a government-hired gang member.
This last month, he says, he has not felt able to sleep in the same place more than one night at a time.
He is helping to lead Haiti's student movement of opposition against President Jean-Bertrand Aristide's government.
"This is not my first problem with those in charge here," he chuckles. "In the past, I had the same thing with the dictators and the generals. But this present government, they are like dogs."
Sitting on a graffiti-covered wall nearby, listening to Lo Lo, is Berny Leveque. He is a student in his 20s here in Port-au-Prince.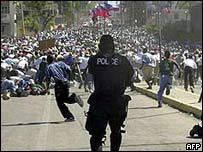 A number of people have been killed during the protests
Last Wednesday, he was running alongside his best friend Maxim during an anti-government protest. He felt his friend fall behind him.
He had been shot in the neck, apparently by a plain-clothed palace guard.
Berny cradled his head as blood flowed out on to the road. Maxim died in his arms.
It is very difficult to go to the demonstrations, because you know you may never come back
Now, Berny's passion to see an end to the Aristide administration has intensified.
"It is very difficult to go to the demonstrations, because you know you may never come back," he says.
I ask him whether he wants to leave Haiti, and he says "But I have a beautiful country! Why would I want to leave?"
Berny, Lo Lo and other opposition figures are trying to change things in Haiti. They feel that people should not have to live like they do in the Eternal City, or die on the streets like Maxim.
But others have already lost hope that things can change. Haiti, they say, has been like this for more than two centuries and nothing is going to change soon.
From Our Own Correspondent was broadcast on Thursday, 15 January, 2004 at 1100 GMT on BBC Radio 4. Please check the programme schedules for World Service transmission times.
Transcript of a BBC, January 15, 2004 broadcast.
Wehaitians.com, the scholarly journal of democracy and human rights