Want to send this page or a link to a friend? Click on mail at the top of this window.
Migrant Money Flow: A $300 Billion Current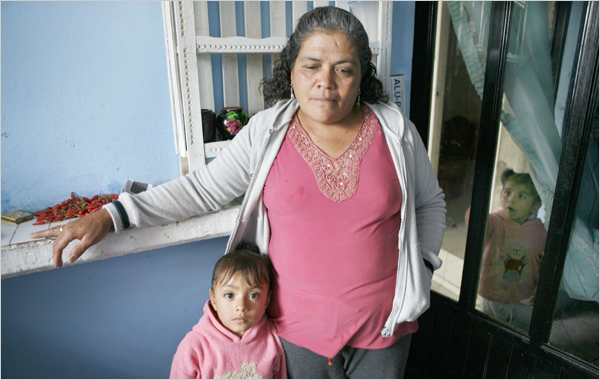 ADRIANA ZEHBRAUSKAS FOR THE NEW YORK TIMES
HOMELAND SECURITY Many women in Mexico, like Estela Palacio Calzada, with her granddaughter, rely on money sent back from the U.S.
THE money flows in dribs and drabs, crossing borders $200 or $300 at a time. It buys cornmeal and rice and plaid private school skirts and keeps the landlord at bay. Globally, the tally is huge: migrants from poor countries send home about $300 billion a year. That is more than three times the global total in foreign aid, making "remittances" the main source of outside money flowing to the developing world.
Surveys show that 80 percent of the money or more is immediately spent, on food, clothing, housing, education or the occasional beer party or television set. Still, there are tens of billions available for savings or investment, in places where capital is scarce. While remittances have been shown to reduce household poverty, policymakers are looking to increase the effect on economic growth.
Some migrants, for instance, send home money to savings accounts at small bank-like microfinance institutions, which use the resulting capital pool to lend to local entrepreneurs.
People who track remittances have been starved for basic data. It is difficult to say exactly how much money is flowing and even harder to say where to, exactly. Sums large and small travel informally, through the mail or in the care of friends. The World Bank, the main tally keeper (in the form of a careful economist named Dilip Ratha), only counts transfers recorded by central banks. Last year's sum came to $208 billion. Bank officials estimate that the global total is about 50 percent higher — $300 billion or more.
Last month, the International Fund for Agricultural Development, an arm of the United Nations, and the Inter-American Development Bank released a set of numbers culled from additional sources, including private survey data and records of money-transfer companies. (The research was led by Manuel Orozco of the Inter-American Dialogue, a Washington research group.)
The new study's estimate of the global total, $301 billion, is about the same as the World Bank's. But when it comes to specific countries, the two organizations vary widely. The World Bank, capturing central bank data, said southern African countries received about $1.4 billion in 2006. The new study said $4.5 billion.
The World Bank puts Brazil's intake at $3.5 billion; the new study reports $7.4 billion. Depending which numbers you use, Russia received either $3.3 billion (old) or $13.8 billion (new). The World Bank data has been published annually, while the new study, part of a larger project, has not been widely reviewed.
By any accounting, the amounts involved are big and flow worldwide: migration truly is global. The new study found that 60 countries received $1 billion a year or more last year. In 38 countries, remittances accounted for more than 10 percent of the gross domestic product. Mr. Orozco estimates that only about a third of the money, $96 billion, comes from the United States, with large sums also originating in Europe and the Middle East.
Donald F. Terry, an official at the Inter American Development Bank, which helped sponsor the study, has campaigned for years to publicize the importance of remittances. His policy agenda includes reducing the costs of sending money and helping migrants open bank accounts, especially back home, so they can gain access to mortgages and business loans.
"Putting it out there this way increases the level of policy interest," Mr. Terry said. "What's stunning is how critical remittances are in almost every developing country in the world."
Copyright 2007 The New York Times Company. Reprinted from The New York Times, Week in Review, of Sunday, November 18, 2007.
Wehaitians.com, the scholarly journal of democracy and human rights