Correspond with us, including our executive editor, professor Yves A. Isidor, via electronic mail:
letters@wehaitians.com
Want to send this page or a link to a friend? Click on mail at the top of this window.

Must learndly read, too; in part, of intellectual rigor; in part, the repository of ultimate knowledge
Posted Monday, May 15, 2006
Haiti poor fear new president may turn against them
By Joseph Guyler Delva and Tom Brown, Reuters Writers
PORT-AU-PRINCE, Haiti (Reuters) - As their new president took office, some among Haiti's poor majority who helped propel him into power fear he may soon be distanced from them or "hijacked" by the Caribbean nation's tiny but wealthy elite.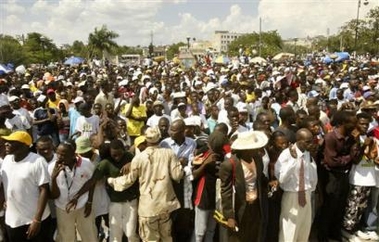 Haitians listen to loudspeakers broadcasting the inaugural speach of Haiti's new President Rene Preval in front of the National Presidential Palace in Port-au-Prince, Haiti, Sunday, May 14, 2006. Rene Preval, the only president in Haiti's history to finish a five-year term, was sworn in Sunday to again lead the impoverished nation in its latest attempt at democracy after decades of armed uprisings, lawlessness and foreign intervention. (AP Photo/Ramon Espinosa)
Rene Preval, 63, won a February election largely because he is seen, like ousted former President Jean-Bertrand Aristide, as a champion of the poor. His most vociferous opponents were the impoverished nation's business and light-skinned upper classes.
He spent the first few hours in office on Sunday among diplomats and the wealthy, however, while the masses huddled in sweltering heat behind a fence surrounding the ramshackle capital's ornate presidential palace.
The crowd jammed into Port-au-Prince's central plaza grew angry when told they would not be allowed to watch Preval give his inaugural address unless they stood behind cement barriers erected well away from the palace gates.
They eventually surged forward anyway, ignoring orders from the police. Many were pinned by the weight of the crowd against the palace's gates and wrought iron fence, only to be pushed back by police in a noisy and sweat-soaked sea of humanity.
"We voted for Preval, now they are telling us that we can't see him deliver his inaugural speech," complained Marline Joinville, 20, one of the many hoping to get a glimpse of Haiti's first elected president in more than two years.
While the people were in the streets, she said, "those who used to kill us, who used to try to prevent Preval from becoming president, are inside."
Well-wishers at a party thrown in the gardens of the palace after Preval's address included former dictator Prosper Avril and outgoing Prime Minister Gerard Latortue, who headed an interim government installed after Aristide fled into exile, facing an armed revolt, in February 2004.
The interim administration has been accused of human rights violations against Aristide's -- and now Preval's -- supporters in the slums.
Preval paid tribute to both Latortue and outgoing President Boniface Alexandre in his inaugural address, saying they had organized the election under difficult circumstances. But Preval himself has said the election was marred by fraud aimed at preventing him from taking office, and the crowd jeered and gave a thumbs-down on hearing his mention of the two.
"Preval should bar those people from leaving the country and arrest them," said Lesly Cherubin, a young man wearing a T-shirt with Preval's image emblazoned across his chest.
"The bourgeoisie wants to hijack the president. They are all over him, while, we, who elected him, can't even see him," Cherubin said.
The United States, a powerful foreign player in Haiti that was accused of undermining Aristide, has welcomed Preval's election and Florida Gov. Jeb Bush, the U.S. president's younger brother, attended Sunday's inauguration.
U.S. officials have warned Preval not to bring Aristide back from exile, but demands for just that rang out outside the palace and the Parliament building where Preval was sworn in.
"Whether they want it or not, Aristide should come back," chanted the demonstrators outside Parliament.
The crowd also chanted "long live Preval." But analysts say that could change if he blocks the return of Aristide, who is despised by the elite as much as he is beloved by the masses.
A one-time ally of Aristide, Preval has said there's nothing to prevent the fiery Roman Catholic priest from returning from his exile in South Africa.
Wehaitians.com, the scholarly journal of democracy and human rights