Correspond with us, including our executive editor, professor Yves A. Isidor, via electronic mail:
letters@wehaitians.com
Want to send this page or a link to a friend? Click on mail at the top of this window.

Must learndly read, too; in part, of intellectual rigor; in part, the repository of ultimate knowledge
Posted Friday, May 12, 2006
Elephantiasis task awaits incoming Haiti president
By Stevenson Jacobs, Associated Press Writer
PORT-AU-PRINCE, Haiti -- As jobs go, incoming Haitian President Rene Preval will have one of the toughest.
The soft-spoken 63-year-old former president takes power Sunday for the second time in a decade, inheriting the leadership of a battered nation with a deep split between rich and poor, a corrupt state bureaucracy, a broken justice system and an economy in ruins.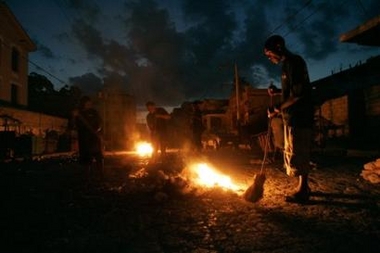 Street cleaners sweep and burn garbage in downtown in Port-au-Prince,Haiti,Thursday,May 11,2006. Rene Preval, the 63-year old president-elect formally takes power Sunday for the second time in a decade. He is taking leadership of a battered nation, deeply split between rich and poor, a corrupt state bureaucracy, a broken justice system and an economy in ruins. (AP Photo/Ariana Cubillos)
"The magnitude of the challenges is enormous," said Mark L. Schneider, a senior vice president of the Brussels, Belgium-based International Crisis Group. "Every possible characteristic of an undeveloped, failed state is present in Haiti."
Few expect fast changes under Preval, Haiti's first elected president since a bloody February 2004 revolt that ousted former president Jean-Bertrand Aristide and plunged the nation into chaos.
But observers say Preval's skills at governing and healing long-simmering rifts in Haiti's society will largely determine if the Western Hemisphere's poorest country can finally move toward stability -- or continue down a seemingly endless path of misery.
Preval, an agronomist and a champion of Haiti's poor masses, so far has been guarded about his agenda. Meeting with journalists this week, he pledged to create "cohesion" in Haiti's fractured society and restore peace.
Bridging Haiti's deep and complex social divide won't be easy.
"From everywhere there is going to be pressure to deal with the things that Haiti badly needs," said Jocelyn McCalla, executive director in New York of the National Coalition for Haitian Rights.
Unless Preval can provide quick results, such as jobs, McCalla said, "you're going to have a mass of people who are restless ... and will do whatever they can to survive, including getting involved in violent crime."
Still, there is renewed optimism among many Haitians that their troubled nation may finally improve. Kidnappings and killings have fallen dramatically since Jan. 1, and the Haitian currency this week strengthened slightly against the U.S. dollar for the first time in months.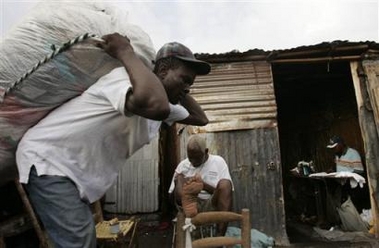 A man carries a sack of clothing to be sold as others works at the La Saline market in Port-au-Prince, Haiti,Wednesday, May 10, 2006. Haitian President-elect Rene Preval will take power next Sunday in Port-Au-Prince. (AP PHoto/Ariana Cubillos)
Preval's inauguration will be held under the protection of U.N. peacekeeping troops, who began arriving in Haiti after Aristide's ouster. The U.S. delegation will be led by Florida Gov. Jeb Bush, brother of President Bush.
Jean Paul, a 45-year-old air conditioner repairman, said he hopes Preval will fulfill his pledge to bring jobs to the Caribbean nation.
"The elite who control the economy have never done anything for poor people like me, so we're hoping that Preval will. That's why we voted for him," Paul said.
In his first steps to forge unity, Preval has reached out to rival political parties in Haiti's splintered parliament while forging ties with slum-based popular organizations loyal to Aristide, Preval's former ally. He also has visited the U.S., Canada and several Latin American counties to seek support for Haiti.
Preval's representatives on Thursday contacted third-place presidential finisher Charles Henri Baker, a prominent business leader, who had predicted more chaos if Preval became president again.
But Preval apparently hasn't held talks with Aristide's Lavalas party, whose supporters flocked to the polls on Feb. 7 to elect Preval. Some have interpreted the snub as a sign that Preval has moved from Aristide's shadow.
Rudy Heriveaux, a Lavalas senator, warned that national reconciliation won't be possible without Lavalas, which is calling for Aristide's return from exile in South Africa and the release of dozens of Aristide loyalists jailed without charge under the U.S.-backed interim government.
Preval has said Haitian law allows Aristide to return but has stopped short of saying whether he'd welcome back his former political mentor. Washington has warned that any return by Aristide would destabilize Haiti.
Wehaitians.com, the scholarly journal of democracy and human rights