Want to send this page or a link to a friend? Click on mail at the top of this window.
Max Beauvoir, King, but of Grand Voodoo Priests, Ordinary Voodoo Priests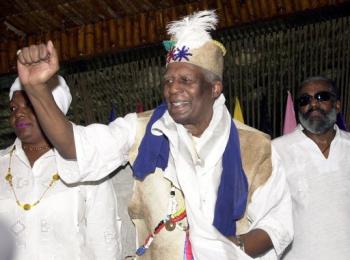 Max Beauvoir (C)
PORT-AU-PRINCE (AFP) - In a Haitian dance hall transformed into a temple, dozens of voodoo practitioners dressed all in white, scarves around their necks in red, yellow or green, came Friday to pay homage to their first-ever "supreme master".
"Open the barriers," a sole voice intoned in Creole.
"The master has arrive," answered the crowd of men and women, as they rose to greet Max Beauvoir, 72.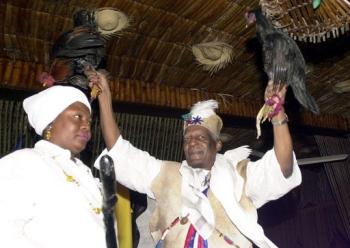 Maz Beauvoir (R)
Until recently, the priests of voodoo, the heavily spirit-focused, African-rooted belief of many Haitians, operated autonomously without a formal hierarchy or rules.
But through the associations of followers, they decided to establish a national federation of "Haitian voodooists" and designate a formal leader.
Led by two children who spread about white rose petals on a crimson carpet, Beauvoir paced ahead toward his new throne surrounded by other leaders of Haiti's millions of voodoo adepts.
The throne itself is shaped from the trunk of a grand tree, varnished into a piece of art itself.
"We do not want to vie with other religions, but we want to recover our real place in society," said the new supreme master, assuming his reponsibility for the public affairs of Haiti's voodooists.
Voodoo is hugely popular in Haiti, and practiced at every corner of society. But it has long been on the defensive against other mainstream Christian religions.
An anthropologist, Beauvoir is well-known to his fellow voodooists. He has written numerous works about the religion, and is often called upon to defend it for followers in other countries who are often too shy about their beliefs to practice in public.
"Today we would like to structure our religion, to create a hierarchy to pull it out of secrecy and marginalization," said Ismaitre Andre, a voodoo priest.
"Voodoo is the religion of nine million Haitians. Catholic or Protestant, all of us have a parent who is voodooist," said Michel Brutus, a grand priest decked out in a traditional costume.
Brutus was delighted to see more and more intellectuals declaring their acceptance and support of voodooism.
As the enthronment ceremony progressed, music filled the jam-packed temple hall and carried believers into a full-body dance. The women turned around a grand circle, at the middle of which were magical talismans.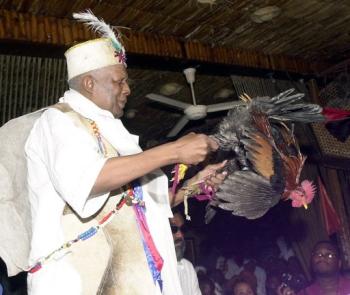 Max Beauvoir
In attendance was Haiti's Culture Minister Eddy Lubin, who declared his belief in voodoo, and at his side were other government officials, an elderly priest and well-known Haitian singers.
Further back in the hall, diplomats and curious tourists who squeezed in for the spectacle.
For student Juna Joseph, 20, a new follower, it was her first time taking part in a ritual.
"I am fortunate to be able to take part in the consecration of the first president of voodoo," she said, noting her mother is a practitioner.
A woman led the crowd of followers in prayers, with them responding to her words with "Ayibobo" ("amen").
She called voodoo the soul of the Haitian nation.
"We are going to place ourselves before god and before our master to work for the success of our country and for a sustainable development," she prayed.
"Long live the freedom of voodoo," said an aide.
At the feet of the podium, groups paraded and danced as they made their offerings to their new patriarch.
In his address, Beauvoir called for national reconciliation, for people to love their country, and cooperation between all Haitains to build the country.
He also saluted in passing the presence of the UN peacekeeping mission, which, he said, "is helping Haiti to emerge from a difficult situation.
Copyright © 2008 AFP
Wehaitians.com, the scholarly journal of democracy and human rights