Correspond with us, including our executive editor, professor Yves A. Isidor, via electronic mail:
letters@wehaitians.com
Want to send this page or a link to a friend? Click on mail at the top of this window.

Must learndly read, too; in part, of intellectual rigor; in part, the repository of ultimate knowledge
Posted Saturday, March 10, 2007
Venezuelan President Chavez to visit Haiti
PORT-AU-PRINCE, Haiti, Mar. 9, 2007 - Venezuelan President Hugo Chavez, who has offered assistance and oil benefits to much of the Caribbean, will meet with Haitian President Rene Preval to discuss providing aid to the impoverished country, Preval's office said Friday.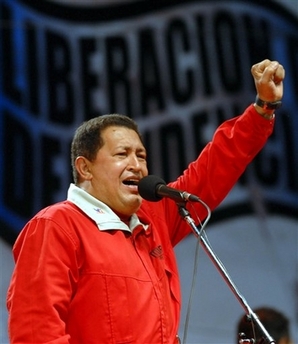 Venenezuela's President Hugo Chavez raises his fist during a rally against the ongoing visit to several Latin American countries by U.S. President George W. Bush, Friday, March 9, 2007 in Buenos Aires. Chavez is in a two-day visit in Argentina. (AP Photo/Daniel Luna)
Chavez is scheduled to arrive in the capital of Port-au-Prince for a one-day meeting Monday, Haiti's National Palace said in a statement.
Venezuela's state-run development bank said this week it will create a $20 million fund to provide humanitarian aid to Haiti and develop joint cooperation projects. The money will pay for health care, education, housing and other basic necessities sorely lacking in the Caribbean nation of 8 million.
Haiti also benefits from Chavez's Petrocaribe initiative, which provides petroleum products and other aid to needy Caribbean countries to help them counter rising energy prices. Recipients are offered deferred payment and long-term financing for fuel shipments.
Petrocaribe is widely seen as an effort by Chavez ong at odds with Washington — to make inroads in a region where the United States is a major trading partner.
Chavez has said Venezuela will help its Caribbean neighbors fight widespread poverty and other social problems. Last month, Chavez visited the tiny Caribbean nations of Dominica and St. Vincent, where he toured the fuel facilities and public works projects his government has built.
Wehaitians.com, the scholarly journal of democracy and human rights