Correspond with us, including our executive editor, professor Yves A. Isidor, via electronic mail:
letters@wehaitians.com; by way of a telephone: 617-852-7672.
Want to send this page or a link to a friend? Click on mail at the top of this window.

Must learndly read, too; in part, of intellectual rigor; in part, the repository of ultimate knowledge
Posted Tuesday, March 27, 2007
Brazil to promote Haiti Aid, Biodiesel
By Vivian Sequera, Associated Press Writer
Brazil's Silva to Propose Aid for Haiti, Development of Biodiesel, Ethanol in Africa
BRASILIA, Brazil, Mar. 26, 2007 (AP) -- Brazilian President Luiz Inacio Lula da Silva said Monday that he will propose investments to strengthen Haiti's floundering economy when he meets with President Bush in the United States next weekend.
Silva also plans to talk with Bush about the possibility of a joint Brazil-U.S. effort to help poor African countries start producing biodiesel and ethanol, alternative energy fuels gaining popularity worldwide.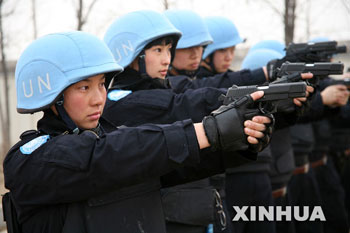 Chinese policewomen training in China before departing for Haiti U.N. mission.
The Brazilian leader will meet with Bush Saturday, less than a month after the American president visited Silva in Brazil, where the two forged an ethanol alliance aimed at promoting the fuel and reducing international dependance on fossil fuels.
Brazil leads an 8,800-member U.N. peacekeeping force in Haiti that arrived more than two years ago to restore order after a violent uprising toppled former president Jean-Bertrand Aristide.
Silva said Haiti is now a democracy, but the nation's economy is in tatters, and the Brazilian leader said it's time for "an investment of money so we can work on projects to strengthen Haiti's economy.
Silva didn't provide other details in his biweekly "Coffee with the President" radio show.
Bush and Silva argued earlier this month that alternative fuels lead to more jobs, a cleaner environment and greater independence from the oil market. In Brazil, nearly eight in 10 new cars already run on fuel made from sugar cane. Ethanol in the United States is made from corn.
The U.S. and Brazil also want to create global ethanol quality standards so the fuel can be traded as a commodity, like oil.
The U.S. is the world's largest ethanol producer. Brazil is No. 2, but is the biggest exporter and has much more agricultural land than the U.S. that could be used to ramp up production. Brazil is increasing biodiesel production, but the nation's ethanol industry is much more advanced.
Brazil and the U.S. remain at odds over the 54-cent-a-gallon U.S. tariff on imports of Brazilian ethanol. Silva didn't mention the tariff during his radio interview.
During his meeting with Bush, Silva is also expected to speak in favor of an extension of U.S. trade preferences for Ecuador, Foreign Minister Celso Amorim said on Monday after meeting with that country's Foreign Minister, Maria Fernanda Espinosa.
The trade preferences allow Ecuador to export hundreds of products to the United States without paying import duties as a reward for cooperating in the fight against drug trafficking.
"The matter will be brought up during the meeting between the two presidents," Amorim said adding that the extension of trade preferences for Ecuador has Brazil's "support."
The trade preferences expired Dec.31 and were extended for another six months. But Ecuador wants them to be extended for a longer period of time.
Copyright © 2007 The Associated Press
Wehaitians.com, the scholarly journal of democracy and human rights