Correspond with us, including our executive editor, professor Yves A. Isidor, via electronic mail:
letters@wehaitians.com; by way of a telephone: 617-852-7672.
Want to send this page or a link to a friend? Click on mail at the top of this window.

Must learndly read, too; in part, of intellectual rigor; in part, the repository of ultimate knowledge
Posted Monday, August 15, 2005
We get him: Feared gang leader now in tight handcuffs
By Joseph Guyler Delva, Reuters Writer
PORT-AU-PRINCE, March 13 (Reuters) - One of Haiti's most wanted gang leaders was arrested on Tuesday as security forces intensified efforts to crack down on criminal gangs in the troubled Caribbean country, authorities said.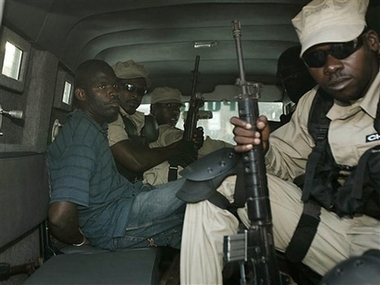 In this picture released by the United Nations Stabilization Mission in Haiti (MINUSTAH) Haitian Police escort Evens Jeune, a top gang leader from the extrmely violent slum of Cite Soleil, after he was handed over by the U.N to the local authorities at the U.N airport of Port-au-Prince Tuesday, March 13, 2007. Jeune was captured Tuesday during a raid in the southern coastal town of Les Cayes, U.N. police spokesman Fred Blaise said. He had fled into hiding after U.N. peacekeepers launched a crackdown to seize control of the country's largest slum.(AP Photo/Logan Abassi/United Nations) Enlarged Images
The gang leader, who goes only by the name Evans, was arrested near the southern town of Les Cayes, where he fled last month after a raid by hundreds of U.N. peacekeepers on his stronghold in the notorious Port-au-Prince slum of Cite Soleil.
Evans and his men have been linked to a rash of kidnappings in the capital and to pitched street battles with U.N. soldiers amid Cite Soleil's battered warren of tin-roofed shanties.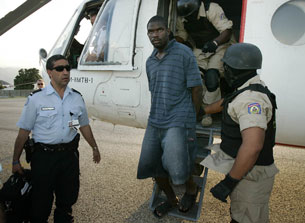 Evans Jeune, one of Haiti's contagious top gang leaders in tight handcuffs, after he was taken out of the circulation by Haitian Police not far from the southern town of Les Cayes March 13, 2007. MINUSTAH
"We arrested Evans early this morning with two other people, including his girlfriend," police Commissioner Fritz Saint-Fort told Reuters.
"We caught him very easily," added Inspector Gilet Alexis Camille, a police spokesman in Les Cayes. "We had proper intelligence that told us he was in the area."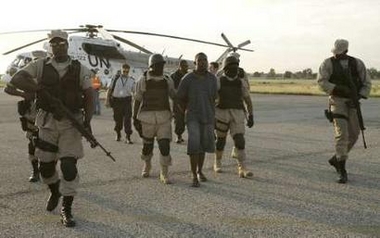 Haitian Police escort Cite-Soleil gang leader Evens in Port-au-Prince March 13, 2007. Evens, one of Haiti's most wanted gang leaders, was arrested near the southern town of Les Cayes on Tuesday. MINUSHTAH
Several other gang leaders from the capital's sprawling slums have also fled their strongholds over the last couple of months after U.N.-led security forces stepped up operations against the gangs.
The 8,000-strong U.N. peacekeeping force in Haiti arrived in 2004 after the ouster of populist President Jean-Bertrand Aristide.
Many gang leaders are still outspoken supporters of Aristide and see him as a champion of long-neglected slum-dwellers in the poorest nation in the Western Hemisphere.
Wehaitians.com, the scholarly journal of democracy and human rights