Correspond with us, including our executive editor, professor Yves A. Isidor, via electronic mail:
letters@wehaitians.com; by way of a telephone: 617-852-7672.
Want to send this page or a link to a friend? Click on mail at the top of this window.

Must learnedly read, too; in part, of intellectual rigor

A capable Mr. Jean-Claude Sanon, a proven Mr. Jean-Claude Sanon for Boston's at-large city councilor More

Posted Wednesday, September 22, 2009

Man who fled to Haiti after allegedly terminating the lives of wife, 5 children captured, charged with murders

Authorities in southwest Florida have charged a man with six counts of first-degree murder in the deaths of his wife and five children.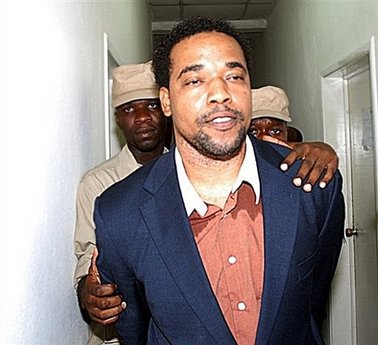 Captured

Mesac Damas is arrested in Port-au-Prince after is wife and five children were found slain two days earlier in North Naples, Florida, USA. Police said the child victims included three boys, age nine, six and five, a girl age three, and a baby girl 11 months old. The couple were said to have a history of marital problems and domestic violence.(AFP/Thony Belizaire) More Images

The Collier County Sheriff's Office said Tuesday that Mesac Damas has been ordered held without bond until his return from Haiti.

The 33-year-old boarded a flight from Miami International Airport to the Caribbean nation on Friday.

The following evening, deputies found wife Guerline Damas and their five children killed in a Naples town house.

Mesac Damas told The Associated Press that he had planned to surrender and that he returned to Haiti to say goodbye to his family. The sheriff's office says their information does not support that statement.

Florida investigators were traveling to Haiti on Tuesday to interview Damas.
Wehaitians.com, the scholarly journal of democracy and human rights