Correspond with us, including our executive editor, professor Yves A. Isidor, via electronic mail:
letters@wehaitians.com; by way of a telephone: 617-852-7672.
Want to send this page or a link to a friend? Click on mail at the top of this window.

Must learnedly read, too; in part, of intellectual rigor
Posted Sunday, September 9, 2007
Man accused in cop ruse to prey on immigrants
By Cassey Ross, Boston Herald Staff Writer
A Winthrop man is accused of repeatedly impersonating a police officer to kidnap and rob Latino residents in Chelsea, preying upon their constant fears of an immigration crackdown.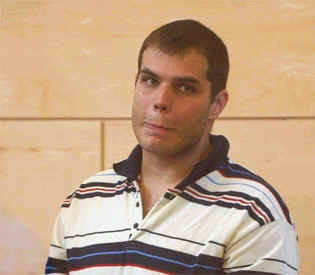 A handcuffed Eric Mathison of Winthrop stands at his arraignment in Chelsea District Court on charges of posing as cop to rip off immigrants.Photo/Patrick Whittemore)
Eric Mathison, 30, is facing multiple charges following a string of incidents in which he allegedly wore a full police uniform to shake down Latino residents who quickly forked over cash to avoid arrest.
He appeared to target people whose first language was not English, perhaps because he believed he could intimidate them more effectively, said Jake Wark, a spokesman for Suffolk District Attorney Daniel Conley.
Mathison, who is white, was ordered held on $200,000 cash bail yesterday during an arraignment in Chelsea District Court. He pleaded innocent to five counts of impersonating a police officer, two counts of armed robbery and one count of kidnapping.
Prosecutors say Mathison pulled the cop routine on three occasions in June and July, stealing upward of $700 from at least five victims. The investigation remains open.
We have reason to believe other individuals may have been victimized as well, Wark said.
An attorney for Mathison could not be reached for comment.
His arrest comes after federal immigration raids targeting gang activity stirred fear of a broader crackdown on illegal immigrants.
There is no doubt this individual was targeting immigrants already leery of contact with the government, said Ali Noorani of the Massachusetts Immigrant and Refugee Advocacy Coalition. The issue of fear in the community is very real.
Prosecutors say the most egregious incident occurred June 29, when Mathison detained four Latino men sitting along Chestnut Street in Chelsea. After forcing them into a nearby building, Mathison allegedly demanded that they give him money to avoid arrest.
Wark said Mathison, wearing dark-colored clothing and a badge, pulled up to the men in 1999 Ford Crown Victoria with blue lights, a siren and phony antennas.
© Copyright by the Boston Herald and Herald Media.
Wehaitians.com, the scholarly journal of democracy and human rights